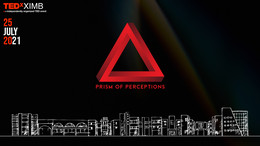 When an idea is looked at through the lens of the psyche, it splits into various perceptions. At TEDxXIMB 7.0, our first-ever virtual TEDx, we tried to look at seven distinct ideas through the perspective of seven speakers from around the globe.
Speakers
Speakers may not be confirmed. Check event website for more information.
Achitra Borgohain
Founder and CEO of Binbag
Founder and CEO of Binbag, Achitra Borgohain, works to empower the recycling community and helps them become profitable. Before embarking on his entrepreneurial journey, Achitra spent ten years in venture capital, investment banking, and consulting services. He is also a fitness enthusiast who enjoys trekking, road trips, and music.
Anupria Goenka
Actress + Model
Anupria is a versatile actress who has starred in multilingual movies. Some of her hits include Tiger Zinda Hai, Padmavat, and War, all of which rank among the highest-grossing Indian films of all time. Apart from movies, she has also worked in many web series like Asur and Sacred Games. She has won many awards for her fantastic performances. A Delhi girl, hailing from a business family to being an accomplished actress, she has now taken on the stage of TEDx as a speaker to share her journey extraordinaire with us.
Anwesh Sahoo
First Indian recipient of the Troy Perry Medal of Pride + Artist
Anwesh is a Spotlight NFT Artist with WazirX, the youngest winner of Mr. Gay World India and the creator of 'The Effeminare'. With features in Vogue, Rolling Stones, and Lifestyle Asia as a breakthrough queer artist, he has taken on the stage of TEDx as a speaker asserting the need to celebrate gender as a spectrum. He looks at life as a thrilling mystery novel written by God and, since his novel has only started, he'd go with: 'I am still evolving!'
Debasree Banerjee
A YouTube and lifestyle blogger
Debasree is a renowned beauty influencer and the founder of #debasreee - a brand that strives towards breaking definitions. She is one of the first few creators to change the Indian digital and beauty space rules, and with her passion for beauty and everything under its sun, Debasree aspires to "travel around, absorbing style and makeup trends as I go."
Mohammad Shams Aalam Shaikh
Indian paraplegic swimmer
Shams is the fastest paraplegic swimmer of India and a world record holder for completing the longest distance of open-sea swimming by a person with paraplegia. He has been featured twice in the Limca Book of World Records, and he has represented India at the 2018 Asian Para Games in Indonesia. Shams believes in turning adversity into opportunity and is an epitome of dedication and perseverance, earning the Youth Icon Award.
Moran Cerf
Neuroscientist + Associate Professor of Business
Prof. Moran Cerf has received numerous awards, including the Chicagoan award, and the Carnegie award. He is an associate professor of neuroscience and business, an investor, a former white-hat hacker, and the founder of Think-Alike and B-Cube. Prof. Cerf holds multiple patents and has published more than 60 academic papers in various popular journals.
Nupur Pai
Screenwriter
A former ad-world writer turned comedy writer turned screenwriter, Nupur has had quite the career graph - from writing wildly popular sketches for the Indian comedy collective AIB to her work on Netflix's hit show Little Things, to being one of the minds behind the viral, internet-breaking Cred ads. Nupur takes the stage at TEDxXIMB to talk comedy and where to find it in our everyday lives.
Organizing team
Adarsh Lath

Operations

Analpa Abhishikta

Operations

Ananya Das

Curation

Ayush Kumar

Partnerships/Sponsorship

Janhvi Mohanty

Curation

Manu Krishnan

Partnerships/Sponsorship

Priyam Das

Operations

Rajat Upreti

Marketing/Communications

Ruchi Shetty

Partnerships/Sponsorship

Safi Ahmed Siddiqui

Production

Shreyas S. Mohanty

Marketing/Communications

Shruti Mohapatra

Marketing/Communications

Tanishq Ganotra

Marketing/Communications