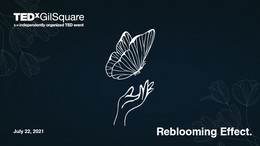 In the spirit of ideas worth spreading, TEDx is a program of local, self-organized events that bring people together to share a TED-like experience. At a TEDx event, TEDTalks video and live speakers combine to spark deep discussion and connection in a small group. These local, self-organized events are branded TEDx, where x = independently organized TED event. The TED Conference provides general guidance for the TEDx program, but individual TEDx events are self-organized (subject to certain rules and regulations).
Speakers
Speakers may not be confirmed. Check event website for more information.
Aryan Afraz
Chemistry teacher - Narrator
I attended middle and high school in NODET (National Organization for Development of Exceptional Talents) schools and I studied for a bachelor's degree in applied chemistry at the University of Guilan. Furthermore, I took narration courses in its specialized centers. After obtaining its specialized degree, I now work as a narrator and lecturer in narration and performance courses.
Danesh Teimouri
Dentist, specialist and fellowship in prosthetics and implants, Director of Dana Dental Clinic (the largest private dental clinic in Iran)
Fatemeh Mahfar
Lecturer and Psychotherapist
Born in 1992, graduated with a bachelor's and master's degree in clinical psychology, university lecturer, lecturer in psychology workshops in the field of life skills, premarital skills, parenting, etc., counselor and psychotherapist in the field of personal problems, couple, family and adolescents based on ACT (Acceptance and Commitment Therapy)
Hadis Mostafavian
Biology Teacher
I've been interested in biology and nature since I was a child, so I studied this major to be able to help organisms in the environment. Now I think it's the critical time to take some actions to preserve wild life and as a biologist I want to invite you all to join me in order to make all people aware of what is happening on the Earth.
Maria Rah
Research Assistant at: NAOC (National Astronomical Observatories of China) in SilkRoead Project
Maria Rah *B.S. in Physics and M.Sc. in Physics-Astrophysics *Research Assistant at: NAOC (National Astronomical Observatories of China) in SilkRoead Project *Research interests: -Computational Physics and Simulation -Simulation of dense star clusters using N-body Code -Stellar Evolution (SE) and compact objects in star clusters -Spectroscopy analysis of stellar atmospheres *Important Published Papers: -Simulation of the orbit and spin period evolution of the double pulsars PSR J0737- 3039 from their birth to coalescence induced by gravitational wave radiation; 2021 Liu, Peng; Yang, Yi-Yan; Zhang, Jian-Wei; Rah, Maria. -Metal-poor Stars Observed with the Automated Planet Finder Telescope. III. CEMP- no Stars are the Descendant of Population\,III Stars; 2021 Aldein Almusleh, Nour; Taani, Ali; Özdemir, Sergen; Rah, Maria; Al-Wardat, Mashhoor A.; Zhao, Gang; Mardini, Mohammad K.
Moein Kalantar
Teacher of Persian literature / Cultural activist in the field of children and adolescents / Founder and Manager of the research, cultural and artistic group of Narangi
I am Moein Kalantar, born in 1991, resident of Rasht, graduated with a master's degree in Persian language and literature majoring in children and adolescent literature from the University of Guilan. I have been teaching Persian literature in high schools in Rasht since 2015. Due to personal concerns and a history of voluntary and group activities, in 2018, I established an NGO with the aim of research, cultural and artistic activities in the field of children and adolescents.
Mojtaba Habibi
full-time IELTS mentor
I have studied management and have 5 years of experience at book stores and examination centers with more than 600 students. I have also Worked as consultant for 2 and a half years. I have worked as a part-time teacher from 2010 to 2016 and after that I am teaching full-time. I have authored a book on necessary vocabulary for IELTS exam. Currently I am in charge of my own institution. I have 4 teachers who are working in my center.
Parissa Golinia
Writer
I am Parissa Golinia. I'm currently a Ph.D. candidate in marine biology at Shahid Beheshti University In Iran. My main interest is biofouling studies and investigating the impacts of climate change and Global Warming on Marine benthic organisms in the Caspian Sea, the Persian Gulf, and the Gulf of Oman. Also, currently, I am a content writer. I am also interested in Digital Marketing and SEO. My other interest is writing poetry and I also have published works.
Organizing team
Ali Sabzi

Team member

Aref Tavassoli Hojjati

Team member

Elahe Farzane

Team member

Faeze Akbari

Team member

Kasra Ahmadniay

Team member

Kiana Keihani

Team member

Mahsa Salmanizadeh

Team member

Maryam Behboudi

Team member

Mohadese Azarmand

Team member

Mojtaba Varasteh

Team member

Oujan Dalili

Team member

Shahram Varasteh

Curation