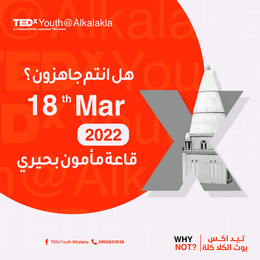 In the spirit of ideas worth spreading, TEDx is a program of local, self-organized events that bring people together to share a TED-like experience. At a TEDx event, TEDTalks video and live speakers combine to spark deep discussion and connection in a small group. These local, self-organized events are branded TEDx, where x = independently organized TED event. The TED Conference provides general guidance for the TEDx program, but individual TEDx events are self-organized (subject to certain rules and regulations).
Speakers
Speakers may not be confirmed. Check event website for more information.
Football, Freestyle
Abdullah Emad The pioneer of Freestyle Football in Sudan. Abdullah is the most successful Sudanese athlete in the sport of Freestyle Football and has represented Sudan across Africa and the entire world. Based now in Khartoum, Abdullah was born in The Kingdom of Saudi Arabia in 1991. He started his sporting career as a football player, but found his passion in self-expression through the art of Freestyle when he was 19 years old. He was the first person to introduce professional Freestyle Football in Sudan and made it his mission to build a community for the sport. As well as competing at the highest level, he has performed and entertained audiences all over the world and also organized many local tournaments to encourage the development of the sport in Sudan. Abdullah is a Key Country Leader in the World Freestyle Football Association. About Abdullah Emad: Name: Abdullah Emad Fadul Abdalgadir (AKA Abdullah Emad) A Professional Football Freestyler based in Khartoum, Sudan Age: 30
Elamin Jaafar
Agriculture
Graphic designer social media specialist Founder and Director of the Biggest Sudanese agriculture Society (Alzereealsudani) Founder of the Sudanese Electronic Blood Bank initiative Founder of the (Azolla for All) Initiative Founder of the Sudanese Social Innovation Club Founder of Voluntary Solutions Organization Co- Founder of Life Makers Organization Co- Founder of the YNO - Yalla Nabadir Organization Media Director at a (Sudania initiative) A former volunteer at the (Knowledge Enrichment Program) - Aramco - Saudi Arabia A former volunteer at the (Sahabat alkhair Association) - Alexandria, Egypt Winner of the Sudan Hackathon at Expo Dubai - 2020
Programming and Artificial intelligence
- Fajr Habiballah Al-Taher. - 12 years. - student at Mahjoub Obeid Taha School for Giftedness and Excellence. -student at the first grade, middle. - Programmer and inventor with Arduino. - Programmer by Scratch and PictoBLOX. - VEXIQ Robot Designer. - beginner programmer using HTML & CSS. - Beginner programmer using Python. - Member of the young innovators. - Member of future youth. - Member of the First Place Winners Team 3rd edition of Young Innovators. - I participated in Contest my robot the owns my talent. - Participated in the National Reading Championship (Learning Cup). - Member of the Electronics and Robotics Association , and English Language Previously.
Mawda Babeker
disability
- 18 years. - Speaker at TEDx Youth Al Kalakla - She ranked 25th at the level of Sudan in the Sudanese certificate exams for the year 2020, with a rate of 96% - Part of the film crew, Revolution Journey. Composer and performer of the end' song. - Participation in the artistic work of the song "Hope is Human".
Mugahid Ibrahim
entrepreneurship
- 7 year's experience in Marketing & Sales. - 3 year's experience in Electronics Industry. - Master of Business Administration, Sudan. - Diploma, Marketing and Sales Skills, USA. - Member of Charter Institute of Marketing, CIM, UK.
Mustafa Ahmed
Education
Mustafa Ahmed Salih Ahmed 24 years - Bachelor of Oral and Dental Medicine from Karary University 2021, Graphic designer and Co founder of the largest Sudanese educational platform for e-learning( Goma8ra.Com) , active in volunteering work since 2015 and the media director of SADS - Sudanese association of dental students
Saeeda Osman
Mental health
29 years old Graduate of Sudan University of Science and Technology , Chemistry Laboratories departement , holds a master's degree in analytical chemistry, a certified trainer in self-awareness, a Teacher skills trainer for the 21st century, a founder of Teachers are leaders initiative, a motivational speaker and a psychological support practitioner.
Organizing team
Aabda Faiez

Team member

alaa kenzy

Partnerships/Sponsorship

Awab Ali

Team member

El-Rayan Mobamed

Team member

Israa Osama

Team member

Khaled 1311

Team member

Khalid Mohamed

Team member

Leena Alfatih

Team member

Mahmoud Atta

Team member

Mahmoud Alhijazi

Team member

Marafi Omer

Team member

Maram Hatim

Team member

Marwah Siddig

Team member

Moawia Okasha

Team member

Mohammad Akasha

Marketing/Communications

Mojtaba Ahmed Atia mohammed

Team member

obay aljunaid

Team member

Omnia Bakrie

Partnerships/Sponsorship

RAGHDA ALI

Partnerships/Sponsorship

Razan Hisham

Team member

sajda Elrashid

Team member

Waad Kamal

Team member

Wagar Musfata

Team member

Wissam Ahmed

Production

Zainab Mahel

Partnerships/Sponsorship

Zuka Kamal

Team member