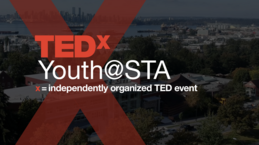 Where are we headed? What lies ahead? What's next? We're all moving on up!
TEDxYouth@STA proudly presents this year's theme of "Moving On Up", with a night full of amazing speeches from St. Thomas Aquinas Regional Secondary School's most talented speakers. Whether it's about exploring different math symbols, getting to the roots of gender inequality, or a discussion on playgrounds, TEDx is the place to be. Join us June 11th to spread thought-provoking stories.
Unfortunately, due to the COVID-19 pandemic, this event will be held online, and only a select few are allowed to come in-person.
Speakers
Speakers may not be confirmed. Check event website for more information.
Billy Park
Host, Grade 8 Student
Billy, an eighth grader at STA, is an avid public speaker and a visionary. He brought his skills and knowledge of speech all the way from Singapore and decided to start a TEDx event at this school, which turned out to be a huge success. In his free time, you might see him trying (in vain) to learn Russian, reading books about quantum mechanics, playing tennis, folding origami, or watching YouTube videos on black holes.
Danilo Villa Soto
Amateur Songwriter, Producer and Grade 11 Student
Asides from arguing with teachers, or scheming with his friends, most of his time is spent in some creative endeavor; whether he's making music or telling a story for the thousandth time. Although his antics may bore some, there's a certain passion he possesses which can't be overlooked.
Justin Krohman
Mathematician, Engineer, Grade 12 Student
I was born and live on the side of a mountain in BC. I have always been around nature and the natural beauty of our world. Post graduating in 2021 I will study Engineering at SFU and plan to help our world and its natural beauty.