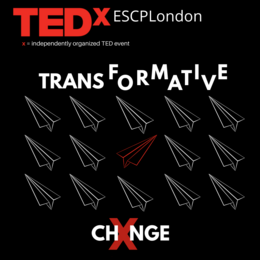 In the spirit of ideas worth spreading, TEDx is a program of local, self-organized events that bring people together to share a TED-like experience. At a TEDx event, TEDTalks video and live speakers combine to spark deep discussion and connection in a small group. These local, self-organized events are branded TEDx, where x = independently organized TED event. The TED Conference provides general guidance for the TEDx program, but individual TEDx events are self-organized (subject to certain rules and regulations).
Speakers
Speakers may not be confirmed. Check event website for more information.
Dr. Cath Bishop
Olympian | Speaker | Consultant | Author | Executive Coach | Facilitator
Dr Cath Bishop is an Olympian, former diplomat and business coach. She competed in rowing at 3 Olympic Games, winning World Championships gold in 2003 and Olympic silver in Athens 2004. As a diplomat for the British Foreign Office for 12 years, Cath specialized in policy and negotiations on conflict issues, with postings to Bosnia and Iraq. Cath now works as a business consultant, leadership coach and author, and teaches on Executive Education programmes at the Judge Business School, Cambridge University and is a Visiting Professor at Surrey Business School. Cath speaks at events globally on topics of leadership, high performing teams and cultural change. Her first book 'The Long Win: the search for a better way to succeed', published October 2020, was described by the Financial Times as 'a deep and rewarding exploration of human motivation in sport, politics, business and our personal lives.'
Kess Eruteya
Founder at InclusionZ | Public Speaker | Consultant
Kess Eruteya is the Founder of InclusionZ and a keynote speaker on Generation Z, Diversity and Inclusion, and Corporate Social Responsibility. InclusionZ is an emerging startup that bridges the gap between leading corporations and Gen Z audiences/talent. Kess directs leading industry brands like LinkedIn, ExperianChubb to attract, engage, and retain Gen Z. Alongside serving corporations, she is building Technology that matters. Her e-learning platform provides career-development support to thousands of young individuals in over 19 countries. As quoted by Forbes, "InclusionZ platform is providing resources and support for future work leaders, especially from diverse backgrounds in Generation Z." Kess is a dedicated entrepreneur, and Gen Z thought leader passionate about diversity. Admired publications and leaders have distinguished her for the impact she is making. In less than a year, she has been featured in Entrepreneur, Sifted, and even Forbes twice!
Disruptive Technologies & Sustainability
Tara Shirvani is an Iranian-Austrian thought leader, speaker, scientific advisor and international activist on climate change, disruptive technologies and digital innovation. She is currently working for the European Bank for Reconstruction and Development and was previously at the World Bank in Washington DC. She is Aviva's Women of the Future and a Forbes 30 under 30 Awardee. She brings over 13 years of experience in developing and implementing high-profile projects and policies at the nexus of disruptive technologies, sustainability and infrastructure, having implemented over $4bn of green infrastructure projects across 15+ emerging markets. Tara acts as internationally recognized transaction and science lead with a focus on driving climate change and carbon mitigation initiatives based on state-of-the-art know-how of environmental science, climate mitigation and frontier technologies.