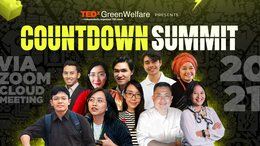 With the ongoing global emergence of climate change affecting every aspect of life on Earth, Countdown is a half-day event organized by TEDxGreenWelfare as a global initiative to champion and accelerate solutions to the climate crisis, turning ideas into action.
The Countdown initiative is focused on five subject areas: energy, transport, materials, food and nature. The goal of the TEDxGreenWelfare Countdown Summit is to build a better future by cutting greenhouse gas emissions in half by 2030 in the race to a zero-carbon world – a world that is safer, cleaner and fairer for everyone.
Speakers
Speakers may not be confirmed. Check event website for more information.
Adhityani Putri
Climate Policy Expert
Adhityani Putri (Dhitri) is currently the Executive Director at Yayasan Indonesia Cerah (formerly known as CERA - Centre for Energy Research Asia), a policy research and strategic communications hub on clean energy and sustainability in Indonesia. She was formerly a policy analyst at the Jakarta office of Climate Policy Initiative (CPI) and, prior to that, she was working for the joint secretariat for the Climate Change Institute and Energy Change Institute at the Australian National University (ANU) in Canberra. She holds a Bachelor degree in International Relations from Universitas Indonesia and a Masters degree in Climate Change Economics and Policy from Crawford School of Public Policy, the Australian National University, Canberra.
Daniel Filgo
Youth Climate Advocate
Daniel Filgo is a 17 year old urban farmer and youth advocate interested in the field of psychology and climate.
Driando Ahnan-Winarno
Food Scientist
Dr. Amadeus Driando Ahnan-Winarno (Driando) is a food scientist, entrepreneur, and activist. Driando's life mission is to promote nutritious, sustainable sources of protein through tempeh. Driando co-founded the Indonesian Tempe Movement in 2014, which has collaborated with partners in 14 countries In 2018, Driando co-founded Better Nature Ltd., a plant-based food company in the UK that sells tempeh-based meat alternatives that are plastic- and carbon-negative. Driando obtained his PhD in Food Science from the University of Massachusetts Amherst and has received 33 national and international awards. Moreover, he has also invented 4 patents and written 5 texts on tempeh fermentation.
Dwi Sasetyaningtyas
Sustainable Lifestyle Activist
Dwi Sasetyaningtyas has a huge passion for Sustainable Development. She completed her Master of Science in Sustainable Energy Technology at Delft University of Technology. She always dreams about a world with equitable, inclusive, affordable and universal access to reusable alternatives and sustainable lifestyle. Founding Sustaination in 2018 paved her way into making Sustaination the No.1 Sustainable E-Commerce platform in Indonesia now. Continuing forward, Tyas has a big dream of making Indonesia a more Sustainable Nation.
Fani Rachmita
Communications & Transportations Advocate
Fani Rachmita graduated from The London School of Public Relations Jakarta with a degree in Mass Communications. Before joining ITDP in 2016, she developed her expertise by managing, writing, and editing content in various lifestyle magazines in Jakarta. At ITDP, Fani handles all communication aspects for the organization's field office. She also leads institutional relationships and communications with city agencies, municipalities, and civil society groups in Big Cities in Indonesia, ministries, and transit operators (BRT Transjakarta, MRT Jakarta, and LRT Jakarta). Besides institutional affairs, Fani designs educational campaigns strategy related to accessibility, transportation, and urban mobility, applying communication, design, and data to change behavior in urban mobility dedicated to mass transit users, drivers, and/or pedestrians.
Greget Kalla Buana
Islamic Finance Specialist
Greget Kalla Buana has spent much of his professional life in Islamic finance since 2009 with a diverse spectrum. Having worked within the national and international ecosystem and being well-equipped with a strong Islamic finance background as well as being able to put it in philanthropy, humanitarian, and development context positions him in a special niche as a young professional in Islamic finance. He works as Islamic Finance Specialist at UNDP Indonesia, supported the research division of the Islamic Banking Department of the Indonesia Financial Services Authority. Representing Rawhaus Indonesia, he provides strategic direction on how Islamic finance is profoundly attuned to the SDGs and climate action through a high-performance micro house design initiative.
Helianti Hilman
Indonesian Indigenous Food Advocate
Helianti Hilman is the forefront promoter in sustaining Indonesia's forgotten food biodiversity by bringing Indonesian indigenous food products to the broader markets through Javara Indigenous Indonesia. She supports and works hand-in-hand with local farmers in order to achieve these initiatives. Ms. Hilman graduated Cum Laude from Padjadjaran University in Indonesia, where she majored in International Laws. She completed her Master of Laws in Intellectual Property Rights at King's College, University of London. She has also been the recipient of other executive education programs at Harvard Kennedy School, as well as in Monash University and University of Sydney in Australia.
Maulana Ichsan
Sustainable Transportation Activist
After completing college in the field of Transportation Engineering, Maulana started his career in an international NGO that is vocal in campaigning for sustainable transportation in world cities. Especially in Jakarta, Maulana was included in the team preparing for public transport transportation reform and helped design a strategy for increasing mode-share public transport in Metropolitan Jakarta. In 2019, Maulana has been registered with the transportation professional organization, the Indonesian Transportation Society, besides that Maulana is also active in the Jakarta transportation discussion forum (@transportforjakarta) where Maulana and his friends often share ideas, opinions, and contribute to the hot topics of urban transportation.
Stephannie Thian
Eco-friendly Product Conservative
TISOO by Wipe Without Worry was founded by Stephannie after noticing the hassle of buying tissue paper from the supermarket and the lack of tissue paper alternatives in the Indonesian market. Stephannie believes it is unnecessary: to leave home for tissue paper and cut trees to produce tissue paper. Therefore, TISOO has created an alternative being 100% bamboo tissue, free from plastic packaging. Its mission is to become Indonesia's leading supplier of eco-friendly tissue products. Back in university, Stephannie studied environmental science concerning sustainable development and public health. She learned bamboo's important role in our ecosystem, its ability to significantly minimise our carbon footprint and enable sustainable development. She has always been business-minded and passionate about making a significant impact on the environment through her work.
Tata Mustasya
Climate and Energy Campaigner
Tata Mustasya is the Climate and Energy Campaign Coordinator of Greenpeace ASEAN Chapter, lecturer in Faculty of Economy in Universitas Pembangunan Nasional (UPN) Veteran Jakarta, and a member of Board Trend Asia. Tata interests, experiences and expertise in green economy and climate, public policy and political economic issues. He's also vastly experienced in consulting and research for national and international organizations such as World Bank, Partnership for Governance Reform in Indonesia, United Nations Development Programme, International Finance Corporation, DFATD/CIDA, Oxfam, and Save the Children. Tata graduated with a bachelor's degree in Economics from Universitas Indonesia and received an MA in Management of Development from University of Turin, Italy.