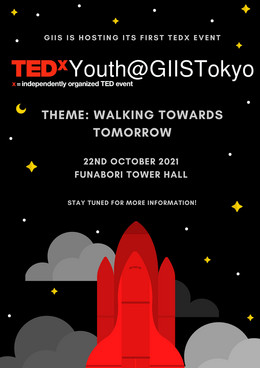 Our past shapes our perception of the future. In this shrinking world, how do our ways of interacting with each other affect the lens through which we view our future? In what ways do our unique pasts influence the attitudes with which we approach tomorrow? Our event aims to share different viewpoints focusing on these questions with emphasis on those set to inherit this world.
In the spirit of ideas worth spreading, TEDx is a program of local, self-organized events that bring people together to share a TED-like experience. At a TEDx event, TEDTalks video and live speakers combine to spark deep discussion and connection in a small group. These local, self-organized events are branded TEDx, where x = independently organized TED event. The TED Conference provides general guidance for the TEDx program, but individual TEDx events are self-organized (subject to certain rules and regulations).
Speakers
Speakers may not be confirmed. Check event website for more information.
Aisha Tochigi
Model + Public Figure
Aisha is half-Japanese and half-Ghanaian, born in New York and raised in Japan and Ghana. As a biracial woman and as Miss Universe Japan 2020, she is very passionate about spreading the importance of understanding each other with an organization called JASPORA.
Carole Saunders
Educator
Carole is an ex-dancer, an animal rescuer, a voracious reader, a Star Wars geek, a neuroscience nerd, an unapologetic pedagogue, a feminist and an equity advocate.
Jaime Smith
Chair man at Black Lives matter Japan
Jaime is the Chair of Black Lives Matter Tokyo, a model and part-time graphic design teacher in the Greater Tokyo Area. In their spare time, they're avid gamers, a kimono student, and a hedgehog parent. Their speech will talk about how younger generations are increasingly concerned about social problems and want to take responsibility to ensure better futures for themselves and others. This can drive youth towards activism, which is excellent, but the sheer idea of trying to solve complex social problems can quickly become overwhelming, often leading to inaction. Jaime will illustrate how even minimal involvement is crucial and can be a driving force behind greater societal change.
Kanak Arjunwadkar
Student + Idealist
Kanak is a young idealist who has grown up in a multicultural society, learned a lot of languages, changed many schools and lived in multiple different countries. She's a table tennis player, guitarist and language enthusiast who's into spell bees, MUNs and speak-up challenges. She also likes to take pictures, edit music, and learn about other people.
Ken Hirano
Counselor
Ken works as a psychotherapist in Tokyo serving the international community in Japan. He is very interested in the interior lives of people and how this can be quite different from what others perceive.
Mayu Ono
Photographer + Activist
Mayu is a freelance photographer, the president of Girl Up Tokyo and Voice Up Japan MGU, a project coordinator at EducateFor, and a photographer/videographer at Voice Up Japan. As a hobby, she also likes to go solo travelling.