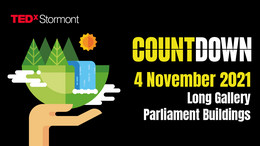 In the spirit of ideas worth spreading, TEDx is a program of local, self-organized events that bring people together to share a TED-like experience. At a TEDx event, TEDTalks video and live speakers combine to spark deep discussion and connection in a small group. These local, self-organized events are branded TEDx, where x = independently organized TED event. The TED Conference provides general guidance for the TEDx program, but individual TEDx events are self-organized (subject to certain rules and regulations).
Speakers
Speakers may not be confirmed. Check event website for more information.
Chris Conway
Group Chief Executive, Translink
Chris joined Translink as Group Chief Executive in 2015. He has extensive international business experience and is a Chartered Company Director and a Fellow of the Institute of Directors. He is also a Fellow of the Institution of Civil Engineers and a member of the CBI NI Council and Chair of Business in the Community NI advisory board. Public transport is essential to the economic, social and environmental well-being of our society and influences the policy objectives of most NI Executive Departments. It is an essential component of a Net Zero future and provides everyday mobility connecting people to work, education, retail, sport, leisure and entertainment.
John Gilliland
Director of Global Agriculture and Sustainability
John Gilliland, is Director of Global Agriculture and Sustainability at Devenish, an innovative livestock nutrition company which creates complete solutions, improving animal, human and environmental health, simultaneously. For the last seven years, John has been Project Leader of the Devenish Lands at Dowth in Ireland, a ruminant and landscape research farm, situated totally within the UNESCO World Heritage Site, Bru na Boinne. He has been an award winning farmer in Ireland, President of the Ulster Farmers Union; a Non Executive Director of the Scottish Rural College (SRUC), and an Energy Regulator in N. Ireland; while at the same time, he has been a policy adviser for Devolved, National and European Governments on Biotechnology, Climate Change and Sustainability.
Kate Nicholl
Belfast Lord Mayor
Councillor Nicholl is a member of the Alliance Party and was originally co-opted onto Belfast City Council in 2016 and was elected as a representative for the Balmoral district at the 2019 Local Government Election. Councillor Nicholl, 33, was born in Zimbabwe and moved with her family to Belfast when she was 12 years old. She attended Methodist College and University College London and is currently enrolled in a master's degree at Ulster University. Councillor Nicholl lives and works in South Belfast and is married with a young son, Cian. The theme for Councillor Nicholl's year in office is 'Our Belfast', with a commitment to meet the people in every area, to recognise those who are making a difference in every quarter, and to find ways to work with them for the betterment of the city. She also wishes to highlight the voices of children and young people during her year in office and to champion action on climate change and the environment.
Nandi Jola
Poet and Writer
Nandi Jola is a South African born poet and writer. She is currently studying her MA in Poetry at Queens University Belfast. Nandi is a creative writing facilitator for Ulster University, Books Beyond Boundaries NI. Her debut poetry collection with Doire Press is due in the Spring/Summer of 2022. Her work includes 'The Journey ' a one-woman verse performance that opened the International Literature Festival Dublin in October 2020. She is representing Northern Ireland in Transpoesie Poetry Festival 2021 in Brussels with her poem Entomology. She is Poetry Ireland Ambiguities commissioned poet, a Jukebox which will tour Paris as part of the Centre Culturel Irlandais programme 2022.
Rosalind Skillen
Climate Activist and Podcast Host
Rosalind Skillen is a podcast host, speaker, and climate activist from Belfast. Rosalind studied French and Spanish at the University of Cambridge, and is passionate about how communication, creativity, and imagination can help address the climate crisis. She currently represents Northern Ireland as 'BBC Young Climate Reporter' and works with BBC NI to produce climate stories as part of BBC's coverage of COP26. She also volunteers with Friends of the Earth and Tearfund to advocate for climate action. Rosalind was shortlisted for 'Young Global Changemakers Award' in 2021, and will represent Northern Ireland at the One Young World Summit in Tokyo in 2022.
Susan McEwen
Conscious and Sustainable Living Advocate
Susan McEwen is one of the owners of Yoga and Refill Quarter. Located first in East Belfast, they have recently opened a second combined store on the Lisburn Road bringing a new concept in conscious living to Belfast. Susan has always been involved in nurturing intentional community and worked for many years locally and internationally in peace building initiatives. She brought together people with apparently different and sometimes opposing agendas to explore how they could combine their energy, creating and supporting a vision which everyone felt they could share. This same passion is focussed now to support conscious and sustainable living.