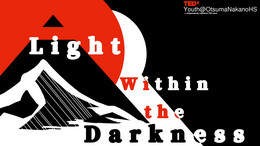 With a dramatic change in our lifestyles, the past year has been hard on everybody. Regardless, whether you discover the end of a tunnel or create a torch yourself, there is always a way to overcome the dark times.
In the spirit of TEDx, TEDxYouth@OtsumaNakanoHS, will feature bright ideas from the students of Otsuma Nakano, in both English and Japanese.
Guests are limited to members of the Otsuma Nakano community.
Speakers
Speakers may not be confirmed. Check event website for more information.
Hanae Miyasaka
Student Speaker
To Hanae, there is nothing different about her mother who spends her life in a wheelchair, but people around her do not view things the same. This realization that her mother was a minority, led to Hanae noticing barriers between those with disabilities and the non-disabled, existing beyond architectural design. In one of the leading countries of barrier-free infrastructure like Japan, Hanae recognizes what we need is "connection."
Haruka Murakami
Student Speaker
For young Haruka Murakami, news that she'll be moving to China was terrifying, due to the stereotype she had towards China. Still, it wasn't long before this changed, and China became her home sweet home. Through her experience, Haruka learned that no matter how negative your perception is, it isn't until you live there that you actually get an insight of the country.
Haruka Sato
Student Speaker
As the captain of her middle school chorus club, Haruka Sato's dream was to win an award at nationals with her team. However, despite their hard work, the team was not even qualified to compete. Soon after, Haruka came to realize that working hard was not the only thing that goes into achieving her dream. Now, her goal is to share this idea with the crowd, wishing it will cast light upon everyone.
Kanna Kimura
Student Speaker
Like many teenagers, Kanna Kimura is a so-called 'night owl,' deprived of sleep, and had trouble waking up. Though this has become somewhat a trend amongst youths, it comes at the expense of physical and mental health. Needless to say, as there is always light at the end of the tunnel, Kanna managed to discover a way to overcome this issue, so she could reach the benefits of sleep.
Karen Tamagawa
Student Speaker
With the emergence of COVID-19, Karen Tamagawa's dream plan of studying abroad was crushed. Though at first, she felt devastated about the news, it wasn't long until Karen discovered online academic programs. Thanks to this experience, Karen was able to find the good within the bad, or a gleaming light revealing what was covered in the dark.
Mao Nakagawa
Student Speaker
During her life overseas, Mao Nakagawa was exposed to the American spirit of volunteerism, which she too, wanted to get involved in. Despite the fact, her shyness interfered with venturing out and helping others, until she finally started a lemonade stand. Overcoming this major obstacle, Mao now has the ability to make lemons into lemonade, and a goal, of doing much more.
Mariko Tezuka
Student Speaker
Being someone strict about studying, many would be surprised to hear that Mariko Tezuka's room is a complete mess. In fact, she believes this could occur to anyone, for it is a product of material satisfaction. Through doing research on herself as well as focusing on global issues, Mariko now knows how to release herself and others, from the curse of the "mass consumption and production society."
Momoha Goto
Student Speaker
To Momoha Goto, there's nothing more she hates than the phrase "young people don't know anything." Being a student volunteer for a NPO helping foreign workers in Japan, Momoha views discrimination as a major issue. Because of this, she ultimately dreams of creating a society where young people highlight, and work to solve issues, in hopes of eradicating the idea that youths are ignorant.
Yuri Tsukamoto
Student Speaker
In her early years of living abroad, Yuri Tsukamoto was bilingual in English, and her mother tongue; Japanese. However, that changed soon after she began losing her mother tongue, leading her to question her nationality. Having overcome this difficulty, Yuri, now a 16 year old in Japan with much improved Japanese, has successfully discovered her true identity, as well as the essence of being bilingual.