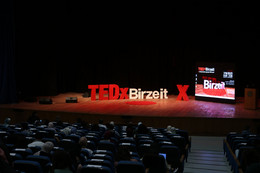 o Many young people see their potential hindered by poverty, unemployment, exclusion, discrimination, or lack of access to information. However, with proper investment and inspiring events as in TEDxBirzeit. It is opening the opportunity in their empowerment. These young people's ideas, ideals, and innovations could create the unprecedented potential for economic and social progress - transforming the future. It could be a transformative event to change other youth realities to be more dreamers and be the change maker. That stories of breaking molds and smashing stereotypes could inspire others to change, keep trying, and have a vision of change. Stories are one of the most persuasive tools available. It makes us human, provides us with a sense of belonging, and helps connect us with other people. Also, stories are how we learn
o Against all odds, and despite all the difficulties, we are going to make it.
o At the local level, Palestinian youth have huge aspirations and enormous capabilities, but they often face barriers in realizing their potential as productive citizens. In order to act on the promise and dreams of this generation and to forge a brighter future for all, it is critical to find ways to invest in young people's well-being, education, digital skills and offer meaningful opportunities for engagement, participation, and fulfillment.
o Sharing experiences in different fields like hardships, feats, defying the odds, and struggles with others are empowering. It can help to light the way for those who are walking on a similar path. Gaining knowledge is the first step to wisdom; sharing it is the first step to humanity. The community could think
Speakers
Speakers may not be confirmed. Check event website for more information.
Khader Kiswani
Entrepreneur & Psychologist
Khader Kiswani, Entrepreneur & Psychologist, has a B.A. in Psychology and Sociology and two MA degrees in International Development and Global Units. In addition to this, he has also been a motivational speaker on the TedXAlqudsUniversity program. Khader is now an SRHR TOT; Also, he has completed more than 900 hours of volunteering in his university, and created and coordinated a volunteer group over the last few years. Khader was president of his department club and a coordinator of its debate team.
Mu'nis Nazzal
English Teacher
Mu'nis Nazzal, 22 years old, is an English teacher and life challenger. I strive to give more despite all challenges.
Nada Hamdan
author
I am a Palestinian girl, 21 years old, in my last year at university, as an HR major.
Nihal Abo Johr
Founder & CEO - Nihal Cloud Kitchens
Nihal, 30 years old, Born and raised in Nazareth suburbs, Nihal is a very well known figrue in her society for her social activism in the domains of social justice, women rights, and sexual harassments, Nihal holds BA in Political science, International relations, and communication from the open university, in parallel to her academic education, nihal managed to work on many social problems that considered as "Taboo" in the Arab society and raised a lot of awareness regarding those topics. Nihal's huge work and efforts on social media where she had over 80K followers (Facebook & Instagram) also reflected in her work on the ground with girls at risk and girls in the adolescence age. Nihal is been politically active since a very young age as she appointed the age of 18 to be the secretary for the "Hadash" political party Shafa-Amr and the North Area, she is still active but not under any party anymore.
Nisreen Al krunz
Research assistant at Muwatin Institute / Birzeit University
Nisreen krunz, 28 years old, I'm from arroub camp in Hebron.
Rand Rimawi
Student
Rand Al-Rimawi, 21years old, the daughter of the prisoner Abdul Karim Al-Rimawi, and a media student at Birzeit University.
Rula Zughayar
A translator
Do more of what makes you happy.
Salam AbuSharar
Reporter- Anadolu Agency
Life is an experience that deserves to live by faith, patience, and hope. Whatever I lived, I passed it by these three on my heart. Along with the friendship with the words. The hard and dark moments learned me that writing is the way for freedom and healing. Volunteer /A political ex-detainee after ten months in Israeli jails.
Yasmeen Najjar
Climber, Psychologist
My name is Yasmeen Najjar, I am 24 years old. I am a psychologist and a climber. My hobbies are planting flowers, reading, and exploring nature. My story can be summed up in three words: defiance, determination, and will. The Israeli occupation settlements prevented me from climbing the mountains of my village (Burin), so I climbed the summit of Freedom - the summit of Kilimanjaro- and I was the first female Amputee to reach of its summit based on my researches in January 2014.
Organizing team
Anas Nimer

Curation

Dalia Tiyah

Post production

George Yerousis

Operations

Ghadeer jwabreh

Production

Lana Shaheen

Marketing/Communications

Nada Hamdan

Operations

Reem Abu Hijleh

Curation

Saja Attieh

Marketing/Communications

Sanaa Barghouthi

Production

Tala Ghannam

Marketing/Communications

Tariq Odeh

Curation