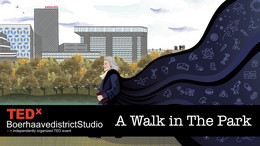 TEDxBoerhaavedistrictStudio is featuring ideas from the people who live, work and/or study in this special place in Leiden. An area where amazing science happens in the BioScience Park, where museum Naturalis shows a vast collection of natural history, where schools, colleges and the university prepare young people for their future and where the Leiden University Medical Center explores new ways to cure and prevent disease.

"A walk in the park" is the theme of this TEDxBoerhaavedistrictStudio and it is a reference with a wink ;) . A park is a place where people meet, where they go to think, where they go for relaxation or for a run, for picnics, BBQs and to play games with friends. A walk in the park also means something that's easy to do for someone trained in the subject, like cooking a delicious meal is easy for a chef, or fixing a car is easy for a mechanic. A walk in the park combines the feeling of green and fun with the passion of an expert talking fervently about their favourite topic.
Speakers
Speakers may not be confirmed. Check event website for more information.
Arjen Doelman
Director of Lorentz Center
Arjen Doelman is a mathematician with a special interest in the real-world application of complex theoretical models. Since January 2010, Arjen Doelman has a full-time appointment at Leiden University, partly as professor at the Mathematical Institute and partly as director of the Lorentz Center. This unique combination of roles makes Arjen the perfect candidate to talk about what it takes to get scientific breakthroughs. With the Lorentz Center, his team brings people from different disciplines together to let them socialize and facilitate the generation of new ideas in their expert fields.