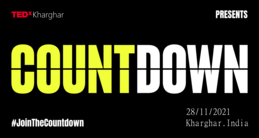 This event is majorly aimed to listen to unique speakers with their creative ideas on how to restore the planet.
Speakers
Speakers may not be confirmed. Check event website for more information.
Aarush Gupta
14 year old Eco Warrior
Aarush is a 14 years young citizen who wants to grow up as a responsible Awakened person. He is a student of Class 9. He believes in Minimalism as a way for Sustainable Climate. He loves to swim, cook, read books and play Chess. He loves to play keyboard and Guitar. He also loves to solve Rubik's cube. He calls himself an EcoWarrior. Even a small contribution towards saving Mother Earth is helpful and that is why he asks everyone, " I am doing my bit, Are You? "
Akash Nawab
Film Scholar and Activist
Akash Nawab is a research scholar at Central University of Gujarat. He has written his thesis on "Cinematic Representation of Communal Harmony in Popular Hindi Films". His academic expertise deals with M. K. Gandhi, Popular Culture, Media, and Cinema. He has several research papers on different aspects of Hindi cinema. Akash Nawab belongs to Bihar. He comes from a remote area Bikramganj of Bihar state. He has done his graduation in English from Banaras Hindu University, and master in Mass Communication from Mahatma Gandhi Antarrashtriya Hindi Vishwavidhyalaya, Wardha. He is working as a student activist for more than ten years. He also founded the Nitya Trust to professionally help the marginal people of society. His Trust was very active and supportive during both waves of COVID-19 pandemic. Presently, his trust is working for crucial environmental issues like plantation, restoration of water resources, and waste management in rural areas.
Anmol Ankita
Author, Poet, Academic and Creative content writer, Financial Auditor
Anmol Ankita is a 28-year-old accountant now working as an auditor, author, and writer. She uses mother earth as her muse, finds inspiration from the dawn while penning down her words at dusk. Somewhere along the lines, she tries to merge both the universe and find her own little space of solace. She roots her faith in the religion of change and transformation while believing in the eccentricity of our surroundings and the earthiness rooted in every living object. Her topic, The Circle of Sustainability, revolves around the course of nature and is based on the very grounded law of conservation of energy. She relates the very cycle, taking insights from Indian Culture, the Vedic Culture, and the Indian folklore we have grown up with. She relates to our quotidian lifestyle and mundane things. She reckons that knowledge and a little change can do wonders when it comes to managing climate issues and, therefore, protecting our environment.
B N Kumar
Environment lover, columnist and Media professional with 45+ years experience. Worked with major media and communication houses such as United News of India, Business India
B N Kumar (BNK 24x7 to friends) has about 45 years of experience in mass communication as a writer, columnist, media trainer and environmentalist. He runs a not-for-profit organisation NatConnect Foundation - https://natconnectfoundation.com/ - with the tagline Nature Everything, focusing on environmental issues. He has globally highlighted the destruction of mangroves and wetlands in Mumbai Metropolitan Region. He is coordinating with BNHS for the mapping of the first ever MMR Biodiversity List. The State government is considering NatConnect suggestions for tagging Navi Mumbai as a Flamingo City, declaring the 289-hectare Panje wetland as an MMR Biodiversity Park and setting up of a dedicated Green Police A product of Osmania University, BNK worked with Free Press Journal, wire agency UNI, Business India and The Week magazines and contributed to The Times of India, The Economic Times, Indian Express, Mid-Day, Newstime, Onlooker and SUNDAY magazines on a wide range of topics.
Dr Suryadeep Majumder
Doctrepreneur, Communication Coach, TedX Trainer, World's youngest dentist to speak on tedx
Dr. Suryadeep Majumder is a first generation Doctrepreneur, the world's youngest dentist to speak on tedx. He is a student of life and believes mother nature is always his greatest mentor. Coming out of the shackles of conventionalism and traditional 9-5, he has decided to leave home, to carve out a legacy, pursuing his dream to be the world's greatest public speaker, and Communication Coach. He joined the Toastmasters in Feb '21, has already presented keynote speeches virtually across 12 countries in the last 6 months. He is the co-founder of SUNS DEN, where he trains working professionals to achieve Career Growth by training them on Impromtu Communication Skills.He aspires to be one of the most inspirational personalities on the planet through his work and vision. His core mission statement is, "turning breakups and breakdowns into BREAKTHROUGHS"
Hardik KalpDev Pandya
India's First Specially Abled Mind Power Trainer, Certified Counsellor And Motivational Speaker
Mind Power Trainer, who has been awarded as "Exceptional Motivator" By India Book Of Records. He is known as india's first Divyang(specially abled) mind trainer. he is also an author of "Unleash Your Inner Power - Life Is A Festival". He is aura healer and certified counsellor also. he is on multiple mission and one of it is, mission to spread his life quote "life is a festival" world wide and teach people how they can also live life's each moment like a festival. His another mission is to empower each and every specially abled person and work for their respectful inclusion in society.
Active Educator
Mr. Kunio Hara is a developer and a representative director of Ho-me-I-Ku group (Praise Education) which is a mixture of brain science and psychology. This method originated in Japan and have spread to a total of 500,000 people, 400 companies in 19 countries around the world, such as in the United States, China, India, Singapore, and Thailand. He is a public speaker and holds online seminars towards educational institutions and entrepreneurs. Also a writer that published 20 books which is translated to many other languages. His most recent book is called "KAMI-MEMO" which is about method of writing notes that leads to successful future. He has established a foundation and is making donations to orphanages in Cambodia and Japan. Has appeared on various Japanese news stations, The Japan Times and other medias. He hopes for all people to praise themselves and each other more.
Naman Bajpai
A 16 year old climate change enthusiast, Founder of Krishi Konnect and Dynamic Rocketry
Naman Bajpai, 11th-C student is founder of Dynamic Rocketry start-up (https://dynamicrocketry.com/ ) and is also a TedX speaker. Naman is being regarded as entrepreneurial thinker, doer and Idea-generator in his circle of professional collaboration. He is of strong view point that creative, curious and challenging thinking is of increasing importance towards sustainable learning and growth. He along with his Dynamic Rocketry team ( international group of young college students and fresh pass outs mostly from Aeronautical & Mechanical engineering background) have joined hands together to design and develop "Hawk-1" Suborbital Rocket design which will be India's first internationally collaborated Student project intending to break the bounds of space. The basic philosophy of his and his team is that Space is for everyone and it is currently expensive, they are putting all efforts to make it affordable especially for students.
Nimish Ramesh
Senior HR Professional, Author, Life Coach
Nimish is a 27 year old Engineer turned MBA turned Senior HR Professional (Currently Plant HR Head - Cummins Electronics and Fuel Systems) turned Author (Potential Plus is the name of the book) and Millennial Life Coach. He helps millennials battle their quarter life crisis and become a self sustaining driven individual towards achieving a certain life outcome. All of us have had the experience of doing something that really excited us only to be pulled down by our very own friends, family or society. Millennials are conditioned to live life a particular way and Nimish makes an effort to make them look inwards, explore more, increase their self awareness and as a result take better decisions which ultimately leads to a living a better life. Nimish also takes guest lectures in Engineering and MBA colleges on mindset shift with an effort to make them realise that the only barrier to achieve success in life is their own selves.
Ram Ramakrishnan
Author, Business Consultant and Transformation Coach
Author of two books. Focus 5: A Practical Guide for Career Growth and Local to Global, 3 Step Framework for Business Growth 34 years of Global Corporate Leadership experience as Head of Corporate Facilities and Administration Entrepreneur journey: Established four companies since 2018 Business Consultant and Transformation Coach: Helping organizations to identify their transformation levers and draw up roadmap to achieve it with a well-defined plan A resource person to various Industry forums and participated as panel moderator, panel speaker in these forums. Recipient of many awards for leadership skills both from companies and from industry forums. Toastmasters under Effective Coaching path: Level-3 completed Posted 600+ videos since a year in the following social media FB, YouTube, and LinkedIn Conceptualized, developed, and delivered various soft skills workshops covering approximately 200+ man hours.
Rashi Roop Laxmi
Philanthropist for the right cause of Environment and Engagement at the grassroots level. The celebrated author of the book "Manifest your Quest - The Power of you is " Acclaimed Life Coach. Manifestation and Mindset coach.
Rashi Roop Lakshmi is a celebrated and awarded author. The book has helped many people in realizing their true potential. Rashi is a Mindset and Life coach, for quite a few years. She is an avid blogger. An enthusiastic podcaster. An Instagram motivational influencer. She has been a speaker and has been changing people's mindsets to manifest what they yearn for.
Sarah Bhattacharjee
7 point actions by students to prevent climate change !
Sarah is a 11 year old climate activist in her own right. She is curator of "My Organic World " where she is taking her small actions to save our environment. She has devised 7 lifestyle points to adapt in our daily life that goes a long way in slowing down climate change. Her ideas are simple, doable and sustainable for every human being and good for our planet. It is praise worthy how at such a young age she has awareness about the hazards of climate change and how she brings awareness to her own peers.
Vinars Dawane
Academician and Scientist
Vinars Dawane is a young academician in the field of Environment and sustainable development, Herbal Technology and Nanobiotechnology. He is having several international research papers published in reputed journals including BAB, Elsevier, BBRC and Polymers, MDPI etc. He is having many book chapters in his credit published in reputed publishers including Springer's Nature, Apple Academic Press - CRC, Tyler and Francis etc. He got JRF-SRF for his M.Phil.-Ph.D. by UGC, New Delhi, India. His area of interests are – sustainable development, coastal mangrove plants, environment and ecology of mangroves, natural hybrid plants as well as he is having a vast understating in the field of herbal technology, natural product chemistry, bioactive compounds isolation – identification methods development, separation science, various analytical instrumentations and nanobiotechnology. Currently he a prestigious research project fellow at ANCHROM HPTLC Laboratory, Mumbai, India.