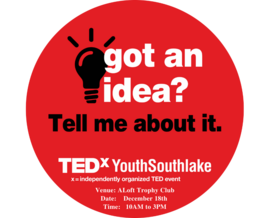 We are excited to be back again this year with over 30 amazing youth speakers on December 18th. Please join us in person and virtually to experience an event full of life-changing IDEAS.
Our virtual live streaming will be through our Facebook and LinkedIn pages. Please join us on these social media platforms to stay connected
https://www.facebook.com/tedxsouthlake
https://www.linkedin.com/company/tedxsalon
If you would like to volunteer, sponsor or mentor our youth speakers please email us at Info@TEDxSouthlake.com
Speakers
Speakers may not be confirmed. Check event website for more information.
Aarav Agarwal
Speaker
Aarav is an 8th grader attending Carroll Middle School. Aarav will be talking about the statistics behind the benefits of music. Aarav enjoys mathematics and science and has various hobbies like video games or playing on his saxophone. When Aarav grows up he wants to become a pathologist specializing in brain tissue.
Aditya Shetty
Speaker
Aditya is a 9th grader at Carroll High School. Aditya has always been influenced by the speakers who have shared phenomenal ideas and thoughts at the TED platform. They have been an inspiration and voice to millions of people across the globe, and he has been curious about the experiences that have shaped influential people's lives. He believes that this is the perfect platform to express his views. This has challenged him to explore Public speaking in the local community. The TedxYouth@Southlake chapter has provided him with a platform to deliver his ideas in a public forum.
Aisha Myneni
Speaker
Aisha Myneni was born in Chicago, Illinois and moved to the DFW Metroplex in November 2020. Currently she is a sophomore at Carroll High School. Her favorite subjects are AP European History, Principles of Business Finance and Marketing. Aisha has a passion for tennis. She is a Chicago Bears fan, does follow NFL in general and enjoys listening to an eclectic collection of music covering pop, rap, 80s rock, to Bollywood and Tollywood genres. She is excited to talk about the need for empathy in developing and sustaining good relationships.
Akshath Annadi
Speaker
Akshath is a 10th grader at Coppell High School. He was born in New York, moved to Portland, and moved again to Texas, where he has been for the past 10 years. He enjoys reading comics, learning Spanish, talking about arbitrary space topics, writing fiction, listening to music and podcasts, and playing video games. Something you might not know is that he is surprisingly good at trivia, in part to the fact that he can pull up any random fact that he's heard. When he steps into adulthood, he hopes to become a graphic designer/visual effects artist or a director.
Anika Ammareddygari
Speaker
Anika is a 6th grader attending Eubanks intermediate school. She loves to read, write, hang out with friends, play the flute, and play the piano. When Anika grows up her dream is to become a neurosurgeon and help the community around her. She is also a Girl Scout who wants to make the world a better place. Besides school, she skates, sings, dances, does Odyssey of the Mind and loves to play volleyball. Once you get to know her she is a very fair, kind, and loyal friend.
Anushree De
Speaker
Anushree De is a sophomore attending Coppell High School. For as long as they can remember, Anushree has always found a thrill in public speaking. The ability to perform something that can impact someone's life is revolutionary. Anushree began public speaking at the hearty age of 11, after a large period of timidness. Since then, Anushree has grown, both in public speaking and confidence. Currently, Anushree participates in debates at school and also writes for her school magazine. The love that Anushree has to present to an audience translates to their speech: the effects of public speaking.
Arya Kalra
Speaker
Arya Kalra is a freshman attending Carroll High School. Arya was born in Glastonbury, Connecticut, and moved to Southlake, Texas when she was nine years old. Arya is an active member of the Student Council, National Junior Honor Society, and Southlake National Charity League. She has a passion for public speaking and loves the ability to be heard. With over 100+ service hours this year, she loves to help others and to volunteer her time. Alongside, Arya enjoys running, baking, and playing tennis. She would like to pursue a career in the medical field, more specifically in pediatric medicine. Arya is also a part of Carroll Medical Academy. She joined the TedxYouth@Southlake program to advance her public speaking skills and would like to share how failure can lead to success.
Dhruv Nalla
Speaker
Dhruv is a 14-year-old who goes to Coppell High School. He values being at the top and showing courage to others. His competitive spirit and his kind attitude show through his lifestyle. He is an active guitar player for 5 years and has volunteered for NJHS for 2 years. He is always looking for ways to challenge himself and make the most out of everything. He loves playing with friends, basketball, and video games. His interests are in space and science, and he competed in the Junior Challenge Space Competition. I guess that's why the name of his dog is Cosmo.
Grace Jose
Speaker
Grace Jose was born in Bedford, Texas on October 15, 2007. From a young age, Grace has shown an affinity for all things Star Wars related, as well as other sci-fi and superhero culture. Her curiosity has translated to an interest in live theater, which she has been involved in since the age of seven. Additionally, she has participated in tennis, gymnastics, soccer, and Indian cultural dance. She regularly studies the piano and dabbles in Minecraft when her active lifestyle permits. Despite her busy schedule, Grace finds time to take care of her dog Amu and four baby red-eared slider turtles. Recently, she has begun training in martial arts with her siblings. As a student at Southlake Carroll Middle School, Grace welcomes any opportunity to better herself and contribute to others.
Kaustubh Duddala
Speaker
Kaustubh Duddala is a current sophomore at Centennial High School. Kaustubh is a hard-working honors student, enrolled in Advanced Placement classes, and fine arts such as band and other extracurriculars. He has been a part of multiple speaking groups. Kaustubh enjoys playing the flute and making music. Kaustubh has also participated in HOSA, placing 4th in his region for the PSA competition in 2021. During his free time, Kaustubh likes to read and play online with his friends. Kaustubh is excited to be participating in the TEDxYouth@South Lake year. He is interested in writing speeches and presenting them in a way that will impact the audience. Kaustubh hopes to use the skills he learns all throughout his life.
Mannansh Tiwari
Speaker
Mannansh Tiwari is a sophomore at Liberty High School in Frisco, Texas. He has traveled and lived in many countries from a young age and has a lot of experience in various topics. Apart from an interest in debate and public speaking, he is passionate about technology and enjoys spending time with his friends. He currently aims to be a pilot but would love to pursue a career in the field of business and technology too. He believes that stepping out of your comfort zone is the KEY to success.
Megha Annadi
Speaker
Megha Annadi is a 8th grader at Coppell Middle School East. She loves to dance and to bake. Megha enjoys reading, hanging out with friends, listening to music, and playing the flute. She was born in Portland Oregon and moved to Texas when was 2 years old. Megha is very passionate about being the best and getting good grades. She loves animals and when she grows up she wants to be a veterinarian. She has always been very determined and resilient.
Nathan Jose
Speaker
Nathan Jose: born August 18th, 2006. Nathan is a sophomore at Carroll High School in Southlake, Texas. He is an avid sports enthusiast and has a deep love for baseball. He is on the Carroll High School baseball team and spends seven days a week juggling practices, games, school, family, his cute dog, 3 siblings and excels through it all. Nathan believes in God, good choices, family, and quality education.
Nitya Nadella
Speaker
Nitya Nadella is a junior at Carroll Senior High School. Nitya loves debating and public speaking. She has competed in many debate tournaments and loves to express her ideas to others. She also believes in the importance of learning by example. She often teaches younger children how to improve their own speaking abilities through her local Toastmasters chapter. Her other hobbies include learning Indian Classical Dance, playing the violin, and reading in her free time. She also loves baking a lot; so much that she started her own baking club at her school and her own baking business that benefits charity ("Macarons, Madeleines & More"). Nitya believes that the impact that single idea has can be enough to change one person, a group of people, or maybe even the whole world. She is very grateful to have the privilege to share her ideas on the TED platform and inspire others through her experiences.
Rayna Marthi
Speaker
Rayna is an 8th grader at Carroll Middle School. She enjoys spending time with her family, being with animals, and playing football. She wants to pursue a career in the medical field. Rayna is passionate about being the best she can be and helping others. Rayna is incredibly resilient, competitive, and independent.
Riya Achuri
Speaker
Riya Achuri is a junior attending Grand Blanc High School in Grand Blanc Michigan. She wants to pursue a career in medicine, specializing in neurology or oncology. She loves learning new perspectives from different kinds of people and enjoys sharing her passions with others! She strives to make a positive difference through community service as President of Touch a Life Michigan Branch, Executive Member of National Honor Society, and Junior Leader of HOSA. In her free time, she enjoys playing tennis, practicing Bharatanatyam, and trying as many ice cream flavors as she can. She is very grateful for the chance to speak at this TEDx event and share one of her greatest passions, the area of meditation.
Sahasra Kandukuri
Speaker
Sahasra is a sophomore at Carroll High School. She was born in and is still being raised in the DFW Metroplex. She enjoys watching mystery, adventure, or action movies, listening to music or podcasts (Unsolicited Advice and The Bright Sessions are her favorites), reading mystery/thriller books, and trying out new things. She has played the piano for 8 years, participating in many solo festivals and several recitals. She has been a technician in theatre since middle school, participating in shows such as Elf and Dark Road. She is also an active member of her school's Student Council. Sahasra has been nominated for Education in Action's Lonestar Leadership camp twice. She has also received state recognition from DukeTIP for her score on the ACT. Sahasra likes to believe she has the superpower of knowing what will happen next in a story. Unfortunately, this power manifested after she watched The Sixth Sense, so no, she did not predict the ending of that movie.
Samraat Jangam
Speaker
Samraat Jangam is a ninth grader attending school at Westlake Academy. Samraat loves superheroes and often calls himself a shield at heart. He was born in New York and moved to Texas seven years ago. He is a member of the junior board in the community storehouse, and has a passion for speaking. He believes that often new things and new ideas, although at first seem conflicting, can change lives in ways never imagined.
Shreyas Dharani
Speaker
Shreyas is a 7th grader at Carroll Middle School. He loves to play basketball, enjoys drawing, listening to music, spending time with friends, and playing video games. He is very passionate about debate and participates in debate tournaments. He started learning python programming language last year and hopes to become a computer engineer when he grows up. He loves dogs and he's not allowed to get one since his brother is allergic but the first thing he wants to do when he gets a job is to get a golden retriever. By speaking at this event, Shreyas hopes to bring more awareness and attention to the importance of mental health, especially in the younger audience.
Sindhu Guntur
Speaker
Sindhu is a 10th grade student at Carroll High School in Southlake, Texas. She wants to pursue a career in the medical field, specifically biomedical engineering, but understands that hobbies are vital to have a happy, healthy life. She has a great passion for the fine arts, especially choir, theatre, and playing piano. She has been doing choir and piano for five years and theatre for four years. She knows that, as the lead in Shrek the Musical and receiving first chair at the choir All Region competition, hard work is crucial to be successful. Sindhu also enjoys Indian classical singing and dance and has been pursuing those for six years now. She loves making jokes and having a good time with everyone because making people happy is something she takes pride in. Sindhu wants people to realize that, just because she's a kid, it doesn't mean that she can't teach people about life.
Siri Bireddy
Speaker
Siri is a 7th grader attending Carroll Middle school in Southlake TX. Siri is an active member of the student council and H.O.P.E squad and She has a passion for public speaking. Siri found her interest in public speaking in 1st grade through a few speech competitions. Siri's favorite hobbies are public speaking, classical music, and art, and hanging around with friends.
Sofia Tangirala
Speaker
Sofia is a 16 year old student in Carroll High School. She was born in Silvis, Illinois and moved to the DFW Metroplex in 2018. She loves to watch mystery shows and comedies and listens to pop, and rock music. She volunteers at the Tarrant County Teen Court as a defense attorney and dreams of being a lawyer when she heads to college because she wants to help people learn from their mistakes and get a second chance to redeem themselves. She also volunteers as a tutor to middle school children from disadvantaged immigrant families through a non-profit organisation. She has a thirst for learning new things and always likes to jump into new experiences with an open mind. She believes in advocating for universal justice, community activism and to always fight hatred with kindness.
Sravyasri Lankipalle
Speaker
Sravyasri is a sophomore at Carroll High school & she loves to debate. As someone who loves to question and understand everything surrounding her, primarily human personalities and behaviors, she wants to pursue forensic psychiatry where she can understand the worst of society. This natural curiosity translated into chess and reading as she was able to, at least temporarily, understand a character or playing style. She is a nationally ranked chess player and was the female state chess champion in CO. She has many hobbies including art, chess, drawing. She has also participated in DI and other public speaking and improv events. Her aim is simply to provide a listening ear to those who are struggling and also to provide advice that enables one to reach for the stars rather than constrict themselves to a narrow box defined by those around them.
Sreethan Karna
Speaker
Sreethan Karna is an eighth-grader at Dawson Middle School. He is a member of the National Junior Honor Society, Student Council, and has won the Cotton Bowl Art Contest. He has played the piano for ten years and has played in his school band. He is a regional band player in the Dawson Wind Ensemble. In his free time, he enjoys reading. His favorite series is Harry Potter. He enjoys following sports such as football and basketball. He also loves to spend time with his family and friends.
Suhavi Bakshi
Speaker
Suhavi Bakshi was born in India and moved to Texas when she was about 7 years old. She is a 7th grader at Dawson Middle School. She plays the clarinet at Dawson Band and is a second-degree black belt in taekwondo. She loves putting her thoughts into words, for her, it's like paper soaking up water. She is an active member of the student council and writing club. She has a passion for public speaking and has shared her thoughts on various platforms including radio shows. She loves and takes great pride in Punjabi culture and has participated in various Punjabi cultural shows and events. Suhavi is a dog lover and carries immense knowledge on different dog breeds, habits, etc. She loves reading and is a strong believer in "believing and achieving" and also a big advocate of "putting mental health first".
Sumyak Raj
Speaker
Sumyak is a sophomore at Carroll ISD in Southlake. He was born in Alabama and moved to Texas 7 years ago. He loves geography and history. He has been active in debate and Odyssey of the Mind in the past. He plays piano and video games in his spare time. He enjoys playing basketball and follows college football, NFL, NBA.