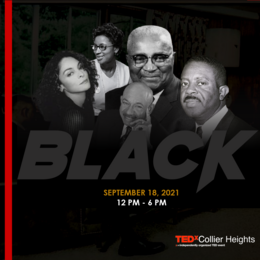 Black is a noun, adjective, verb, and a biographical name. All displayed within one of the first communities in the nation built exclusively by African-American planners for African-Americans.
Speakers
Speakers may not be confirmed. Check event website for more information.
Aiyisha T. Obafemi
Creative innovator, Results-oriented Marketing and Branding Strategist
Aiyisha T. Obafemi is an entertainment executive with 31 years of expertise. In 2001, Aiyisha joined Disturbing Tha Peace Records – a recording label owned by renowned entertainer Ludacris and his business partners, Chaka Zulu and Jeff Dixon. As Chief Operating Officer and Marketing Director, Aiyisha provided a structured platform for creative idea sharing, establishing a direct link between executives and staff, and produced integral marketing campaigns. Aiyisha also holds an instrumental role as part of the management team for Ebony Son Entertainment. As the CEO & Founder of The Blue Nile Group, Co-CEO & Founder of The A&D Agency and Founding Partner of Keeping Score Media. Aiyisha is also a Board Member for The Tupac Amaru Shakur Foundation. In her highly anticipated new book about her cousin Tupac Amaru Shakur "A Light On A Hill: Commemorative Essays and Anecdotes Honoring the Life, Legacy and Cultural Impact of Tupac Amaru Shakur" which will be released on September 28, 2021.
Producer, Songwriter, and DJ
Starting in 1985, with Atlanta MC Raheem the Dream, producing Raheem's self-titled record when he was only 16 years old. In the late 1980s, he was MC Shy-D's DJ, toured with him and the 2 Live Crew, as they performed at various venues with other hip hop acts such as N.W.A. and Ice-T. Toomp also DJ for JT Money, the Poison Clan, as well as worked on an album with Brother Marquis, called Indecent Exposure. DJ Toomp began to gain greater recognition by working with southern rapper T.I. They first worked together on T.I.'s 2001 debut I'm Serious, becoming T.I.'s main producer. Toomp was heavily involved in T.I.'s first four albums; together they brought trap music into the mainstream. Toomp then received critical acclaim in 2006, for producing T.I.'s hit single "What You Know." The song earned both Toomp and T.I. their first Grammy Award. In 2007, DJ Toomp was recruited by rapper and fellow record producer Kanye West, to contribute production on his third album Graduation.
Dr. Stacii Jae Johnson
Lifestyle Coach, Author and Motivational Speaker
Dr. Stacii Jae Johnson is a graduate of Spelman College, best selling author of "Date Girl 143 Reasons Why I Believe Women Should Date Multiple Men (with no intimacy)", actress, former political fundraiser and one of the most sought after wellness experts in the area of love and relationship in the country. She is on a mission to inspire and guide single women into the true love partnerships that they desire. Through her talks, her books, and her coaching, she shares her own 20-year-long journey to rewrite her love story with single women everywhere as an example of how the "happily-ever-after" relationship is still possible today—for those who are willing to do the self work. Stacii Jae's expert dating and relationship advice has been sought after by national print, radio, online, and television outlets including Essence, Headline News, Good Day D.C, Sister Circle on TVOne, NBC, CBS, Black Enterprise, VIBE, News One with Roland Martin, FOX, BET, and Good Morning Washington.
Hulio Smith
Celtics' General Manager
Growing up on the Westside of Atlanta, Hulio saw two examples of success that stood in stark opposition to each other. While the Westside was a bastion for Black ownership and entrepreneurship. Today, Hulio serves as the Celtics' general manager, a position he assumed after Prather's passing in 2005. Working alongside the team's co-founder Karl McCray, he works tirelessly to continue the program's legacy. Part of the Adidas sponsored #3SSB 3 Stripes Select Basketball circuit, the Celtics are the largest basketball program in the Southeast and the largest youth sports team sponsored by Adidas. To date, the team has produced over 300 Division I college athletes and 27 NBA players. The Atlanta Celtics' programs serve u14-u17 student athletes, the support from the organization itself is forever. Hulio has even served as a business manager for some of his players once they turned pro.
President and CEO of the Russell Center for Innovation and Entrepreneurship (RCIE)
Committed to living by his personal motto, "Build As We Climb", change agent, thought leader, entrepreneur and emerging philanthropist, James M. Bailey has dedicated his life to serving others. James serves as President and CEO of the Russell Center for Innovation and Entrepreneurship (RCIE). Honoring the great legacy and visionary business leadership of Herman J. Russell, Sr., he will lead the development of the largest center in America, driven by impact, dedicated to empowering Black entrepreneurs and small business owners; over 50,000 square feet designed to inspire ideas, create jobs, grow companies, and increase wealth in the community. An Atlanta native and die-hard Georgia Bulldog, James has a proven track record of success, recognized by 3 U.S. Presidents for his leadership and community efforts. In 2012, James was one of eight Americans honored at the White House as a "Champion of Change: Following in the Footsteps of Dr. Martin Luther King, Jr."
Judge Asha F. Jackson
Chief Judge of the Superior Court in DeKalb County, Georgia and the 4th District Administrative Judge in the State of Georgia
The Honorable Asha F. Jackson is the Chief Judge of the Superior Court in DeKalb County, Georgia and the 4th District Administrative Judge in the State of Georgia. She was appointed to the bench in 2012 and twice elected in uncontested races in DeKalb County. Judge Jackson has the distinct honor of having clerked for her predecessor on the bench, Judge Michael Hancock just after graduating from law school. Prior to becoming a Judge, Judge Jackson was a partner practicing commercial litigation out of the Atlanta office of Barnes and Thornburg, LLP and prior to this, she was a partner practicing tort litigation and professional negligence out of the Atlanta office of Carlock, Copeland, and Stair, LLP. In her current position, Judge Jackson presides over more than 1000 complex civil, felony criminal, and domestic cases assigned to her division.
Social Impact Entrepreneur: The Good Hair Shop, Ujamaafest Cooperative Economics Summit & The Ke'nekt Cooperative
Kiyomi Rollins is a community based social impact entrepreneur based in the historical community of Southwest Atlanta. For more than a decade, Kiyomi has triumphed as a Founder & CEO of several successful brands such as The Good Hair Shop, Ujamaafest Cooperative Economics Summit & The Ke'nekt Cooperative. Most recently, her role as Co-Founder + Director of The Ke'nekt Cooperative has allowed her to broaden her mission driven beliefs to include reparative community wealth principles that are rooted in Anti-Displacement strategies for legacy Black Owned Businesses. Her professional contributions have been featured in Essence, Atlanta Tribune, Atlanta Voice, Creative Loafing, Atlanta Journal Constitution & Blavity. A few highlights of past recognitions include being featured in Unsung Heroines of West End Mural, Invest Atlanta 2018 Micro-Manufacturer of the Year, City of Atlanta 2019 NPU-T Neighborhood Champion & 2016-2020 American Express Small Business Neighborhood Champion.
Artist, Author, Entrepreneur, and Motivational speaker
Melissa A. Mitchell is self-taught artist, entrepreneur, author and motivational speaker. Born and raised in Miami, Florida, she has a love for vibrant colors, unique shapes, and bold dark lines that she attributes to her Bahamian heritage, melodic sounds and the colorful world around her. In 2014, she founded Abeille Creations. Melissa has gone on to create over 500 original art pieces, 40 larger than life murals and been featured in Forbes, Vogue, ESSENCE, SHEEN Magazine, Rolling Out Magazine and The Huffington Post, among others. Most notably, she is known for turning her lively artwork into textiles, specifically head wraps named after influential women in her life, seen on the likes of Lupita Nyong'o, Amara La Negra, Yandy Smith, Karen Civil, Rebecca Gross. The author of, Views from My Kaleidoscope. Melissa,has partnered with two billion dollar brands—the recent winner of Spanx's Illuminate-Her contest with her Bra-llelujah Bralette and Under Statements Thong collection.
Osei Kweku
Media Personality + Multi-faceted International Businessman
Osei Kweku, a first-generation immigrant in North America. As a multi-faceted international businessman that grew up in Kitchener, Ontario and Middle America. As a graduate of Hampton University, Osei began to make his mark in the Broadcast Media industry in Washington, DC. As an on-air personality with a distinctive voice, his talents were sought after in markets on the eastern corridor of the United States including such cities as Philadelphia, Baltimore, Hampton/Norfolk, Virginia, and Atlanta. While promoting brands on the air, this forged the symbiotic relationship between marketing, branding, and international business. Now a public figure in media with over twenty years in covering and analyzing politics and entertainment news, to include years of working in public radio. His greatest strength is his knowledge of marketing international creative culture. Proceeds of DSI goes towards the redevelopment and redesign of Osei's family hospital in Kumasi, Ghana.
Ray Daniels
SVP of A&R for Warner Music and CEO of RAYDAY
Ray Daniels is a leader in the new school of entertainment executives; an embodiment of the music industry's newfound culture. As SVP of A&R for Warner Music and CEO of his own conglomerate RAYDAR Management LLC; Daniels is undeniably one of the most accomplished executives in today's business of music. RAYDAR is responsible for some of the industry's biggest chart-topping hits for artists such as Lizzo, Beyonce, Ciara, Rihanna, Usher, Future, Miley Cyrus, Adam Levine and many more. Outside of his formal titles, Daniels juggles hats as a much-requested A&R, music consultant and broker known for negotiating some of the biggest publishing and artist deals signed over the last five years including superstar rapper, NLE Choppa. The power of music has allowed Daniels to strike deals on behalf of his clients outside of the parameters of music; including opportunities with corporate brands as well as ventures in TV and Film.
Speaker, Activist, Author, and Thought Leader
Terence Lester is a speaker, activist, author, and thought leader in the realm of systemic poverty. He's known for nationwide campaigns that bring awareness to issues surrounding homelessness, poverty, and economic inequality. His awareness campaigns have been viewed by millions of people worldwide. In 2018, Terence led the March Against Poverty as he walked from Atlanta to Memphis (386 miles). He finished the march and spoke at the historic Lorraine Motel for the 50th Anniversary of MLK's assassination. In 2013, Terence founded the non-profit "Love Beyond Walls" and has helped hundreds of individuals experiencing homelessness and poverty to rebuild their lives. In 2019, Terence launched the first museum in the U.S. representing homelessness out of a shipping container called Dignity Museum. Terence has written six books, and his new book, "When We Stand: The Power Of Seeking Justice Together," released May 18, 202. He working towards his Ph.D. in Public Policy & Social Change.