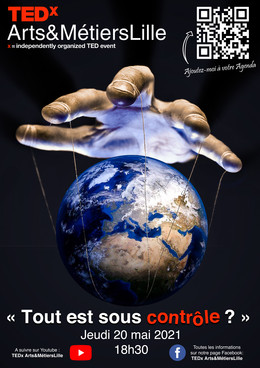 In the spirit of ideas worth spreading, TEDx is a program of local, self-organized events that bring people together to share a TED-like experience. At a TEDx event, TEDTalks video and live speakers combine to spark deep discussion and connection in a small group. These local, self-organized events are branded TEDx, where x = independently organized TED event. The TED Conference provides general guidance for the TEDx program, but individual TEDx events are self-organized (subject to certain rules and regulations).
Speakers
Speakers may not be confirmed. Check event website for more information.
Emmanuel Molinero
Lean-consultant
Consultant Amélioration Continue chez Parallax, son propre cabinet de conseil, il accompagne les dirigeants des grands groupes industriels à atteindre l'excellence opérationnelle. Il poursuit en parallèle une carrière d'illusionniste/mentaliste.
Hélène Laloux
Child adoption counsellor
Accompagnatrice dans l'adoption d'enfants et fondatrice du groupe des Mères du Soleil, elle s'exprimera sur le contrôle que chacun a sur sa vie, sur le thème de la résilience.
Nicolas Frémeaux
Faculty professor of economics
Maître de conférence à l'université Paris 2 Panthéon-Assas, Nicolas Frémeaux est un économiste spécialiste de la question de l'héritage, ses implications et son impact dans la société.
Nora Benhamla
Law Student
Etudiante en droit à la faculté de Lille, elle est passionnée d'éloquence, et fait partie de l'association d'art oratoire de sa faculté. Consciente de la puissance des mots, elle en a fait son cheval de bataille.
Thierry Coorevits
Metrology professor
Professeur et passionné de métrologie, il est maître de conférences aux Arts et Métiers. Spécialiste de cette discipline méconnue, il aime partager son savoir et son expertise.
Véronique Salman
Pyschanalist
Psychanalyste française, e-thérapeute et auteure, Véronique cherche à vulgariser et faciliter l'accès à la psychanalyse. Spécialiste de l'expressivité, elle enseigne la communication interpersonnelle.