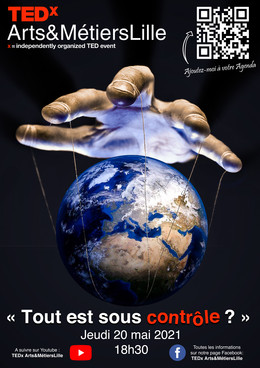 In the spirit of ideas worth spreading, TEDx is a program of local, self-organized events that bring people together to share a TED-like experience. At a TEDx event, TEDTalks video and live speakers combine to spark deep discussion and connection in a small group. These local, self-organized events are branded TEDx, where x = independently organized TED event. The TED Conference provides general guidance for the TEDx program, but individual TEDx events are self-organized (subject to certain rules and regulations).
Speakers
Speakers may not be confirmed. Check event website for more information.
Hélène Laloux
Child adoption counsellor
Helene Laloux, child adoption counsellor and founder of the Mères du Soleil group, will speak about the control that each person has over his or her life, on the theme of resilience.
Nicolas Frémaux
Faculty professor of economics
Associate Professor at the University of Paris 2 Panthéon-Assas, Nicolas Frémaux is an economist specializing in the issue of inheritance. He will come and talk to us about this subject and its impact on society
Thierry Coorevits
Metrology professor
Thierry Coorevits is a professor at the Arts&Métiers engineering school of Lille. He teach metrology and hold a conference chair.