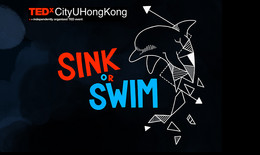 Sink or Swim
It is never an easy task for a researcher, academic or person who strike for animal, conservation and own goal. The result always highly depends on one's effort. We aim to bring together minds to give talks that are idea-focused, and on a wide range of subjects, to foster learning, inspiration and wonder, and provoke conversations that matter.
About TEDx, x = independently organized event
In the spirit of ideas worth spreading, TEDx is a program of local, self-organized events that bring people together to share a TED-like experience. At a TEDx event, TED Talks video and live speakers combine to spark deep discussion and connection. These local, self-organized events are branded TEDx, where x = independently organized TED event. The TED Conference provides general guidance for the TEDx program, but individual TEDx events are self-organized. (Subject to certain rules and regulations.)
Speakers
Speakers may not be confirmed. Check event website for more information.
Travel Presenter
Chris is a travel show writer and presenter. His most representative series features his backpacking adventures in Latin America, Central Asia, and Morocco. A graduate from the ecology and evolutionary biology department of Princeton University, he noticed the perpetual underappreciation for nature within the local community, the undeserving lack of nature-related content in mass media, and the often inefficient communication between the scientific community and the public. Such gaps, together with his fondness for nature, inspired him to develop a unique angle for his shows - to entertain while calling for understanding about the natural world. His series has featured experiences such as diving at the Galapagos, going on a wildlife safari in Colombia, exploring the Tienshan countryside in Kyrgyzstan etc. Last year, to continue his aspiration amid travel restrictions, he began making short videos and hosting online classes on ecology and evolutionary biology.
Marine Mammal Veterinarian
Dr. Claire Simeone is a marine mammal veterinarian, and founder of Sea Change Health, dedicated to improving health for all who rely on the sea. Her work focuses on marine mammal health and conservation, particularly of stranded marine mammals. Prior to founding Sea Change Health, Claire directed the Hawaiian Monk Seal Conservation Program at The Marine Mammal Center, and worked as a conservation medicine veterinarian with The Marine Mammal Center and the National Marine Fisheries Service. In 2018 Claire was the first veterinarian ever selected as a TED Fellow. Claire's work underscores the connection between humans and animals, and how our very survival relies on a return to listening to what wisdom the natural world has to share.
Chief of the Bacteriology Laboratory + Veterinarian + Researcher
Dr. Gabriela Hernández Mora is a veterinarian and researcher from the National University of Costa Rica. Since 2009, Gabriela has led the Bacteriology Laboratory of the National Service of Animal Health of the Ministry of Agriculture and Livestock of the Costa Rican government. Her interest is the diagnosis and pathobiology of Brucella infections in marine mammals and other domestic and wild animals. She completed her MSc in Microbiology (2011) and PhD in Science (2019) with an emphasis in the epidemiology of brucellosis in terrestrial and marine mammals at the University of Costa Rica. Her specialization with rescue, attention, and research of stranded cetaceans began in 2004 with training at the Mote Marine Laboratory in Florida, US, and with the Taiwanese Cetacean Society in Taiwan in 2005. Since 2007, she has been a member of the IAAAM, and since 2017, a member of the Expert Advisory Panel on Strandings of the International Whaling Commission.
Dr Géraldine Lacave
Marine Mammal Veterinary Consultant
As head of MMVS, Dr Géraldine Lacave has 30+ years of experience as a marine mammal veterinary consultant overseeing many aquaria and marine parks worldwide. Géraldine graduated in 1990 from the Liège University in Belgium and obtained the first prize for her thesis on marine mammal anaesthesia. She has devoted her career to promote medical training in marine mammals and state-of-the-art preventive health care programs, working closely with trainers to develop good husbandry procedures for animals under human care. Together with her passion in medical training, for which she has been rewarded by several IMATA awards, Géraldine has strong expertise in reproduction, ultrasound, and pinnipeds anaesthesia. She was the Past President of EAAM and the past Vice-President of IMATA. She is also the founder of the Marine Mammal Medical Workshops and has developed a parturition prediction program for bottlenose dolphins based on ultrasound measurements, now used worldwide.
Director of Marine Department
Dr I-Fan Jen graduated from the Chiayi University in Taiwan majoring in veterinary medicine, followed by a master's degree in 2007. He volunteered in dolphin rehabilitation since college and started working as a veterinarian at the Farglory Ocean Park in Taiwan in 2008. In 2017, he decided to go to Mainland China and serve more animals. Due to the pandemic, he returned to Taiwan and is currently the director of the Marine Department at the Farglory Ocean Park, responsible for marine mammals and other aquatic creatures. His next goal is to convince facilities in the Mandarin-speaking area to change their present practices. He wants to prove that these facilities can thrive with educational or conservational programs that serves more than entertainment purposes. He believes that animals should not be kept solely for entertainment and should serve more purposes after sacrificing part of their original life. Dr Jen will always fight for the welfare quality of the animals that he serves.
PhD student
Dr. Mac is a marine mammal veterinarian and Ph.D. scholar in veterinary pathology and virology research fields. He received his Doctor of Veterinary Medicine from Kasetsart University, Thailand, in 2015 and worked as a veterinary officer at the Marine and Coastal Resources Research Center, under the Department of Marine and Coastal Resources in Thailand. In 2019, he received a Fulbright Graduate Scholarship to pursue his Ph.D. in Comparative Biomedical Sciences at the Department of Pathology, College of Veterinary Medicine, University of Georgia, USA. His research interests are to develop pathological and advanced molecular diagnostic (such as next-generation sequencing) techniques to fulfill the needs for marine mammal stranding response, viral and infectious diagnosis, pathology, and sustainable marine mammal conservation.
Head Veterinarian
Dr Martin Haulena graduated from the Ontario Veterinary College of the University of Guelph in 1993. He completed a clinical internship in aquatic animal medicine at Mystic Aquarium in 1996 and a master's degree in pathobiology from the University of Guelph in 1999. He became a Diplomate of the ACZM in 2007. He was the Staff Veterinarian at The Marine Mammal Center in Sausalito, California for 9 years and has been the Head Veterinarian & Director, Animal Health at the Vancouver Aquarium since 2006. He is interested in the medical management of aquatic animals, notably marine mammals, with an emphasis on innovative diagnostic methods, safe anaesthetic protocols, and improving surgical techniques. Dr Haulena also trains students and veterinarians from around the world on aquatic animal medicine. He is an Adjunct Assistant Professor in the College of Veterinary Medicine at North Carolina State University and an Adjunct Professor at the University of British Columbia Fisheries Centre.
Director + Stranding Coordinator
Dr Putu Liza Mustika (Icha) obtained her PhD from James Cook University in Australia in December 2011. Her PhD was on the sustainability of dolphin watching tourism in Bali, Indonesia. Her current interests are cetacean watching tourism, by-catch, marine mammal protected areas and stranding management. Icha is one of the founders for NGO Cetacean Sirenian Indonesia (CETASI, www.cetasindonesia.org), which is one of the very few NGOs in Indonesia that is working on the conservation management of marine mammals. Icha is also a member of the IUCN Cetacean Specialist Group and a member of the Steering Committee of the International Whaling commission.
Associate Professor
Dr. S. G. Cheung is a marine biologist with primary interests in the physiological and behavioral ecology of marine invertebrates and their responses to human disturbances such as microplastic pollution, ocean acidification, and hypoxia. He started working on the ecology and conservation of horseshoe crabs in 2005 and is currently a steering committee member of the Horseshoe Crab Specialist Group under the IUCN Species Survival Commission (SSC). In collaboration with the Ocean Park Conservation Foundation of Hong Kong, he has been running a very successful educational outreach program for more than ten years. This program aims to nurture secondary students in their responsibilities and commitment to marine conservation by rearing juvenile horseshoe crabs in their schools. Currently, he is working on the habitat utilization of juvenile horseshoe crabs and the conflict with oyster cultivation.
Ir Kok Keung Lo
Chartered Mechanical Engineer + Expert Witness Testimony
Ir Lo is a professional engineer with fruitful experience in teaching related subjects. He also acts as an Expert Witness to give evidence on traffic accidents and mechanical defects in the courts of law of Hong Kong on numerous occasions and has been recognized as an Expert Witness since 1994. He is frequently interviewed by the media to give professional opinions and comments related to road traffic accidents, industrial accidents, and mechanical problems. He has been invited to give seminars on Road Traffic Accident Reconstruction by the Law and Justice Department of Macau Special Administrative Region, IMechE (HK), HKIE(MMNC), the Institute of Road Transport Engineers, the Engineering Faculty of PolyU, the Institute of Active Ageing of PolyU, the HK Federation of Youth Group, and the Hong Kong New Generation Cultural Association.
Kayson Cheuk Man Lo
Young Naturalist + Environmental Educator
Kayson has loved nature since he was a kid, especially the creatures from the sea. During his university studies, he worked as a research assistant at The Swire Institute of Marine Sciences (SWIMS), HKU, to assist marine ecology research projects; after this experience he developed a deeper understanding of marine ecology and marine invertebrates. Currently, he works at a local environmental education and conservation NGO, and he hopes that through his work, more people can learn about nature and how to preserve it.
Museum Director
Professor Joost Schokkenbroek is the Museum Director of the Hong Kong Maritime Museum since March 2021 and was the Executive Director at the Vancouver Maritime Museum in Canada. He holds MA and PhD degrees in maritime history from Leiden University, Netherlands, and is the former Chief Curator of The Dutch National Maritime Museum (1991-2017). Visiting professor at Cornell University, Tufts University, etc., he brings around 35 years of experience in museum leadership and maritime heritage. Emeritus Professor of Maritime History and Heritage at Vrije Universiteit, Amsterdam, he serves as Adjunct Professor at Simon Fraser University in Vancouver. Holding multiple publications, he has lectured on maritime material culture, maritime industries, especially on whaling history (Trying Out. An Anatomy of Dutch Whaling and Sealing in the Nineteenth Century, 1815-1885; title of his 2008 dissertation), and on the historical ties based on maritime trade between the West and the East.
Dean + Chair Professor
Prof. Nikolaus Osterrieder is currently the Dean of the Jockey Club College of Veterinary Medicine and Life Sciences, City University of Hong Kong. After finishing his veterinary degree in 1990, Klaus entered the field of virology, initially working on poxviruses. After his dissertation in 1993, he switched his focus to herpesviruses, specifically on equine herpesvirus type 1. He completed his habilitation in 1997 and started to work as a group leader at the Friedrich-Loeffler-Institute, where he began to study the Marek's disease virus, an oncogenic herpesvirus in chickens. He continued to work on these two herpesviruses while on the faculty at Cornell and in Berlin. He has recently extended his focus to influenza and coronaviruses. Klaus is an avid advocate of natural virus-host systems, as they are unique and allow interdisciplinary collaboration between clinicians and researchers. His laboratory studies viral pathogenesis and applies this to engineer modified live virus vaccines.
Director + Full Professor
Michael J. Thali, MD, EMBA, current Professor and Chair of the Institute of Forensic Medicine at the University of Zurich (Switzerland) and former chair of the Institute of Forensic Medicine at the University of Bern (Switzerland), is a co-founder of the Virtopsy Project and active advocator of virtual autopsy (www.virtopsy.com). He was a resident in radiology at the Institute of Radiology at the University of Bern (Switzerland) and completed a fellowship at the Armed Forces Institute of Pathology, Washington DC (USA). He is editor of the textbook on virtual autopsy "The Virtopsy Approach" (2009) and of the latest edition of "Brogdon's Forensic Radiology" (2010). He has co-authored over 150 papers on forensic radiology and virtual autopsy. Michael Thali is the past-chairman of the ISFRI (www.isfri.org) as well as Founder Board and Editor in Chief of the JOFRI (www.jofri.com).
Conservation Photographer
An independent photojournalist, Sirachai "Shin" Arunrugstichai focuses on marine conservation issues. Trained as a marine biologist studying coral reef ecology and shark fisheries, he transitioned toward conservation photography to communicate pressing ocean issues to the public. He is an Emerging League of the International League of Conservation Photographers, a talent from the Southeast Asia of World Press Photo 6x6 Global Talent Program, and storytelling grantee of National Geographic Society. He works for IUCN, Save Our Seas Foundation, WildAid, and Greenpeace, covering non-conservation stories for Getty Images as a stringer. Shin's photos were published in the Washington Post, the New York Times, National Geographic, etc. Currently, he is working on a long-term project along the Andaman Sea to encourage sustainable management of its resources. He is still active within the scientific community, assisting on any shark and ray research or conservation projects.