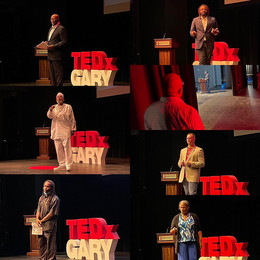 TEDxGary 2021 is about exploring the morpheme "re" as a way of spreading and utilizing ideas about growth and application in one's journey: re-aligning, re-setting, re-purposing, re-imagining and re-lying are all avenues onto a springboard of ideas about re-examining ways of self-actualization and community re-birth and re-engagement.
Speakers
Speakers may not be confirmed. Check event website for more information.
Jason Williams
Connector. Marketer. Explorer. Jason Williams is a can opener for innovation who is passionate about connecting people to people and people to ideas. Jason is managing director of The Society of Innovators at Purdue Northwest that serves the innovation communities in Northwest Indiana and Greater Chicagoland, and a partner at InnoPower, an organization building more inclusive innovation ecosystems across Indiana and beyond. Jason is also the founder and owner of Spycomps, a business intelligence company focused on the retail industry. A graduate of Butler University, Jason is extremely active in Indiana's innovation and entrepreneurship communities and is a member of the Hive Global Leaders network.
Ken Barry
Ken Barry, Founder, Force for Good Community Development Corporation Ken has spent the last 29 years impacting communities across the country. For the last 9 years Ken, an inductee to the Purdue Northwest Society of Innovators and Mitch Daniels Leadership Fellow, has been impacting the lives of youth and families in Gary Indiana. In 2019 he became the founder of the Force for Good to inspire people, organizations and businesses to "Do Good in Gary!" Among his academic accomplishments are: an MBA with a concentration in Management, a Master Degree in Higher Education Administration, a Certificate in Fundraising Management and a Certificate in Management from Harvard Business School.
Kwabena Rasuli
Born in Venice, California in the Los Angeles area near the beach. Raised in Compton and Carson, California. Graduated from Southern University in Baton Rouge, Louisiana with a degree in Mechanical Engineering. Moved to Gary, Indiana in the early nineties! Worked at both the local utility and local university during his professional career. Has also spent time working in the Gary School system and performing independent consultant work both in the U.S. and overseas in Afrika. Been an active member of many organizations and movements, such as: National Society of Black Engineers, United Afrikan Movement, BLM Northwest Indiana-Gary and National Black Leadership Alliance. In 2013 assisted in the organization of the Clear The Airwaves Project. A project dedicated to the removal of vile, vulgar and violent music from commercial radio stations.
Samuel Love
Samuel Love is a social and civic practice artist who organizes public projects that connect communities to their cultural and ecological histories through publishing, multi-media installations, and performance. He is a 2019/20 Indiana Arts Commission On-Ramp fellow and a recipient of IAC's 2019/2020 Individual Advancement Program grant. He is a contributor to Belt Magazine and is the editor of The Gary Anthology, published by Belt in 2020. With the support of the Indiana Humanities Council he and videographer Raymar Brunson are producing Calumet: The Region's River, a video exploration of the Calumet river system.
Sharon Mallory
Sharon Mallory is the visionary and CEO of SDM Investments, LLC a registered investment firm in Chicago, IL and Merrillville, IN. She is responsible for defining and maintaining the direction of SDM and ensuring that her client's financial planning needs are being met at the highest level of fiduciary responsibility. Mallory served as a commanding officer in the United States Army several years prior to entering the financial industry. In 1992, she worked in corporate America as a financial advisor and remained in corporate America for 14 years before launching SDM Investments, LLC. She has an extensive background in leadership and sales. She recently authored the books, Drama, Dollars and Dreams: A Diva's Guide to Financial Management and 77 Wealth Wisdom Tips. Her articles have appeared in Indiana Minority Business Magazine and The American Association of Individual Investors Magazine. She is also featured on the TD Ameritrade Human Finance Project. Sharon attended Purdue University in Lafayette, IN where she received her BA degree prior to pursuing advanced degrees at Chicago State University and the University of Colorado's School of Financial Planning. She received her Chartered Mutual Fund Counselor (CMFC) designation from the University of Colorado. She holds her FINRA series 6, 63, 65 securities licenses, and life and health insurance licenses in various states in which the firm is registered.
Tyrell Anderson
Tyrell Anderson is the president and founder of Decay Devils Inc. Its mission is to educate the general public about the historic and social importance of abandoned architectural structures, as well as to seek out and secure funding to restore and preserve abandoned historic structures through local communities and the world. Anderson lives in Gary, Indiana, graduated from Purdue University Lafayette with a bachelor's degree in Industrial Technology, and works for The U.S. Steel Corporation. He is also the President of the Gary Public Libraries board of trustees. In 2018, he was an honoree of the National Trust for Historic Preservation's inaugural 40 Under 40: People Saving Places list and was awarded the American Express Aspire Award in 2019.
Vernon A. Williams
Vernon A. Williams was the first African American news reporter at the Gary Post-Tribune where he also became a columnist and a member of the editorial board. He is former Managing Editor for Gary Info Newspaper and is currently a columnist for the Chicago & Gary Crusader Newspapers. Also in media, Williams was Station Manager of WGVE FM in Gary, and morning drive air personality hosting "The Breakfast Club" on WLTH AM in Gary. He served as News Director and evening anchor for CableVision News in Gary as well as CEO of Paragon Advertising. Since relocating to Indianapolis in 2001, Williams served as Marketing Supervisor for the IPS Career and Technology Center for 11 years before becoming Vice President of Communications for Indiana Black Expo, Inc. He left IBE to become Assistant to the Chancellor for Communication under Dr. Charles R. Bantz. Chancellor Nasser Paydar appointed Williams to serve as Communication and Community Engagement Strategist for the IUPUI Office of Community Engagement. Williams graduated Indiana University with a Bachelor of Arts in Journalism and Purdue University with a Master's in Communication. He studied Education Administration at Ball State University. He has written three books: "sonnets for my sistah," a collection of poetry; a health publication entitled, "The African American's Guide to Hepatitis C," and the biography, "That Black Men Might Live," the story of Indiana Black Expo icon Rev. Charles Williams and his courageous battle with prostate cancer. Williams has been a playwright and producer since 1980. He co-founded the William Marshall Players in Gary IN. After moving to Indianapolis IN 2001 Williams produced "sonnets for my sistahs," – from his book of the same title – an intimate collection of vignettes offering seldom-expressed intimate thoughts of men pertaining to relationships. The production premiered at the Madam C.J. Walker Theater and toured the state. His productions include "Playin' for Keeps," a talk-show setting for relationship dialogue; "A Woman's Place " five college girls' evolution over two decades; "True Colors," diverse reactions to the election of the nation's first Black president; and "The Divine Nine," a glimpse into Black fraternity and sorority life. In 2019, Williams wrote, produced, and directed "The Price of Progress: The Indiana Avenue/IUPUI Story" which returns November 4, 5 and 6, 2021 to the stage of the Historic Madam C.J. Walker Theatre in Indianapolis. Williams served 12 years on the IBE Board of Directors and 10 years on the IU Neal Marshall Alumni Association Board, national chair. He is currently Vice President of the Indianapolis Association of Black Journalists and is a member of the Board of Deacon at Kingdom Apostolic Ministries Indianapolis. Wife Joyce is a retired Biology teacher and daughter Bridget Harris is a Marketing Professional and Entrepreneur.