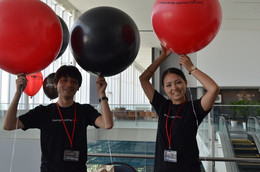 Young force of TEDxTokyo produce TEDxTokyo Change. To tell the truth, the key question that TEDxChange asks, as well as the field of global health and development, is rather an unfamiliar subject to us, Japanese younger generation.
Thus, our team reinterpret the theme and localize the question in order to make it our own business. That is, "How can we draw the big picture as a piece of puzzle?" With that said, we are determined to become more active players to collaboratively serve our society with the rest of the world.
Our team curate a few live speakers who shed lights on complexity of the filed of global health and development, and tell us simplicity of their actions upon it. They will present their belief, strategies, and projects.
-What is TEDxChange-
TEDxChange 2012 is a TEDx event co-organized by the Bill & Melinda Gates Foundation and TED. Convened by Melinda French Gates and hosted by Chris Anderson, TEDxChange will focus on issues surrounding global health and development. TEDxChange type events are TEDx events hosted around the live webcast of TEDxChange, and also feature local speakers. Our event is called TEDxTokyoChange, and is one of many TEDx events happening around the globe on April 5th that will expand on the ideas brought up at TEDxChange 2010.
Organizing team
Aya Omoto

Director

Asuka Kawachi

Sub Director

Yusuke Suzuki

Participant Curation Lead

Yuji Murata

Social Media Lead

Yosuke Kitabayashi

Food and Beverage

Megumi Kotake

Program Design Lead

Lisa Nakayama

Speaker Curation

Kazuwo Kawamura

Video/Livestreaming Lead

Daisuke Yano

Space Design Lead

Junya Mori

Social Media

Kanae Hayakawa

Participant Curation

Max Takano

Video/Livestreaming

TETSU- LAW

Video/Livestreaming

Motoyo Yano

Lighting Design

Shoko Saito

Graphic Design

Tsuyoshi Okumura

Video Editing Lead