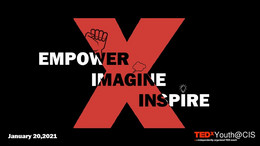 This TEDx event seeks to stimulate a conversation on an idea worth sharing. Our theme empower, imagine, inspire provides a platform to unearth unique and diverse student voices to share their perspectives on how they view the world through the lens of imagination, the integrity of inspiration, and the mundane reality of empowerment.
Speakers
Speakers may not be confirmed. Check event website for more information.
Aisha Siddiqui
Speaker
Aisha Siddiqui is a 15-year-old social entrepreneur, educationist and environmentalist. Apart from being an avid debater and public speaker, she is passionate about STEM, aiming to work at the intersection of coding and community; science and society; mathematics and mankind. She is a firm believer in the transformational power of knowledge and believes that every single human being, regardless of wealth, status or geographical standing, has the right to education. This has empowered her to take numerous steps from creating her own E-Learning platform, bridging the education disparity, supporting girls' education, and advocating the ever-evolving importance of preserving our plant through innovative technologies.
Anagha Tintu Arun
Speaker
Curious and intuitive, Anagha is someone who could indulge herself in a world of literature with no regrets. She enjoys in venturing past boundaries and testing limits. Anagha would often be described as someone who takes responsibility and pushes as far as she can.
Aryan Shah
Speaker
An overzealous teenager with a penchant for public speaking, cooking(or burning things) and debating. One, who tackles life through self deprecating humour and wit and constantly strives to push the envelope in being best version of himself. He's beauty, he's grace, he's got humility written all over his face- Aryan Shah
Brent Dsouza
Speaker
Brent is an industrious student who dares to be different and flow against the tide. With so many passions, many creative interests and ideas, he believes there are so many ways to combine and do them all. Music, art , innovation, family, friends , animals and nature are his loving companions in life. Nurturing them helps him to strive towards life's fulfillment.
Eric Jacob
Speaker
Striving to be a reason for many people's happiness and joy. On a journey of life, he tries out different skills in order to increase his level of limits and be able to overcome any barriers, which blocks his way of fulfillment and positivity. I am into the fundamentals of how machine works, which will play a key part for my future.
Jovin Joby John
Speaker
Jovin John is a boy who is a great admirer of Music and has been learning it for about a decade. Has a knack for impressing people with his musical talent, however, is unable to because of his introverted nature. He is a keen enthusiast in space and hopes to become an astronaut in the future and isn't afraid of dreaming big.
Khushi Khan
Speaker
Khushi Khan has a great passion for photography. Photography allows her to capture all the beauty and emotion and life surrounding her. Other than her love for reading and music and cats, she is extremely interested in Psychology. The science of mind and behavior beyond fascinates her. The more she understands, the more she wants to learn. Not only does it help her understand others around her better, it also helps her understand herself better and figure out who she really is. Khushi is unapolegetically herself and strives to be a better her every day.
Manahil Awan
Speaker
Growing up learning about European in-fighting in her history class despite none of her classmates being European raised a lot of questions for Manahil. She quickly realised a pattern of her course material for history lessons typically being centered around white men's voyages and wartime efforts. After venturing on multiple platforms (from creating a school History Club to bringing together hundreds of girls across the country to curate content for their recent Girl Up Club) to tackle historical erasure in its various forms, Manahil has arrived right here to answer a question she's been asking herself for quite a while: What happens when women are more than footnotes in textbooks?
Syeda Jaweria Hassan
Speaker
A passionate and motivated learner brimming with optimism who has always been fascinated by poetry, nature and speeches. Her love for poetry Is purely because it enables her to enter a world of imagination and allows her to beautifully express her feelings. She believes in a line from her poetry "As complicated as the depths of the sea are the figures I refer to as you and me!" this is one of the reasons why she is always intrigued to listen to others inspirational or captivating speeches as she takes an initiative to learn from them.. Jaweria can't imagine her world without nature, just a glimpse of flowers would make her day. She has the motivation to learn and work hard till she achieves her goal as she is a determined person. Her sources of inspiration such as her parents, friends, quotes and speeches play an important role in inspiring her.
Urja Mhatre
Speaker
Urja is deeply passionate about all things science and medicine. Her interest in STEM and innovation excelled when she received a scholarship to attend NASA's Space Camp. Throughout Space Camp, she met numerous astronauts and scientists and was particularly inspired by NASA's Mission Artemis which has the goal of landing the first woman on the moon. However, as she began pursuing science further in highschool, she realised the void of female students in STEM along with the absence in recognition for female leaders in STEM innovation. She strives to discuss the underrepresentation of women in STEM in hopes to reduce this distinct gap that currently exists.