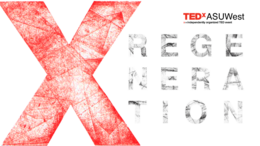 Regeneration often refers to the process whereby parts or aspects of one entity are transformed to create something new. It represents a moment in time when we must look outside of our current selves, our environments, and our perceptions in order to spark growth and change. TEDxASUWest 2021 seeks to explore the theme of regeneration across contexts: how it is possible to create something new out of what already exists, and the ways in which the transformative process of regeneration leads to vital renewal and restoration.
Speakers
Speakers may not be confirmed. Check event website for more information.
Akua Duku Anokye
Associate Professor of Africana Language, Literature, and Culture
Akua Duku Anokye is Associate Professor of Africana Language, Literature, and Culture, Associate Director of the School of Humanity Arts and Cultural Studies, and Director of New College International Initiatives, office of Interdisciplinary Global Learning and Engagement at Arizona State University. She earned her PhD in Linguistics from City University of New York Graduate School and University Center. A sociolinguist, Dr. Anokye's research focuses on African Diaspora orality and literacy practices, folklore, discourse analysis, and oral history with a specialization in Ghanaian culture, religion, storytelling, and dance. Her most recent research focuses on African Diasporic women activists as community mothers based on a Ghanaian Ancestress/deity, Nana Esi, who serves as an archetype in African Diaspora women's literature and for community mothers.
Climate Scientist
Haunani Hiʻilani Kane was raised at the foot of Olomana mountain in the coastal community of Kailua, Oʻahu, Hawaiʻi. Haunani's research combines coastal geomorphology, paleo environmental reconstructions, spatial analysis, and the perspectives of a native islander to investigate how islands, reefs, and island people are impacted by changes in climate. Haunani has been mentored since her youth in traditional Hawaiian wayfinding and navigation, and has spent nearly 200 days at sea aboard both traditional sailing and modern research vessels. As a Hawaiian voyager, and a climate scientist Haunani's research and teaching rely upon reestablishing ancestral relationships to place. She hopes that through this process she may provide a more inclusive understanding of the impacts of environmental stressors and ensure that the best available climate science data is reflective of all stories of place and their people.
Jessica Potter
Artist and Conservation Activist
Jessica Potter is a recent graduate of the School of Life Sciences at Arizona State University, with a Bachelor of Science in Conservation Biology and Ecology. She is passionate about developing new and creative ways to form closer relationships between people and the natural world. While completing her undergraduate thesis with Barrett, the Honors College, Jessica discovered how she could use her illustrations as a tool to teach the public about ecosystems and promote their conservation. With her artwork, she hopes to capture not only the unique qualities of species and their habitat, but also to celebrate the meaningful interactions between humanity and nature.
Kenro Kusumi
Genome Biologist
Kenro Kusumi is a professor in the School of Life Sciences and Dean of Natural Sciences in the College of Liberal Arts and Sciences at Arizona State University. He received his BA from Harvard College and his PhD from MIT. He carried out postdoctoral training at the National Institute for Medical Research in London. Dr. Kusumi was previously on the faculty of the University of Pennsylvania School of Medicine, Children's Hospital of Philadelphia, and University of Arizona College of Medicine-Phoenix. His lab uses the power of genome biology to help conserve and study the functional adaptations of reptiles. His study of the anole lizards have led to the first genome-scale analysis of their functional adaptations resulting in their description as the "Darwin's finches" of reptiles. His lab has also uncovered sets of genes that are critical in the ability of anole lizards to adapt and regenerate parts of their bodies.
Liza Hita
Clinical Associate Professor of Psychology
Liza Hita, PhD is a Clinical Associate Professor of psychology and the Director of Digital Immersion for the School of Social and Behavioral Sciences at Arizona State University. Her service work focuses on the intersections of justice, transformation, and belonging, rooted in decolonial praxis. In her roles, she creates digitally-immersed learning tools and envisions technology as a means of empowerment and community-building. She is a community-based participatory researcher focusing on preventive interventions for families experiencing major life transitions, including high conflict families, never married and divorcing parents, bereaved families, and families impacted by incarceration. She is currently working on the online administration of parenting interventions and creating sustainable community-embedded supervision models.
Nicky Cristobal
Poet & Graduate Student, Interdisciplinary Studies with emphasis in Psychology and Criminology/Criminal Justice
Nicky Cristobal is a graduate student studying Interdisciplinary Studies with a focus in Psychology and Criminology/Criminal Justice. Originally from Chicago, Nicky has big aspirations and dreams of becoming a Criminal Profiler for the Federal Bureau of Investigation or Central Intelligence Agency. Their hope is to be able to prevent real security threats before they occur or helping the individuals in the Special Victims Unit feel safer or at the very least, more at ease. As they continue to study their interests, prepare to apply to the FBI, and add to their bucket list, after this segment they will be able to cross off their lifelong dream of giving a TEDx Talk. Their goal is to inspire the audience to reinvent themselves and do the necessary work in healing to be a regenerated version of themselves, constantly evolving, changing, growing.
Tony & Violet Duncan
Native Artists
Combining traditional dance styles and storytelling, the Duncan family uses hoop dancing to tell stories passed down from Generation to Generation. Tony Duncan has performed for audiences worldwide including performances at the Kennedy Center for the Performing Arts, The Smithsonian Museum, The Billboard Music Awards, The Tonight Show, and The White House. As a flute player, he is currently signed to the largest Native American music label, Canyon Records. And, Violet Duncan, from the Kehewin Cree Nation, is a former Miss Indian World representing all Indigenous people of North America. Currently, Violet is the Indigenous Cultural Advisor at the Tempe Center for the Arts, where she aims to create space for a permanent program of Indigenous performance and practice.
Zuzana Skvarkova
Undergraduate Student, Innovation in Society
Zuzana Skvarkova is an undergraduate pre-medical student interested in the intersection between medicine and how the future of technology can be used to minimize health care disparities. She's currently part of the College of Global Futures in which she is gaining a B.S. in Innovation in Society. Zuzana is currently the President of the Women in STEM organization at Arizona State University, the Director of Service for the Omicron Delta Kappa Honor Society, and the President/Founder of ASU's first Disabled Pre-Medical Student Association. She has a passion for advocacy in mental health and strives to bring light and emphasis to how disabilities are stigmatized within health-care systems. Zuzana also identifies as a writer, a researcher, and an avid learner. She has hopes one day to become a physician and use her own neurodivergent experiences to help advocate for patients.