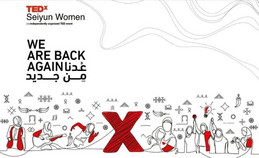 In the spirit of ideas worth spreading, TEDx is a program of local, self-organized events that bring people together to share a TED-like experience. At a TEDx event, TEDTalks video and live speakers combine to spark deep discussion and connection in a small group. These local, self-organized events are branded TEDx, where x = independently organized TED event. The TED Conference provides general guidance for the TEDx program, but individual TEDx events are self-organized (subject to certain rules and regulations).
Speakers
Speakers may not be confirmed. Check event website for more information.
Abeer Bin Yathrib
Abeer is an English language teacher and director of a development foundation. She is also multilingual, and her primary passion is online self-learning.
Amira Bafadel
Dr. Amira Bafdal is a graduate of human medicine and a field physician.
Asma Humadi
Asma Hammadi is a physician specializing in psychiatry and addiction. In addition to her work in the clinic, Dr. Asmaa creates educational content on mental health.
Ghadeer Fahad
Ghadeer is a university student on scholarship to study in France in the field of public law and political science. Interested in reading and writing in the political and literary fields.