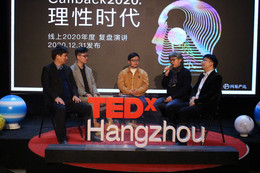 The year 2020 begins with "Why do I often have tears in my eyes" and ends with "Chang 'e on the moon".
At the beginning of the Gengzi year, we saw the preciousness of life in the turbulent pandemic situation, and felt the loss and gain in the rough and variable situation--
The respect for the value of life, the transformation of life style, the thinking of rational consumption, the revitalization of rural culture, the exploration of life in space, and the tireless portrayal of the long road.
Even if we have trauma、 regret and anxiety in 2020, creativity, surprise and beauty will never be absent.
Whatever posture and role you and I enter, let's think about 2020 from a different perspective in the calm of the post-pandemic era.
Call back to 2020, look forward to 2021, take reason as the banner, and speak for yourself.
Speakers
Speakers may not be confirmed. Check event website for more information.
勇 刘
科普大使
中国航天科普大使,中国科学院国家空间科学中心研究员,博士生导师,空间物理学家,中国科普作家协会理事,参与了我国和美国多个空间科学卫星工程项目,多次受邀参加《中央电视台》、《科技日报》等媒体科普活动。著有《深空探测器》、《国际空间站》等科普书籍。
川 利利
内容创作者
"利利川"账号主理人,bilibi知名科技UP主,社会观察者,内容创作者。知乎签约人文盐究员,微博热门科普博主,全网视频播放量超5000万。互联网"连续创业者",关注消费、商业和社会。
文晖 彭
设计师
产品设计专业出生。从事设计与设计管理25年,分别是平面视觉设计和家具产品设计。 由于对传统家具文化的热爱,于2012年成立注册"传习"家具品牌。同时创立"传习工坊",招选国内南北方不同地域的木工匠师,通过实践研究中国传统家具的形意、结构、工艺以及技术流程。力图挖掘传统家具中隐秘的文化特质,与现代设计理念中的功能、形式相互融和,创作最具当代中国气息的人文家具。
纪岸 刘
研究员
刘纪岸现任中国杭州低碳科技馆学术与信息中心主任,长期致力于科普展品和科普理论研究,先后主持或参与发表《一种氢火箭数字演示装置》等16项专利,其中发明专利6项、实用新型专利10项、软著3篇,发表多篇论文,他始终高度关注国际国内科普工作发展,带领团队践行科学家精神,不断创新开展科普工作,受到了市民特别是青少年的欢迎。
莉 杨
医学博士
主任医师,医学博士,树兰(杭州)医院呼吸内科副主任。中国医师协会呼吸医师分会间肺工作委员会委员,中国老年医学学会呼吸病学分会第一届委员会间质性肺疾病学术工作委员会委员,浙江省医师协会呼吸病学分会委员,浙江变态反应学分会委员。2020年武汉同济医院光谷院区新冠抗疫; 2015年赴香港大学李嘉诚医学院玛丽医院交流学习;2013年赴德国杜伊斯堡埃森大学附属Ruhrlandklinik医院。2020年浙江省抗疫先进个人。