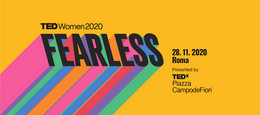 This is an uncertain time. And yet, amid the physical, cultural and economic challenges affronting us at every level — from personal to global — now is the time to engage. At TEDWomen 2020, we will call upon our collective fearlessness to create a global step forward together.
In this moment, diversity of ideas is more important than ever. As such, in collaboration with an incredible group of TEDx organizers, we'll celebrate and amplify the most interesting, dynamic, multi-dimensional ideas — from Lagos, Nigeria, Port of Spain, Trinidad and Tobago, Montreal, Canada, Colombo, Sri Lanka, and Sydney, Australia.
TEDxPiazzaCampodeFiori will host a watch event of the TEDWomen Saturday 28, November 2020.
FEATURED SPEAKERS
Adie Delaney, Educator / Performer
What can communication among circus performers teach all of us about sexual consent

Angélique Parisot-Potter, Legal and Business integrity leader
Speaking truth to power
Renee Montgomery, WNBA champion / Activist
Sitting out of the WNBA season to focus on social justice

Tracy Young, Builder
Embracing female leadership as a strength