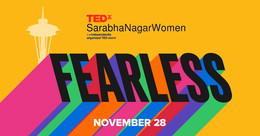 This virtual event will focus on the parameter and theme of Fearless – an though provoking idea that is imperative during this time of Social , physical, economic challenges. Don't miss out on the chance to hear remarkable talks, watch stories of Fearless Women and call upon our collective fearlessness to take a global step forward – together.
Speakers
Speakers may not be confirmed. Check event website for more information.
Adie Delaney
Educator, performer
Discovering a love of heights at an early age, Adie Delaney immersed herself in the circus arts. She directs a community circus program, teaches consent with a sexual harm prevention perspective and is a multidisciplinary artist. She's traveled the world as a circus artist since 2006 and has been based in Tasmania since 2015. There she founded the Circus Studio as a platform to engage and empower young people to initiate long-term, dramatic cultural changes and help others tap into their potential to achieve the seemingly impossible.
Elizabeth Diller
Architect, artist, designer
Elizabeth Diller is a founding partner of Diller Scofidio + Renfro (DS+R), a design studio whose practice spans the fields of architecture, urban design, installation art, multi-media performance, digital media, and print.
Gloria Steinem
Feminist activist, writer
Gloria Marie Steinem is an American feminist journalist and social political activist who became nationally recognized as a leader and a spokeswoman for the American feminist movement in the late 1960s and early 1970s. Steinem was a columnist for New York magazine, and a co-founder of Ms. magazine
JayaShri Maathaa
Monk
Having spent decades in the corporate and business world, JayaShri Maathaa came to a profound realization that caused her to leave that life behind. Now she devotes her life to helping people to apply Buddhist teachings to their own lives, to quieten their minds and create positive personal transformations