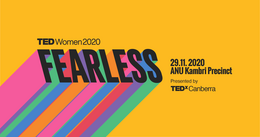 It's time to come back together in-person. TEDxCanberra will take over ANU's Kambri precinct on 29 November for TEDxCanberraWomen 2020: Fearless.
Our COVIDsafe event will present to you an afternoon of live talks and performances by female change-makers, trail-blazers and big thinkers from Canberra out to change the world, one idea worth spreading at a time.
This year's theme is 'Fearless'. We live in an uncertain time. And yet, amid the physical, cultural and economic challenges affronting us at every level – from personal to global – now is the time to engage. At TEDxCanberraWomen 2020, we will call upon our collective fearlessness to create a global step forward together.
Speakers
Speakers may not be confirmed. Check event website for more information.
Alix O'Hara
Alix O'Hara is an internationally award-winning inventor, CEO, and founder of for-purpose startup Mashblox, as well as PhD candidate breaking new ground for parents of fussy eaters, academically and commercially.
Faith Kerehona
Faith Kerehona is a young artist from Canberra whose works span a broad range of mediums including in photography, street art/graffiti, painting, drawing and video. Faith is currently studying a double degree of Visual Arts and Sociology, which gives her a platform to understand, express and communicate her passion for feminism, equality, identity, and culture in an ethical and holistic form.
Kim Yang
Kim Yang is a Taiwanese-Australia singer and songwriter whose music speaks from her experiences as a partner, a daughter, a traveller and an insecure soul. She creates music that balances delicately between vulnerability and power. Since developing a passion for music at an early age, Kim has shared her voice everywhere from intimate bookshops to national television. In 2016, driven by a desire to share her stories with the world, Kim picked up her ukulele and started writing songs. She stepped out of her bedroom and into the streets, markets and cafes of Canberra. Since then she has collaborated with renowned local artists and played at major venues in Canberra, around Australia and overseas.
Marrwah Ahmadzai
Dr Marrawah Ahmadzai is a Muslim woman whose parents left Afghanistan as refugees and eventually migrated to Australia in the 90s. She works in women's health as a resident Doctor in Obstetrics and Gynaecology. She is also a freelance writer and has written articles on social issues for SBS, ABC and the Guardian.
Penny Sackett
Professor Penny Sackett is a physicist, astronomer and former Chief Scientist for Australia. She serves as Chair of the ACT Climate Change Council and is a Distinguished Honorary Professor at the ANU Climate Change Institute. Trained in the United States, she has held positions at the Princeton Institute for Advanced Study, Kapteyn Astronomical Institute in the Netherlands, and the Australian National University (ANU).