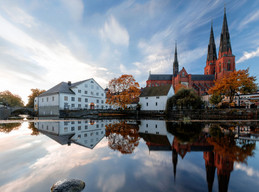 For the first time ever TEDxWomen will be held in Uppsala. This event will be live streamed through our YouTube channel: https://youtu.be/lTmKWrDaUTw
Speakers
Speakers may not be confirmed. Check event website for more information.
Anna Gulliksen
Head of HR at TietoEvry
Experienced HR manager
Bodil Frick
Marshal arts teacher, entrepreneur
Originally from India, works as Marshal arts instructor, Speaker
Catrin Ditz
Award-winning Change Manager
Engineer, Change Manager focusing on people perspective
Elizabeth Tornland
Sports Scientist, Pilates Teacher
Sports Scientist, Pilates Teacher
Hajar Mohammadi
Psychologist, author
Psychologist from Afghanistan, author, motivational speaker.
Lotta Spjut
Entrepreneur
Entrepreneur
Maria Winkvist
Product Manager at Kontigo Care
PhD in medicine, scientist, entrepreneur
Pia Andersson
CEO and founder of 5V till 5P
Has developed a model that helps companies to integrate sustainability into their business. Author to the book "Build the good brand".
Stefan Engeseth
CEO at Detective Marketing
Creative futurist, Keynote Speaker, Author of Sharkonomics, Guest Professor (NYU Prague)
Zorana Kurbalija Novicic
Scientist, CEO and founder of Science Market Uppsala
Scientist, CEO and founder of Science Market Uppsala. Coming originally from Belgrade, received Marie Curie scholarship and moved to Sweden, Uppsala. Entrepreneur and Speaker