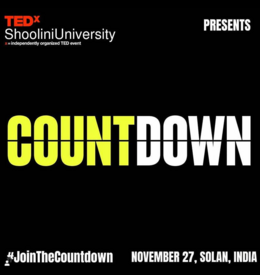 It all begins with a thought. The Countdown is a collaborative, global initiative by TED which endeavors to make progress on climate action. It aims to champion and accelerate solutions to the climate crisis, turning ideas into action. TEDxShooliniUniversity also aims to do its part in creating a safer, creative, and better future.
This event aims to celebrate ideas worth spreading in the domains of climate change and sustainability. TEDxShooliniUniversity is a four-hour-long event curated by a dedicated team of curators with an audience of about 150-200 in online mode. Our goal is to bring together bright minds to give talks that are idea-focused and on a wide range of subjects to foster learning, inspiration, and wonder-and provoke conversations that matter. This event endeavors to unite the community through the power of ideas and spread them through the global TEDx forum.
Speakers
Speakers may not be confirmed. Check event website for more information.
Associate Professor of Botany, Central University of Punjab
Dr. Felix Bast is an Associate Professor and acclaimed transdisciplinary scientist based at the Central University of Punjab. He has authored more than 70 peer-reviewed international publications and 3 books and is a recipient of prestigious accolades for his contributions to research and teaching. He is a highly regarded science communicator actively involved in the popularization of science through outreach events. Dr. Bast has traveled to 23 countries including a scientific expedition to Antarctica. In addition, he is an avid cyclist, a strong advocate of a low carbon-footprint lifestyle and environmental sustainability.
Jis Sebastian
Conservational Ecologist
Jis Sebastian is a doctoral candidate from Kerala who is enamoured by orchids. She is a conservation ecologist working with both plants and animals. Bold and fearless, she has taken many initiatives to learn about the most enigmatic aspects of nature, most impressively, the study of orchids as indicators of environmental change. A woman of substance, she is an advocate of gender equality and believes that orchids can play an instrumental role in saving tropical forest systems. Her passion and earnestness fill us with tremendous hope about the future of Indian ecology, and her voice is a critical addition to this meaningful dialogue on climate change.
Pradeep Sangwan
Founder, Healing Himalayas
Pradeep Sangwan is the founder of Healing Himalayas. In an attempt to retain the beauty and the pristine greens in the Himalayan region, Pradeep Sangwan started an organisation, which he aptly named 'Healing Himalayas'. Having always been a city dweller, his decision to move to Himachal Pradesh in 2009 came as a surprise to those who knew him. Healing Himalayas conducts special activities, mass clean-ups and events in the community and schools to create awareness about the maintenance and restoration of the environment. His quest is to ensure that people enjoy the Himalayas as they are, without ruining their pristine beauty.
Pratap Raju
Founding Partner, The Climate Collective
Pratap Raju is the Founding Partner of The Climate Collective Network, a non-profit focused on unleashing the innovation and entrepreneurial talents of people in South Asia. Pratap Raju has been in the climate and cleantech space since 2019. From being one of the pioneers in solar in the early days of the National Solar Mission, he has pivoted to supporting climate and cleantech startups throughout South Asia. He also leads other programs like the Climate Launchpad program across South Asia as well as Uzbekistan and Israel. A graduate from Harvard and then Oxford University, Pratap Raju has been an entrepreneur for the past 20 years in IT, media, renewable energy, and now climate.
Reva Bhardwaj
Sustainability Innovator
Reva Bhardwaj is a biotechnology engineering senior. She is currently working on "Chemo-enzymatic methods for Carbon dioxide capture and conversion into industrially important products". She is also interning as an analyst with MSME Business Forum India for "Climate Change and Sustainable Development". She is highly motivated to spread awareness about climate change and to find out potential solutions for the same.
Rushva Parihar
Sustainability Consultant
Rushva Parihar works as a CSR and Sustainability consultant with both private and public sectors to implement solutions for the Sustainable Development Goals in India. Rushva currently heads the OmniActive Improving Lives Foundation with the focus to impact 10,000 farmers by 2021. Rushva also works closely with the public sector to raise awareness about the issue and create on-ground action. Since 2018 he has represented youth voices at the ECOSOC Youth Forum at the United Nations in New York and been a member of the Youth Assembly at the UN. At the national level, he has worked closely with the Swacch Bharat Mission, helping increase the impact through ensuring access to sanitation in 5 states of India. Additionally, he works with youth networks to develop business case solutions for problems they see around them through start-up boot camps for sustained impact.
Sumaira Abdulali
Environmentalist
Sumaira Abdulali is an environmentalist, founder of the NGO Awaaz Foundation, and Convenor of the MITRA (Movement against Intimidation, Threat and Revenge against Activists). She has dedicated her life to causes like noise pollution, illegal sand mining, illegal construction, mining in biodiverse forests, marine pollution, and oil spills. She is "one of India's foremost environmental activists." Her initiatives have compelled policy changes in state and country. Her efforts have been recognized globally. She is rallying citizens and civic authorities to take ownership of this issue by partnering with existing civil society institutions, the police, and others, to initiate innovative new approaches.
Organizing team
Aadish Garg

Team member

Aarushi Mishra

Curation

Aayush Thakur

Partnerships/Sponsorship

Ashoo Singh

Curation

Debarghya Ghosal

Operations

JUDE serpes

Team member

Kartik Sharma

Post production

Manik Thakur

Production

Mehek Garg

Marketing/Communications

Nimish Kappal

Team member

Pratyaksha Gupta

Partnerships/Sponsorship

Purvi Bhushan

Operations

Rushmi Behrani

Curation

Soham Mukherjee

Curation

Sumit Jakta

Production