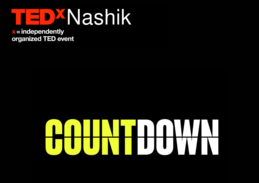 In this first TEDxNashik Countdown event, ideas for sustainable future specific to accelerating solutions to climate crisis will be projected. These ideas will be translated into actions which can be taken on an Individual and Corporate level.
Tickets will be available at 11:00 AM on 17th November 2020
Speakers
Speakers may not be confirmed. Check event website for more information.
Abhijeet Mahale
Animal Rescuer and Conservationist
Mr. Abhijeet Mahale has been working towards saving animals since last 15 years. He has rescued myriad of animals and birds. One of his prominent work has been about coexistence of Humans and Animals majorly Human-Leopard conflicts. Climate Crisis creates an imbalance in the ecological cycle, adaptation of animals and birds to these imbalance has been one of his major work.
Aditi Chourasia
Ayurveda Student
Ms. Aditi Chourasia is an Ayurveda student with immense interest in Yoga and meditation. Currently she is pursuing BAMS from Dr D Y Patil College of Ayurved and Research Centre, Pune. She believes that in this world of modernisation, we can solve many problems of this era by getting back to our roots, i.e. ayurved again.
Ashish Bodake
Food and Environment Consultant
Graduated in field of Food technology and engrossed marketing activities to develop farmlands and Agri sector , Ashish have been connecting to various villages and national and international farmers and enthusiasts. Also in the journey he have had a grateful honor to be titled as "The Rising Youth Icon 2019-20" by a Nation wide organization. Consulting them efficiently and guiding in the practice of sustainable agriculture and food processing techniques at minimal costs he has met with numerous climatic problems which he has tried to resolve at his level by introducing various in-house low cost solutions. Now , with such a wide platform wish to spread a major problem and also suggest a feasible and implementable solution to help our farms and affected food systems and ultimately our climate.
Jaydeep Shah
Assistant Professor (Electrical Engineering)
Space Exploration has been his passion since last 22 years. He is working as President of an NGO named Kalpana Youth Foundation (Space Science Awareness & Public Outreach). Visited ISRO centres 3 times. Invited by 'European Space Agency' to visit "European Space Operation Centre" (ESOC), Darmstadt, Germany last February for Solar Orbiter Social Space event. Winner of "Sustainable Cities of the Future : Future Dialogue Contest 2011" organized by Siemens at New Delhi, September 2011. He is also a Marathon Runner (5 km, 10 km). He has won numerous prizes at IIT Roorkee & IIT Delhi. Entitled as one of the popular teacher in Nashik by Times of India in 2013. Delivered 112 expert lectures on Smart Grid, Electric Vehicles, and Space Science & Technology.
Rajasi Kulkarni
Menstrual Health and Hygiene Educator
Rajasi is a Feminist, Menstrual Health and Hygiene Educator/Trainer, since 7+ years and passionate about creating awareness on the health, environmental, economic and cultural aspects of menstruation, across genders and geographies. She promotes sustainable menstrual practices and products and has helped thousands of menstruators switch to reusable products. She is also keen on Sexual and Reproductive Health and Rights, and engages with all genders and all age-groups on these topics. She has also facilitated discussions and trained women in communities in remote areas on these topics. She is also the founder of Bleed Red Go Green initiative and core member of Green the Red collective.
Snehalata Pankadan
Renewable Energy Engineer
Snehalata is an Energy Enthusiast, Bachelors in Mechanical Engineering and has completed her Masters of Technology in Renewable Energy Engineering and Management from TERI School of Advanced Studies, New Delhi. Her areas of interest are in waste to energy and bio-energy. She is passionate to work towards solutions for climate crisis.
Organizing team
Abhimanyu Lokhande

Team member

AKSHITA SINHA

Curation

Dnyaneshwari Patil

Team member

Nikhil Kulkarni

Team member

Parimal Wagh

Marketing/Communications

Priti Gumaste

Team member

Raghvendra Pal Singh

Operations

Sakshi Deshpande

Curation

Shounak Kulkarni

Team member

Sunny Chhatani

Team member

Trupti Lule

Curation

Vaibhavi Chandola

Team member