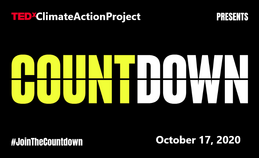 TEDxClimateActionProject takes place in Romania, on October 17, at 15:00. The
online conference is organized as a local independent TEDx event by Prof. Mirela
Tanc, supported by Edupedu.ro and Rotary Club Oradea Art Nouveau.
TEDxClimateActionProject is part of the
global COUNTDOWN, to promote and
accelerate solutions to the climate crisis,
turning ideas into action. The goal is to create a
better future, a cleaner and safer planet for all
its inhabitants.
Speakers
Speakers may not be confirmed. Check event website for more information.
ANDREI ELIAS CĂLUGĂRU
Elev
Adolescent pasionat de fenomene meteorologice severe și de problema schimbărilor climatice
CLIFF COCCKERHAM
Climate Ambassador, Physicians for Social Responsibility
Cliff Cockerham has a long history of activism, going back to the 1970s. Much of his current work nationally and internationally involves speaking and teaching about climate justice (CJ) and intersectionality. Cliff is especially adept at engaging and organizing young people. Cliff is a founding member of the "Artists for the Earth Collective" [A4E] within the Climate Emergency Coalition. Climate Ambassador, Physicians for Social Responsibility; Climate Reality Leadership Corps
CORNELIA BĂȚĂUȘ
Teacher
Profesor dedicat, extraordinar de muncitor, Și-a valorificat experiența de 27 ani în sistemul de educație, dezvoltându-se permanent, fiind un cadru didactic inovator distins cu premiul "Global E Innovation Award", Microsoft MIE Expert și ambasador T4 Education 2020. Și-a folosit toate abilitățile de profesor creativ și acum face parte din comunitatea #TeachSDGs Ambassador. Promovează o atitudine prietenoasă față de mediul înconjurător și studierea acestuia pe baze științifice prin activități STEAM. Motto-ul care îi ghidează activitatea profesională este: "Cel mai bun mod de a învăța este să faci, să întrebi și să faci. Cea mai bună cale de a preda este să îl faci pe student să întrebe, să facă. Nu predica fapte, stimulează actul!" (Paul Halmos, matematician). Este câștigător la selecția națională Creatori de Educație, ediția a II-a.
CRISTIAN PROISTOSESCU
Expert mondial în încălzirea globală-profesor asistent la Departamentele de Științe și Geologie ale atmosferei la Universitatea din Illinois
A absolvit fizică și matematică aplicată la Princeton și are un doctorat în Științele Pământului la Harvard. Are expertiză în fizica atmosferei, oceanului și climatului, încălzirea globală și este contribuitor la raportul Consiliului Interguvernamental pentru Schimbările Climatice al ONU.
CYNTHIA DOUMBIA
Director of International Traveling Exhibitions for the National Geographic Society
Cynthia Doumbia is the Director of International Traveling Exhibitions for the National Geographic Society. She is responsible for the placement and promotion of National Geographic exhibitions to venues outside of the United States. In her 15 years at National Geographic, Cynthia has helped place exhibitions in more than 40 countries, which have been viewed by millions of visitors.
Professor International Education HARVARD UNIVERSITY Cambridge, Massachusetts
Fernando Reimers is the Ford Foundation Professor of the Practice in International Education and Director of the Global Education Innovation Initiative and of The International Education Policy Program at Harvard University. He is interested in advancing understanding of the ways schools can empower students to participate civically and economically, and to help achieve the UN Sustainable Development Goals. He is a member of UNESCO's Commission on the Futures of Education and is interested in supporting the creation of coalitions that collaborate in enhancing the relevancy of educational institutions and to strengthen the teaching profession.
FLORICA CHERECHES
Vicepreşedinte-Comisia pentru învăţământ, ştiinţă, tineret şi sport CAMERA DEPUTAȚILOR
Vicepreşedinte-Comisia pentru învăţământ, ştiinţă, tineret şi sport Camera deputatilor Este soție, mamă a patru copii, și bunică a opt nepoți. A luat-o de la capăt de 6 ori din punct de vedere profesional. A fost la un moment dat șomeră și văduvă, în timp ce era insarcinata cu al treilea copil! Ca deputat, susține reforma programei școlare, astfel încât elevii să fie educați pentru viață, ceea ce conține și educație ecologică. De asemenea, susține orice inițiativă legislativă și politici publice menite să protejeze mediul, cum ar fi crearea de zone verzi, dezvoltarea transportului public, utilizarea pe scară tot mai largă a surselor regenerabile de energie, înăsprirea legilor pentru cei care abuzează mediul înconjurător prin tăieri ilegale de păduri, prin depozitare de deșeuri în locuri nepermise, poluarea intenționată a mediului sau datorită indiferenței ori a neaplicării unor măsuri care ar reduce-o.
GARETH ANDRADE
Young environment conservationist
Children and Grown-ups are fascinated with balloons but don't realise their lasting ill effect. Gareth shares his observations after spending time watching birds. 🦸🏻♂️ Determined to be a responsible Human Being, Gareth now spends time volunteering for clean-ups and educating the community whenever he gets an opportunity. ✍🏼 He has gathered thousands of pledges and actions toward his cause.
GINA FERNANDES
Marine Conservationist
Gina Fernandes works with children and their parents to begin making sustainable choices at home. She helps urban and rural kids identify/connect with nature and develop an eye for sustainability. Her family adopted The Global Goals - SDG14 Life Below Water in 2015 to help conserve the waterbodies and help protect the environment, thereafter thousands have joined her take actions via their project Sustainable Brandz.
IONUȚ IORDĂCHESCU
Co-Founder Let's Do It, Romania!
In cei 10 ani, Ionut a fost coordonatorul echipei de IT, project managerul Zilei de Curatenie Nationala in 2018 si a initiat platforma de voluntariat digital 4b. Prin aceasta platforma, oricine poate raporta zone cu deseuri prin aplicatia TrashOut pentru a fi curatate de autoritatile locale. Ionut este antreprenor, are 24 de ani de experienta in domeniul IT si un E-MBA in project management.
Director TAG-Founder Global Educational projects
KOEN TIMMERS is an awarded educator, lecturer, researcher, author and speaker. He's founder of the Innovation Lab Schools and built schools in refugee camps offering free quality education to students. Also the Climate Action Project uniting over 2,5 million students across 130 countries aiming to change their behavior and society's mindset.
MIHAI JURCA
Director Visit Oradea
ROMÂNIA
Supervisory Head -Kulachi Hansraj Model School, Delhi, India
Ms. Rashmi Kathuria is Supervisory Head PGT Mathematics, working in Kulachi Hansraj Model School, Delhi, India. Her forte is embedding an element of innovation and creativity to education. In her career of 24 years, Instead of following the standard textbook approach she has developed a blended approach for teaching learning including elements like creativity, communication, collaboration, global awareness, environment, entrepreneurship and life skills in teaching learning of Mathematics. She is the recipient of two Presidential awards, National Best e-teacher award 2007 from the then honourable President Dr. APJ Abdul Kalam and National ICT Award for Teachers 2010 by MHRD, Govt. of India by the honorable President Dr. Pranab Mukherjee for using ICT in teaching learning. She is amongst the Top 50 Finalists for TOP GLOBAL PRIZE 2016 by Varkey foundation.
SIMONA BIȘBOACĂ
Cercetator independent – inventator
Numeroasele brevete de invenţie pe care le deține și munca de cercetare pe care o duce de aproape două decenii i-au adus Simonei recunoașterea globală. Simona Bișboacă a reprezentat România în Parlamentul European, cu ocazia împlinirea a 30 de ani de la înfiinţarea programului Erasmus. Ea a fost premiată de președintele Comisiei Europene de atunci Jean Claude Iunker. Simona a dezvoltat o linie de producţie unicat prin care fructele sunt conservate fără folosirea chimicalelor și fără distrugerea vitaminelor.
Poet, publicist și blogger
Theo Gușat Absolvent al Facultății de Litere (2013) din cadrul Universității Oradea (specializarea română-engleză) Semnează volumul de poezii "Garderobă", Editura Primus (2016), volum premiat la Festivalul de Literatură "Alexandru Macedonski"
VLAD CĂTUNA
Climate and energy campaigner Greenpeace Romania
Greenpeace militează pentru o revoluție energetică care să elimine folosirea combustibililor fosili (cărbune, petrol, gaze naturale) din producția de energie, pentru a limita efectele dezastruoase ale schimbărilor climatice. Greenpeace susține o tranziție cât mai accelerată dinspre aceste surse murdare de energie, către cele curate și durabile, provenite din surse regenerabile (soare, vânt).
ZOLI TOTH
muzician, antreprenor, activist ecologist, realizator de programe radio si profesor de percutie
ZOLI TOTH este muzician, antreprenor, activist ecologist, realizator de programe radio si profesor de percutie din România. A fondat trupa SISTEM (2000) și, împreună, au câștigat primul premiu pentru România la Eurovision alături de Luminița Anghel cu piesa "Let me try" în anul 2005. Ca activist ecologist, a susținut numeroase organizații non-guvernamentale și proiecte de mediu: Greenpeace România, , Let's Do It, Romania!, Asociația MaiMultVerde, Asociația Recolamp etc. este unul dintre cei mai respectati activisti eco din Romania care a primit numeroase distinctii: • Ambasador "Earth Hour" Romania • Ambasador Let's Do It, Romania! • Ambasador Nelson Mandela • Ambasador al Voluntariatului in Romania In anul 2017 Zoli TOTH este desemnat Barbatul Anului de catre revista Mens's Health Romania la categoria Implicarea Sociala Zoli ne-a pregatit azi un moment inedit pe care l-a filmat profesional: