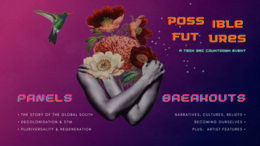 As COUNTDOWN TEDx's are held all around the world, the Global Regeneration CoLab hosts dialogues on our Possible Futures, to acknowledge the stories of regeneration in the Global South.
We invite you in to our conversations of panel discussions, creative expressions and breakout rooms.
Speakers
Speakers may not be confirmed. Check event website for more information.
Regeneration researcher
Anna is a graphic designer and regeneration researcher in architecture and urbanism, who weaves biomimicry and creative approaches to co-create processes that assist in our transition to a more beautiful future.
Aude Chesnais
Bridging decoloniality and sustainability through creative problem-solving as a social scientist, political ecologist, data scientist, decolonial scholar, systemic thinker, teacher and lifetime learner
Indigenous leader
is the leader of the Huni Kui people of the Amazon Rainforest. Ninawa Pai da Mata is a Spiritual Leader and Master Huni Kuin 'Pajé' Shaman. The Huni Kuin are a spiritual people, influential in Latin America through their strong work in regeneration. The Huni Kuin are completely connected with their original beliefs, language and cosmovision.
Dialogic regenerator
Lua is a dialogic regenerator and co-founder of Futuro Possível, an educational collective for planetary regeneration operating in the space between the Old and New narratives. "Our work starts with recognizing healing through decolonizing cultures and economies recognizing the diverse locally woven narratives."
Maria Clara Parente
Theatre, filmmaker, poet exploring possible decolonial futures
Nolita Thina Mvunelo
Aspiring systems strategist committed to developing tangible, effective, and creative solutions that serve people, planet, and prosperity
Padma Perez
Mother to two growing women, an anthropologist by training, and a writer at heart
Trickster
Red is a prolific writer, environmentalist, climate policy analyst and expert advisor of the Climate Vulnerable Forum, lifting stories often unheard to bring diverse narratives to light.
Writer and facilitator in regenerative leadership
Sahana is an explorer of emergence, sensemaking and thrivability in a complex, ambiguous world. An experienced facilitator and collaboration coach, Sahana researches and embodies systems thinking and regenerative principles.
Sustainability strategist
Samantha is a sustainable design strategist and chartered engineer in the field of urbanism and architecture. A global citizen involved in various international regeneration networks, Samantha seeks to build a global platform for South-South regenerative dialogue.
Regenerative designer
Sarah is a whole systems design strategist weaving collective experiences in peace building, cultural heritage advocacy, environmental education, and humanitarian assistance.
Education and community activist
Zonke is an education and community activist who leads the African Consciousness Learning Centre. She believes in creating platforms where young people can come together and engage in difficult conversations. The future of education is emotional intelligence.