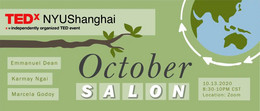 On June 01, 2017, at the Symposium on Sustainable Development Goals, UN assistant Secretary-General Thomas Gass delivered a speech, "We live in a world of changes so profound and rapid that no country can stand alone. The world's interlinked threats and challenges require everyone to share responsibility and contribute to a common vision".
Sustainable development means development that meets the needs of the present without compromising the ability of future generations to meet their own needs (Our Common Future, 1987). It calls for concerted efforts towards building an inclusive, sustainable and resilient future for people and the planet.
All along, we seem to have been used to damaging the environment for various reasons. Driven by interests, people cut down trees, pollute the environment, and waste the resources. Our unprincipled and excessive exploitation of the resources of our planet earth has already caused the degradation of the environment, bringing our earth with harm.
By sharing the spirit of sustainability, TEDxNYUShanghai hopes to inspire action and turn the audience into a part of the solution for our planet!
Speakers
Speakers may not be confirmed. Check event website for more information.
Emmanuel Dean
Founder of Boomi
Emmanuel Dean graduated from Colgate University in 2018 from the US double majoring in Economics and Chinese. After being guilt-tripped into sustainability by his sister in the summer of 2018, he quickly found purpose and potential in social entrepreneurship here in Shannghai. Boomi was founded to simplify sustainability and to empower people to make a positive difference every day. Today, Boomi is one of China's first zero-waste e-commerce platform home to 30+ local purpose-driven brands coverig your zero-waste needs, information, and services. At its core, Boomi is committed to donating 8.8% of its total revenue to planting trees in Inner mongolia as a part of its Boomi Forest Initiative.
Karmay Ngai
Founder of patch Love universe and Sustainable Space Station
Karmay Ngai's is raised in Hong Kong, Shanghai & UK. Although usually known as an international model, Karmay majored in Graphic Design and Product Design in college and wasn't trained in school as a model. She described herself as: "Coached by life and Trained by coincidences." Upon graduation, she has been based in New York for 7 years working as an International model contracted with several famous agencies all around the world. During which, she worked with companies such as Guess, Vivienne Westwood, Nars, and publications include Vouge, Harpers Bazaar, Elle, and more. In 2019 she comes to China and started expanding her label plu, with workshops and experimental events on the theme of sustainability & mental wellness. In 2020, she founded platform SSS (Sustainable Space Station) with continued devotion on merging sustainability into the modern world.
Marcela Godoy
Professor of Interactive Media Arts at NYUShanghai
Every year, the world produces more than 2 billion tons of municipal solid waste, with serious health, safety and environmental consequences if this status is not changed. Marcela Godoy is committed to finding sustainable ways to upgrade and recycle these wastes. She teaches a course "Re-Made in China" at New York University Shanghai. Guided by the concept of sustainable design, she leads students to understand social and environmental problems derived from this issue. They change their idea of what trash is and learn traditional and new technologies to change waste into "useful or distinctive things," such as jewelry, furniture, and even works of art. We wonder what made Godoy realize the seriousness of plastic pollution and decide to devote herself to sustainable development, and how we could alleviate this serious problem.