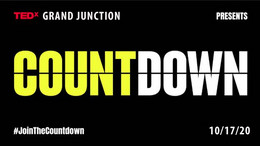 Watch Countdown TEDxGrand Junction, a call to action on climate change and the first-ever free TED conference.
Speakers
Speakers may not be confirmed. Check event website for more information.
Angel Hsu
Climate and Data Scientist
Angel Hsu is a professor and data geek who applies data-driven methods to solve challenging environmental issues.
Aparna Nancherla
Comedian
A writer and stand-up comedian, Aparna Nancherla is one of the most exciting new voices to hit the comedy scene.
Ava DuVernay
Writer, Producer, Filmmaker
Ava DuVernay amplifies the work of people of color and women of all kinds through her nonprofit film collective Array.
Chris Anderson
Head of TED
After a long career in journalism and publishing, Chris Anderson became the curator of the TED Conference in 2002 and has developed it as a platform for identifying and disseminating ideas worth spreading.
David Lammy
Member of Parliament, UK
David Lammy is the first Black MP to hold the Justice post in British Parliament, either in government or opposition.
Elif Shafak
Novelist, Political Scientist
One of the most unique voices in literature, Elif Shafak's writing blends East and West, feminism and tradition, the local and the global, Sufism and rationalism.
Ernestine Leikeki Sevidzem
Climate and Gender Activist
Sevidzem Ernestine Leikeki has a drive to care for nature, foster women's empowerment and build future nature-lovers.
Jesper Brodin
CEO of Ink Group (IKEA)
Jesper Brodin believes in values-based leadership and togetherness
Lindsay Levin
Activist
Lindsay Levin has dedicated her life to reshaping what leadership looks like, exploring our collective humanity through vulnerability and listening.
Raye Zaragoza
Singer and Songwriter
Raye Zaragoza is an award-winning singer-songwriter who Paste Magazine called "one of the most politically relevant artists in her genre."
Stephen Wilkes
Photographer
By blending up to 100 still photographs into a seamless composite that captures the transition from day to night, Stephen Wilkes reveals the stories hidden in familiar locations.
Thomas Crowther
Ecosystem Ecology Professor
In collaboration with vast networks of ecologists across the world, Thomas Crowther works to address the global threats of biodiversity loss and climate change.
Yvonne Aki-Sawyerr
Mayor of Freetown, Sierra Leone
A Mayor's Vision: As mayor of Freetown, Sierra Leone, Yvonne Aki-Sawyerr is committed to addressing her city's challenges using an inclusive, data-driven approach to urban development.