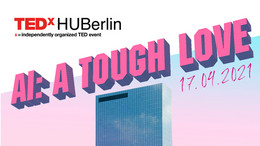 Under the theme AI: A TOUGH LOVE, TEDxHUBerlin reflects on the connection between the calculating machine and the emotional human being. Practical experience shows that the worlds of humans, nature and technology are already colliding on a massive scale. From workflow management tools to AI board members to an AI-based sustainability revolution or a humanoid love machine, there are no limits to the future. Every step we take affects future innovation – maybe we are even part of a living simulation today?
At this year's TEDx HU edition, you can be there virtually from everywhere – it will be an exclusively online event. A digital hybrid format that includes seven inspiring talks, a performance artist and new ways of networking and interaction.
Speakers
Speakers may not be confirmed. Check event website for more information.
Actor / Performance Artist
Anton Pohle is an actor, writer and director. He runs the Berlin-based theater company "Theater.Macht.Staat" together with his best friend and co-conspirator Sonja Keßner. He believes that art is the language a culture uses to talk to itself about itself and that it is therefore the artist's purpose to express whatever is on the horizon of the possible; to express that which has not yet been expressed. Finding new ways to do that seems ever so urgent; especially in the age of the smart machine and covid-19.
Armin Berger
Managing Director
Armin Berger is Managing Director of 3pc GmbH, which he founded in 1995. He has been an expert in digital transformation processes for more than 25 years and develops integrated digital strategies and UX solutions for communication-intensive projects with high journalistic demands. As the alliance spokesman for the BMBF's QURATOR research project, Armin Berger, together with the German Research Center for Artificial Intelligence (DFKI) and others, is a driving force behind developments in the field of AI and digital curating. The focus is on the development of editorial tools and services as well as storytelling applications based on artificial intelligence.
Founder at The Good AI, Cofounder at Women in AI
Caroline Lair is the founder of The Good AI, a go-to online resource aiming to help companies, policymakers, scholars and aspiring students harness the power of Artificial Intelligence for good and build responsible technologies. She's also the co-founder of Women in AI, an international community of 4000+ members, working toward a gender-inclusive AI.
Dimitri Coelho Mollo
Postdoctoral Researcher
Dimitri Coelho Mollo is a postdoctoral researcher and lecturer at the interuniversity Excellence Cluster Science of Intelligence, as well as at the Berlin School of Mind and Brain, and at the Institut für Philosophie, Humboldt-Universität zu Berlin. He carried out his PhD studies in Philosophy at King's College London and at Humboldt-Universität zu Berlin. His main areas of research are Philosophy of Cognitive Science and Artificial Intelligence, and Philosophy of Science. He is also interested in Philosophy of Mind, Philosophy of Biology, and the ethics of current and future use of AI systems.
Senior Manager Robotics & artificial intelligence @ Deutsche Telekom AG
Kenza is Senior Manager for Robotics and Artificial Intelligence at Deutsche Telekom IT. She was born in Morocco, studied Telecommunications Engineering in Spain. A Master in Project Management followed in Germany, then Chinese as a foreign language in China. She has a track record managing big projects, in Hardware and Software development, ICT outsourcing tenders, agile transformations, or rolling out new network architectures for Deutsche Telekom. In December 2018 Kenza was awarded with the Digital Female Leader Award in the category IT/Tech, and in April 2019 with the Engineer Power Women Award from Deutsche Messe, for her engagement and commitment for more Diversity in the IT and AI world.
Co-Founder und CEO der RetroBrain R&D UG
Manouchehr Shamsrizi "is among the most publicly prominent voices of Germany's younger generation" Washington Post) and "everywhere where the improvement of political conditions still has considerable scope" (re:publica). He is a co-founder of gamelab.berlin at the Humboldt University zu Berlin's Cluster of Excellence and a co-founder of the Yunus Centre for Social Business and Values at Leuphana Universität Lüneburg, a collaboration with Nobel Peace Prize Laureate Prof. Muhammad Yunus which he has initiated. Former Ariane de Rothschild Fellow of Innovative Social Entrepreneurship at the University of Cambridge and Global Justice Fellow at Yale University, a Fellow of the German Council on Foreign Relations, and was honoured as a Fellow of the Royal Society of Arts, a Leader of Tomorrow of the University of St. Gallen, and a Global Shaper of the World Economic Forum. Primarily background in political philosophy, holding a Master of Public Policy.
Nele Lea Uhlemann
IT Consultant @ Camunda Services GmbH
After her studies in social sciences Nele became aware of how important Systems and Software are for our future. To understand them, she decided to learn how to code. Now she is working for an Open Source Software company as a trainer and technical consultant. In her free time she is sharing this knowledge in young cultural exchange programs.
Professor for design management
Sebastian Löwe is professor of design management at the Mediadesign University of Applied Sciences in Berlin, Germany. He co-organized the research conference "Designing with Artificial Intelligence. How to design when Design (Re)-Designs itself – Artificial Intelligence in Design, Interaction and Design Theory", which took place in September 2020. He teaches, researches, publishes, and consults on the topics of design and machine learning, (machine) co-creation and open innovation, design thinking, digital culture and aesthetic theory.