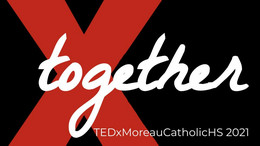 In the spirit of ideas worth spreading, TEDx is a program of local, self-organized events that bring people together to share a TED-like experience. At a TEDx event, TEDTalks video and live speakers combine to spark deep discussion and connection in a small group. These local, self-organized events are branded TEDx, where x = independently organized TED event. The TED Conference provides general guidance for the TEDx program, but individual TEDx events are self-organized (subject to certain rules and regulations).
Speakers
Speakers may not be confirmed. Check event website for more information.
Aarush Kapur
Student
Bio: Aarush is an Asian male who loves to further his interest in human behavior and how we can adapt it to everyday use in technology. He wants to educate and propose change in the world by staying active in world problems and voicing his opinions. He also loves to enjoy the company of his friends/family and meet new people that could leave and impact on him.
Ashley To
Student
Ashley To is a senior at Moreau Catholic High School; she has been the president of Feminism Club for the past two years, where she has led all-inclusive discussion forums and self-defense workshops. She plans to attend the University of Southern California this fall. Her interests are eclectic–including visual arts, social justice, pole vault, chemistry, and reading to name a few. Her unfettering curiosity about the depths of intersectionality in feminism amongst other social justice issues inspires her to learn more and more each day.
Bianca Punzalan
Student
Student
Brooke Nunes
Student
Brooke is a senior at Moreau Catholic High School. She is a member of Moreau's varsity mock trial team winning titles at both the state and national level. Brooke is passionate about educating others about the importance of public speaking, and social justice. In the future, Brooke hopes to pursue business and inspire others women to not allow a male-dominated field deter them from achieving their goals.
Carissa Ott
Student
Carissa Ott is a senior at Moreau Catholic High School, where she is the founder and president of Medical Education Direction (MED) Club and competes as a double Varsity athlete in Cross Country and Track. After seeing first-hand the detrimental effects that concussions have on professional athletes within her own family, she plans to combine her love of science and sports to develop cures for neurodegenerative diseases, such as Chronic Traumatic Encephalopathy. She will begin attending UCLA in the fall to study Neuroscience and pursue biomedical research to innovate technologies that will help people one brain at a time.
Katrina Pace
Student
All her life Katrina has dealt with confidence issues and hopes that by sharing her story and experiences that she can help others in their self-love journey. Katrina Pace is a senior at Moreau Catholic High School where she is a member of Link Crew, Music Ministry, a Polynesian Club officer and has been a part of the Moreau Dance and Theatre Program for 4 years. She plans to attend college in Southern California with a major in Business Marketing. You can usually find her always cracking jokes and coming up with solutions to help make life during the pandemic a bit more bearable.
Mahda Fallay
Student
Mahda Fallay is a 17-year-old Sierra Leonean American young man from Oakland, California. He is currently a Senior at Moreau Catholic High School and a standout player on their Boys Varsity Basketball Team. He is a proud member of their Black Student Union and Social Justice Leadership Program. He is never scared to use his voice to speak up on what he believes in and feels is right. He is MORE THAN AN ATHLETE.
Mariya Malik
Student
Mariya Malik is a senior at Moreau Catholic High School who is extremely interested in pursuing a future in psychology and the clinical field. She is a member of the Writers Club and spent many years invested in various competitions, selective artist programs, and creative writing magazines, as well as being involved in Speech and Debate. She also has a prominent passion for psychology, participating in two professional-level research projects and internships that have only cemented her goals involving the subject. She hopes to help spread more awareness and normalize mental health struggles/conditions that are not often talked about, especially regarding intersectionality as a child of immigrants herself.
Teri Beasley
Student
Teri Beasley is a Senior at Moreau Catholic High School who is a hardworking student-athlete from Hayward, CA. Since the beginning of protests in early 2020, she has found a passion for standing up for justice and helping to educate others about what it means to be Black in America. Teri is someone who has a passion for helping others, loves traveling, and has a deep appreciation for old-school music.