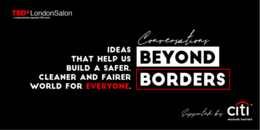 Join us online for a special episode of TEDxLondon's Conversations Beyond Borders with TED Countdown speaker the Rt Hon David Lammy, Member of Parliament for Tottenham. We'll be watching his upcoming TED talk and discussing the intersection of immigration, social justice and climate change, as well as exploring the role of equity in addressing the climate emergency.
Conversations Beyond Borders is a virtual space for the TEDxLondon global community to come together, go beyond the headlines and explore ideas worth spreading from our network of amazing speakers.
Since we started these sessions at the end of March, we have had over 8000 viewers from 58 different countries. Countdown is TED's global initiative to champion and accelerate solutions to the climate crisis, turning ideas into action. The goal: to build a better future by cutting greenhouse gas emissions in half by 2030 in the race to a zero-carbon world. A world that is safer, cleaner and fairer for everyone.
Speakers
Speakers may not be confirmed. Check event website for more information.
The Rt Hon David Lammy
Member of Parliament for Tottenham
David Lammy is the seven-time elected Member of Parliament for Tottenham and was appointed Shadow Secretary of State for Justice in April 2020. He is the first black MP to hold the Justice post, either in government or opposition. This appointment comes following an incredibly busy period for David, who has fought for justice on behalf of the Windrush Generation, spearheaded the second referendum campaign, campaigned for a humane immigration system, applied pressure on the Government to compensate the victims of the Grenfell Tower Fire and continued to expose racial bias within the British criminal justice system. These are just some of the issues that David wrote on in his recent book, Tribes, an exploration of both the benign and malign effects of our very human need to belong. Amongst other things, David is very excited to explore the interactions between immigration and climate change when he speaks at TED's Climate Countdown