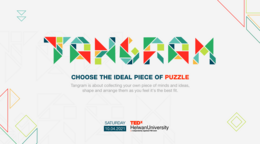 Would you like to be a piece of the puzzle too?

We are all made of small pieces of puzzles, if you focus on choosing each and every one carefully, you will end up with the perfect version of yourself.

Tangram is about collecting your own piece of minds and ideas, shape and arrange them as you feel it's the best fit.

Interesting ha?
Hence add us to your calendar as we put the final touches on Tangram!


————————————————
هل ترغب أيضًا في أن تكون جزءًا من اللغز؟
نحن جميعًا مكونون من قطع صغيرة من الألغاز، إذا ركزت في اختيار كل واحدة بعناية، فستنتهي بنسخة مثالية من نفسك.
يدور Tangram حول جمع أفكارك ومعتقداتك الخاصة ، وتشكيلها وترتيبها بالطريقة التي تشعر بأنها الأنسب.
مثيرة للاهتمام؟
أضفنا إلى التقويم الخاص بك بينما نضع اللمسات الأخيرة على Tangram
Speakers
Speakers may not be confirmed. Check event website for more information.
Ahmed El Helaly
Financial consultant and a Life Coach
Ahmed EL Helaly is a financial consultant and a Life Coach, specialized mainly in Happiness, Self-Love, and Self-confidence. With more than 5 workshops around self love and happiness, with more than 200 attendees overall, He developed his own pathway to happiness. He believes that self-love is the most important thing in the world, and without it, nothing can ever be done. Owning his financial consulting firm for 13 years, and his daycare nursery for 18 years, he learned how to mix between professional consultancy and simplifying the tone to its simplest form.
Ahmed Radi
Co-Founder at Fleurelle for food industries, Co-Founder & CMO at RoadRunner
Ahmed Radi is a Co-Founder at Fleurelle for food industries, Co-Founder & CMO at RoadRunner, Former Country Marketing Manager at Delivery Hero (Otlob - Talabat - Carriage), and Former Group Marketing Manager at Andalusia Group for Medical Services. He is certified in Strategic Management from the University of Copenhagen, Denmark, and has more than 13 years of real experience, more than 7 years of building marketing teams and departments leading them to achieve extraordinary targets, planning and creating creative marketing campaigns and strategies for over 23 companies in 10 different industries.
Anwar Elkamony
Athlete ,writer and content creator
Anwar is the first athlete in the world to return to the international tennis ranking after the bone marrow transplant operation, an international lecturer who has been honored in many countries of the world. He is also a writer at Molhem Platform, and sports ambassador at Baheya Foundation. He also believes that "Live to inspire people and people will say someday because of you, we did not give up".
Atef Ezzat
Engineer and writer
Expert in automatic control systems and magnetic applications, owner of the Nefertari Biomagnetic Company for saline agriculture. He has a Bachelor of Science in Communication and Automated Control Engineering, Faculty of Engineering and Technology, Helwan University, Postgraduate and MA studies, Institute of Environmental Studies and Research, Ain Shams University, in the effect of magnets on living organisms. He has more than 19 books in various sciences, including the Encyclopedia of the Energies of the Human Mind, The Secret of the Energy of the Pyramid, the Great Reference in the Secrets of the Pendulum Energy, the Secrets of Precious Stones, the Book of Transformations, the Journal of Transformations, a scientific journal on the influence of the planets on man, 15 issues of which were issued, the Book of Pharaoh Musa from the people of Moses, of which 18 editions were issued.
Eman Sobhy
Content creator
Eman, a graduate of the Faculty of Mass Media , Department of Journalism, Cairo University, won a scholarship in Germany to study the electronic content and video industry, and it was the reason for changing her career from journalism to digital marketing. Her goal is to present various useful stories that reach the whole world. With the encouragement of her sister and husband, she participated in a competition looking for young Arab talents interested in creating content; To help them be among the best creative content makers in the Middle East.
Mohamed Aboulnaga Nagaty
Entrepreneur
Mohamed is an experienced entrepreneur and executive with more than 15 years of experience. He started his career at Fawry in account management and business development, and in sales with Haymarket Media Group; moreover, he completed the CXO Academy program at INSEAD, France, and a B.Sc., in Electronics Engineering from the American University in Cairo, Egypt. Currently, Mohamed the Co-founder/CEO of a fintech startup in Egypt and a Co-founder/advisor of Halan, Africa's super app and Egypt's most funded app in 2020 according to Forbes middle east. Prior to co-founding Halan, he served as Regional Director at Careem, the Middle East's number one ride-hailing application recently acquired by Uber for more than $3 billion; in addition, he was the Head of Business Development and advisor to Fawry. He also sits on the board of several Tech companies including Koinz, Robusta, Touchless, Cashcows, Waffarha, and an advisor to Disruptech ventures and an investor in Breadfast.
Summer Galal
Theatre maker
Singer and theatre-maker based in Cairo. She's a singer in the Bahgaga band; a band of 5 lead female vocalist that creates contemporary monologues. In 2017, Summer created Charlie and the Chocolate Factory which is a colorful Egyptian musical that played for 3 years on stages and it was quite hyped. Although she studied set and costume designs but her passion went towards performing arts when she joined Atelier El Masrah at college, after graduation Summer joined Sitara Theatre where she fell in love with the children's theatre. She directed various performances for stage and a web series for children "Be the change you want to see in the world" - Gandhi is her motto.
Organizing team
Adham Ayman

Team member

Ahmed Ibrahim

Operations

Ahmed Hesham

Marketing/Communications

Ahmed Ibrahim

Marketing/Communications

Enass AbdullahHassib

Operations

Mahmoud El Haiwan

Marketing/Communications

Malak Magdy

Marketing/Communications

Marium Esmaeil

Marketing/Communications

Mohamed Bakry

Operations

Mostafa EL-Gohary

Marketing/Communications

Nayera Maged

Operations

Omar Tamer

Operations

Radwa Mohsen

Operations

Rawan Wael

Operations

Salma Hussien

Operations

Shahd Roshdy

Marketing/Communications

Weaam Essam

Operations