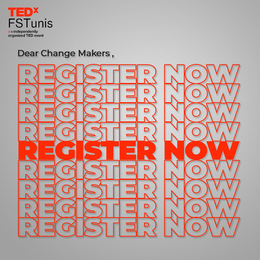 In the spirit of ideas worth spreading, TEDx is a program of local, self-organized events that bring people together to share a TED-like experience. At a TEDx event, TEDTalks video and live speakers combine to spark deep discussion and connection in a small group. These local, self-organized events are branded TEDx, where x = independently organized TED event. The TED Conference provides general guidance for the TEDx program, but individual TEDx events are self-organized (subject to certain rules and regulations).
Speakers
Speakers may not be confirmed. Check event website for more information.
Ala Debbichi
Trainings director at LeCoach
Ala Debbichi is active on many initiatives : - Training and developement director and professional trainer at LeCoach - Evaluator mentor at OpenClassrooms - ONG activist at a national, Africain and international scale. - Jury member at various entrepreneurship competitions.
Amal Golli
CEO of Winno
Amal is an engineering student keen to become a future Artificial intelligence engineer. She is the co-founder of the startup entitled 'Winno' that works on the digitisation of veterinary sector in Tunisia. She is part of the international organization IEEE, which stands for Institute of Electrical and Electronics engineers and is a British Council Future Leaders Connect Alumni.
Elyes Manai
Google Developer Expert in Machine Learning
Elyes Manai is currently a Google Machine Learning expert, also working as Machine Learning Project Manager & Trainer at Orange Tunisie in La Marsa, Tunis. Earlier, Elyes was working at InstaDeep Ltd as Deep Learning Research Scientist!
Hazem Hamrouni
Founder of PERSOHYPE and digital marketing specialist
Hazem Hamrouni is an entrepreneur and CEO of PERSOHYPE, a social media marketing company ! He quit university to follow his passion and build companies. He creates content about entrepreneurship and business.