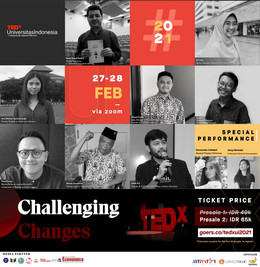 TEDxUniversitaslndonesia is an independently organized TED event co-branded with Universitas Indonesia, licensed by TED. A two-day conference hosting a series of TEDx Talks for a curate audience of thinkers and doers in the community. Universitas Indonesia sets the stage for innovators across fields to spark insightful conversations that make their ideas stronger. We strive to integrate Universitas Indonesia's core values of constant evolution, advancement in unique fields, and interdisciplinary experimentation while involving the Universitas Indonesia community and fusing Indonesia's local and international fabric.
Held on the 27th and 28th of February 2021, this year's theme, Challenging Changes, is interpreted as making breakthroughs in a status-quo condition. With this theme, we bring Sabda P. S., Sri Izzati, Camar Lanang Maulana, Maman Hendraman, Aine Shahnaz Tjandraatmadja, Edward Candy, Abdul Samad Haidari and Ferro Ferizka to share ideas worth spreading as TEDxUniversitasIndonesia hopes to be able to provide a platform for those who want to pour their ideas that are considered as "out of the box" by the society to our audiences in the form of TED Talks.
For further information, stay tune on our instagram and twitter @tedxui
REGISTER THROUGH: https://goers.co/tedxui2021
Speakers
Speakers may not be confirmed. Check event website for more information.
Abdul Samad Haidari
I AM, BUT MORE THAN A REFUGEE
Abdul Samad Haidar is a 33 years old Afghan refugee who has more than just a definition of "refugee". Sharing his extraordinary journey, he had begun striving for survival and freedom since the age of 8. During the time Abdul reached Indonesia, he survived with only a pen and notebook to write poems. With this survival kit, he was able to become an author of his own illustrated book of poetry. His original and expressive writings soon lead to an invitation to Ubud Writers & Readers Festival in 2019. Through this Tedx talk, he has proven that he is more than just a refugee.
Aine Shahnaz Tjandraatmadja
WOULD YOU 'UN-LONELY' YOURSELF?
Loneliness is more than meets the eye. Some people may think they are depressed or anxious at glance, which isn't really the problem. In some other cases we hang out with a lot of friends but still feel lonely, how does that happen? How would I unlonely myself? Meet Aine, a teenager who finds herself seeking the cause and meaning of loneliness itself. Through her journey moving between countries she always found herself feeling lonely. The journey she will share is nevertheless the answer to "would you un-lonely yourself?"
Camar Maulana
PAINTING KINDNESS THROUGH SILENT & LISTEN
Participating in community dedication movements is more than offering help. We need to ensure that the changes we bring are good and beneficial, not only from our perspective, but also from the perspective of the people that we help. Meet Camar Lanang Maulana, a final-year student in University of Indonesia, majoring in Philosophy, who has a huge interest in community dedication. He participated in dozens of community dedication movements which led him to realize that general understanding of community dedication has not been accurate enough. At TEDxUniversitasIndonesia, Camar will share his experience and propose a new idea of community dedication in a new definition which assumed to be more accurate.
Edward Candy
WHAT DO SOME CHILD ABUSE VICTIMS DO DIFFERENTLY
Edward Candy feels that he is living a decent and comfortable life. He graduated from university with an exceptional grade, contributed in many different competitions and organizational activities, and now he's currently working at an FMCG company. But behind all that, he is also a victim of a domestic abuse which he experienced in his childhood. Given the many cases of violence againts children in Indonesia. At TEDxUniversitasIndonesia, Edward Candy will share his experiences and how he dealt and coped his difficulties by using a resilience method.
Ferro Ferizka
PURPOSE AND MEANING
Have you ever dreamed big and wanted to change the world? Meet Ferro Ferizka. Going through many changes in his life, he defines those changes throughout his purposes. Yet, achieved his biggest goal to work at the biggest multinational technology company doesn't seem to be his endpoint. The process behind achieving a goal is what is important for anybody around the world. For him, mankind's purpose is supposedly bigger than ourselves, it's not just a matter for our own, but to give meaningful impacts to this world.
Maman Hendarman
SHED LIGHT ON ME
Maman Hendarman is a teacher who has served for almost 31 years. In his spare time, he enjoys writing poetry and participating in competitions up to the DKI level. Becoming a teacher is not as easy as people imagine, during his profession he has tasted various kinds of bittersweet life. At TEDxUniversitasIndonesia, Maman Hendarman will convey the meaning of life through his eyes and how he strives justice for his students.
Sabda P. S.
TOTAL TRANSFORMATION OF OUR EDUCATION
To become a fully functioned person and society, education must come first. The 21st century will propose a big challenge to face for Indonesian society, but our education itself still not yet can overcome the challenge. So we need to revisit and break down the concept of education to decide which things should be challenged. Meet Sabda PS, founder and Chief Education Officer of Zenius Education and also a teacher. He has been in the education field for more than 10 years. He always has a life purpose to set a smart and bright Indonesia.
Sri Izzati
ITERATING LIFE
The challenging change is the change itself. Changes might be hard, unacceptable, messy, but it'll be beautiful in the end. By embracing the change/s in life, you'll know the ability and capacity of your own self. Meet Sri Izzati, a writer who pioneered Indonesia's first children book series when she was 8, whom MURI acknowledged as the youngest writer in Indonesia in 2003. She has published 11 books and also conducted a series of creative writing classes. Through her writing career, she found many changes in her life. At TEDxUniversitasIndonesia, she will share her thoughts on what "change" means to her.