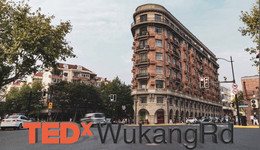 融汇无间|首届TEDxWukangRd年度大会开启!
The topic of TEDxWukangRd 2020 conference is MIX.
融-中文意为融合,聚集。而今,融更是指中国与世界的融合,时尚与历史的融合,现代与未来的融合,守旧与创新的融合。
We understand MIX in two ways.
Firstly, it means two or more substance combine in a way that cannot be seperated easily.
Secondly, if two or more things, people, or activities do not mix, they are likely to cause problems or dangers.
In this TEDx conference, we use MIX to try to explain the MIX of China and the world, the MIX of fashion and history, the MIX of modernity and future, as well as that of conservation and innovation in different perspectives.
为什么要选择融-MIX 这个主题?
Why we choose the theme of MIX?
上海是世界金融中心,融代表了上海独特的精神品质,融是各种文明交流融汇的结晶,融是海纳百川开放包容的胸襟,融是兼容并蓄博采众长的自信,融是和而不同求同存异的气度。
The Global Financial Centres Index 28, launched by London think tank Z/Yen Group in partnership with the China Development Institute (CDI), shows, Shanghai has moved up one place to third as the global financial center.
MIX in shanghai has unique spirit, it represents the fruit of exchange and integration of various civilizations. It also shows openness and inclusiveness of all rivers into a sea, the self-confidence of all-embracing and absorbing.
在TEDx舞台上,我们欢迎不同国家不同肤色不同领域的讲者,将自己的智慧分享于此,向世界展现"融"的魅力与内涵。
On the stage of TEDx, we welcome speakers from different countries, colors and fields to share your wisdom, showing the world the charm and connotation of 'MIX'.
TEDx武康路是什么?
About TEDxWukangRd:
武康路被誉为"浓缩了上海近代百年历史"的"名人路",沿线有优秀历史建筑总计14处,保留历史建筑37处。
Wukang Road is known as the 'Celebrity Road' that 'condenses the recent century history of Shanghai'.
There are 14 excellent historical buildings along the road, and 37 historical buildings are preserved.
2011年6月11日,上海市徐汇区武康路入选由文化部与国家文物局批准的第三届"中国历史文化名街"。
On June 11, 2011, Wukang Road in Xuhui District, Shanghai was selected as the third 'Chinese Historical and Cultural Street'approved by the Ministry of Culture and the State Administration of Cultural Relics.
武康路是时尚与历史的融合,走在这条路上你可以看到到历史与新潮的碰撞,文化与变化的交织。
Wukang Road is a fusion of fashion and history. Strolling on this road, you can see the collision between history and new tide, and the interweaving of culture and change.
今年,TEDx将在武康路发声,致力于将"文化、历史、艺术、人文"等多方位融合在一起,用一群人的力量,用我们的声音,把中国智慧带向世界。
This year, TedxWukangRd makes a voice on Wukang Road, committed to integrating 'culture, history, art, and humanities'together, with the power of a crowd and our voice, to bring Chinese wisdom to the world.
大会举办地:上海话剧艺术中心(上海市徐汇区安福路288号话剧大厦)
Lcation: Shanghai Dramatic Arts Centre, 288 Anfu Road, Shanghai, China