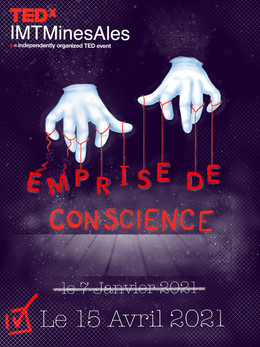 This event was supposed to be held in a venue allowing a hundred people to view the event according to our university licence. However due to the pandemic, the event will be held online, in French.
the theme we chose for this application focuses heavily on influence and manipulation because we want to show that they are omnipresent in our everyday life without us knowing it. This event will shed light on manipulation and influence in order to make people realise they are various forms that trigger people. They can be manipulated as well as being manipulators.
Speakers
Speakers may not be confirmed. Check event website for more information.
Carole Arribat
Autrice de Si seule...ment : violences conjugales ma secte
Carole Arribat, initialement assistante de direction dans le milieu de la mode se découvre une passion pour l'écriture après avoir subi des violences conjugales. Elle est désormais en plus d'être autrice, rédactrice et scénariste parisienne. Engagée dans la lutte contre les violences faites aux femmes, elle a notamment fait partie du comité de soutien à Jacqueline Sauvage
Enseignant-chercheur à l'université d'Aix-Marseille
A la fois docteur en sciences de la communication et psychologue, il est spécialiste des techniques de manipulation et d'influence, notamment digitales. Il a publié plus d'une centaine d'articles de recherche sur le sujet. Son dernier livre : Connectés et Heureux, du stress digital au bien-être numérique porte sur les influences négatives et positives des écrans sur nos vies.
Gaby Benicio
Sommelière
Gaby Benicio a 35 ans, elle est sommelière issue de Sao Paulo. Après avoir rencontré Amélie Darvas cheffe cuisinière, les deux femmes décident d'ouvrir un premier restaurant près du canal Saint-Martin à Paris, Haï Kaï. En 2019, le duo décide de quitter la région parisienne pour s'installer près de Montpellier et ouvrir un autre restaurant, Apönem qui a reçu une étoile Michelin.
Agrégé en sociologie des médias
Julien Lecomte diplômé et agrégé en information et communication et plus spécifiquement dans la sociologie des médias. La méfiance vis-à-vis des médias est-elle justifiée? Les moyens pour s'informer au XXIème siècle sont toujours plus nombreux : télévision, journaux, réseaux sociaux. Comment démêler le vrai du faux? Comment s'assurer que nous ne sommes pas manipulés dans un but politique ou économique? Julien Lecomte viendra parler de cette question cruciale qui anime le monde contemporain : à quel point sommes-nous influencés par les médias? Il nous informera sur qui sont ces médias dont tout le monde parle.
Loïc Fel
docteur en philosophie de l'Institut d'Histoire et de Philosophie des Sciences et des Techniques
Co-fondateur d'Influence For Good, du programme Contremarques et de COAL, Loïc FEL est convaincu que l'art et l'esthétisme jouent un rôle important dans la prise de conscience écologique. Il cherche à mettre en oeuvre ses connaissances théoriques sur le développement durable dans le monde de l'entreprise.