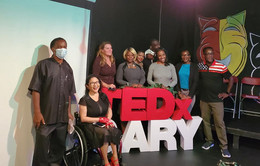 The idea is to mobilize people to think about the resources available that can be used to improve their neighborhood, community, city. We will take the trash of our city and transform it into treasures and in that process plant seeds of community buy in and ownership.Using what you have to achieve what you want, we know is not profound, but is needed in this city. We moved away from the school of thought that positive progressive change cannot happen without money. There are a number of resources that we can learn to identify as resources (such as tires that litter the city's landscape) and up-cycle and use to improve the neighborhood, community, city.
Speakers
Speakers may not be confirmed. Check event website for more information.
Bahiyah Shabazz
Executive Director of Brown Girls Do Invest
Bahiyah Shabazz explores how to expand a profitable business through financial analysis and investing. Shabazz is the Founder/Executive Director of Brown Girls Do Invest and Global Financial Consultant of Decimalytics. She is also the author of multiple books, including the best selling, 'Women Building Wealth'. Did we mention that Shabazz enjoys her role as an Adjunct Faculty at Ivy Tech College teaching Economics? As a previous Vice President of retail financial services & investments at one of the leading global financial services firms, she advised the economic forecast to increase cash flow through adequate planning. A business owner since 2008, Shabazz currently works with entrepreneurs and small businesses to ensure outlook represents sound financial decisions from a breakdown of financial reports that present the company's position.Bahiyah Shabazz is a Doctoral Candidate for the Doctor of Business Administration specializing in Finance at Walden University.
Bernard Carter
Lake County Prosecutor
Bernard A. Carter is the Prosecuting Attorney for the 31st Judicial Circuit, which is Lake County. As Prosecuting Attorney, he represents the State of Indiana and protects the people of Lake County from violence and crime by prosecuting and incarcerating the wrongdoers to ensure public safety. A native of Gary, IN, Prosecutor Carter attended West Side High School and graduated from Washington High School. In 1978, he received a Bachelor of Science Degree in Criminal Justice from Kentucky State University. In 1984, he earned his Juris Doctorate from Valparaiso University School of Law and began work as a Deputy Prosecutor the same year.Prosecutor Carter was an outstanding Deputy Prosecutor and served as such until 1990.
Chelsea Whittington
CEO of CWHITT Public Relations
Chelsea (Stalling) Whittington is a native of Gary, IN and proud graduate of West Side High School (salutatorian), Howard University (B.A. Broadcast Journalism, Magna Cum Laude) and Purdue University (M.A. Organizational Communications, Summa Cum Laude). Her career in Public Relations and Communications spans more than 25 years having worked for the Peace Corps Recruiting Office in Arlington, VA, the Office of Congressman Charles Rangel (D-NY), JWA Boys and Girls Club, Lake Area United Way, Horseshoe and Trump Casinos, the Gary Community School Corporation, and Johnson Publishing Company, publisher of Ebony and Jet Magazines. In 2009, Chelsea joined the executive team at U.S. Cellular Corporation as Communications Manager. There, she managed 4 of the company's public relations firms while promoting the brand of the nation's sixth largest wireless phone company. She continues to serve as an adjunct professor at Indiana University Northwest and Indiana Wesleyan University.
Daniel Velasco
Educator
Daniel Velasco is currently the principal at 21st Century Charter High School that serves students in Gary, Indiana. As an instructional leader in Gary, he has been an agent of change, helping restructure the school's existing systems and creating more effective systems for management, discipline, and curriculum development. He is an advocate of restorative practices and providing social emotional learning supports/opportunities for both students and staff. Previously he completed a two year teaching commitment at 21st Century Charter School as a Teach For America corps member and continued working there as a certified TAP mentor teacher and assistant principal. Daniel received his Master of Arts in Educational Leadership from Teachers College, Columbia University. He is a first generation college graduate from Princeton University that seeks to be an advocate for underserved communities.
George A. Rogge
Business Owner
George A. Rogge is dedicated to the development and progress of Gary and its neighboring lakeshore communities. These areas could be, should be and will be the garden spot to live, raise a family and do business in the Midwest. George Rogge has a proven track record from his experience in parks, education, law enforcement, community leadership, business and documented legislative ability by making certain that no homeowner in the State of Indiana pays more than 1% of the home's assessed valuation in property taxes.
News Director/Creative Influencer
Jeffrey G. Smith is a creative, consensus builder, thinker and self-described political junkie. Having studied veterinary medicine at Hampton and Tuskegee Universities respectively, his love for animals was something his father instilled in him. His love of reading was nurtured by his mother; both parents esteemed educators in the city of Gary. While his love for animals never really waned, his love for politics and talk radio grew stronger. Born in Gary and invested in the city, he returned and created a platform for citizens to engage in meaningful, as well as colorful, political discourse. That platform is now the most listened to news desk/talk show in the Region, Afternoon News Desk with Jeffrey Smith. Smith is masterful at getting people to see both sides an issue, no matter how sensitive or potentially volatile.
Jim Harper
Attorney
Jim Harper is a Northwest Indiana native. He was born and raised in Valparaiso and graduated from Valparaiso High School in 2001. Jim went on to graduate with highest honors from Indiana University and received his law degree, with high honors, from Georgetown University. Upon graduating, he completed a federal judicial clerkship in Indianapolis and served as a public defender in New Orleans. During his time in New Orleans, Jim was proud to play a role in the rebuilding of that city's public defense system after Hurricane Katrina. Jim then chose to return home to Indiana to serve his community. He now practices law at his family's firm, Harper and Harper. In addition to his private practice, Jim co-founded a national non-profit law firm that has represented hundreds of veterans seeking disability benefits for injuries they sustained during their service.
Kwabena Rasuli
Community Activist/Influencer
Born in Venice, California in the Los Angeles area near the beach. Raised in Compton and Carson, California. Graduated from Southern University in Baton Rouge, Louisiana with a degree in Mechanical Engineering. Moved to Gary, Indiana in the early nineties! Worked at both the local utility and local university during his professional career. Has also spent time working in the Gary School system and performing independent consultant work both in the U.S. and overseas in Afrika. Been an active member of many organizations and movements, such as: National Society of Black Engineers, United Afrikan Movement, BLM Northwest Indiana-Gary and National Black Leadership Alliance. In 2013 assisted in the organization of the Clear The Airwaves Project. A project dedicated to the removal of vile, vulgar and violent music from commercial radio stations.
Sabrina Haake
Attorney/Community Activist
Sabrina Haake is a federal trial attorney, published author, and private investor living in Gary Indiana. A former Indiana Governor's Fellow and legislative intern, she previously served in an advisory capacity to Indiana Governors of both parties (Orr-R, and Bayh-D). She graduated from Indiana University School of Law, and studied commercial codes in Shanghai, China and London, England. She served ten years as General Counsel to an international manufacturer, then represented the Chicago Board of Education from 2007-2020. She is a Sagamore of the Wabash (Indiana's highest civic honor), and her scholarship on Constitutional law and civil rights has been published in numerous law journals including the comparative law journals of Tulane Law School, Howard University Law School, and Indiana University School of law. After 26 years, she has an unmatched litigation success record in state and federal court.
Zully JF Alvarado
Activist/Change Change Agent
Entrepreneur, educator, designer, and philanthropist—has devoted her life to bettering the lives of children and persons with disabilities. A former resident of Chicago, Zully was appointed by the city's first African-American mayor, Harold Washington, as his Executive Assistant and Assistant Commissioner of Aviation. She was hired as consultant by LCM Architects on their project to make the public schools accessible to the disabled. Ever active in community affairs, she's served on the Boards of Access Living Center for Independent Living and the Chicago Foundation for Women; and at present serves on the Advisory Board of Chicago Community Trust Disability Fund and proud member of ADA25 Advancing Leadership. Her accomplishments were recognized in 2011 when named by Chicago Magazine as a Chicagoan of the Year.