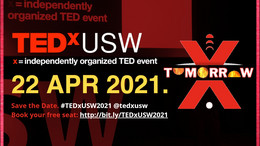 Due to Covid 19 restrictions, our USW Tedx event will be an online event, hosted on the social media platform Facebook.
Today, we build them. Our stepping stones. We listen to the advice of people who have lived through times, their lessons, and how they weave into our lives.
TEDxUSW brings to bring us all, to a three-part virtual event on the 22nd of April, 2021 to tell our stories. From the past and present community of the University of South Wales, we present you - TEDxUSW: Tomorrow.
Hear our stories. Laugh along. Think differently. Spread our ideas. Learn from our lessons.
We'll see you, Tomorrow.
Speakers
Speakers may not be confirmed. Check event website for more information.
Teacher
Dr. Chris Inglis received his Ph.D. from the University of South Wales in 2019, with his thesis entitled Engaging with Electro Swing: Resurrection, Recontextualisation, and Remix. He currently works at the British and Irish Modern Music Institute, in Bristol.
Dr. David Harvey
Masters Of Chiropractic
After graduating from the University of South Wales in 2015 with a Masters's in Chiropractic, I have been on a mission to change the way that people think about their bodies and their health. My partner, Tania, and I, recently launched HEALTH SHAK- an award-winning healthcare startup with the intention to get you to be in control of your health along with the experts. Having over 5 years of clinical experience, I combine expertise in multiple techniques and healing modalities with traditional chiropractic. My experience competing and training in high-level sports allows me to create a personalized experience with a predictable and reliable, positive outcome.
Dr. Sarah Kate Crews
Course Leader and Senior Lecturer in Performance and Media
My name is Sarah Crews, I am a performance studies scholar and senior lecturer in Performance and Media. I am an avid boxing fan but I feel passionate that female boxers are undervalued and underpromoted in the sport. Narratives of women's boxing are often misunderstood, dismissed or forgotten altogether. But female boxers occupy an important position in popular culture and their work might help us rethink issues such as period shame, violence against women, the limitations that young women and girls face in sport, and how female bodies are critiqued and discussed in media more generally.
Creative Industries
Reading newsletters, a meaningful relation with some of my former teachers and students, and my mentor.
Kate Spear , Louise Hall & Caroline Elder
Teacher, Private practice to support children and families & Youth and family engagement worker
Kate is a teacher with a Postgraduate Diploma in Specific learning difficulties from USW. She is one of the founding members of Inspirational Futures Well-being Support- a social enterprise developed to support and promote positive mental health and well-being in children, families and teachers. Louise studied the MSc Play Therapy at University of Glamorgam in 2015-2017 I work with agencies and in private practice to support children and families with their mental health through providing one to one play therapy and filial play therapy. Caroline is a youth and family engagement worker and run a community interest company called the Pili Pala Project which provides child centered guidance, products and resources to help support the emotional needs of children through play. I studied at the University of South Wales gaining a degree in Childhood and Youth Studies and a Masters in Play and Therapeutic Play graduating in 2013.
Alumni and MSc Sports and Exercise Medicine Tutor
I have been actively connected to the USW community since 2014 when I began my postgraduate journey. In 2016 I graduated with my MSc and I have been a tutor on two USW courses since 2017 where I guide medical and health professionals through their postgraduate education. In addition, my colleagues at the University have nominated me for an associate fellowship award with Advance HE for services to tutoring.
Creative Director at That Media Group
Kevin Mansell-Abell is a lifelong entrepreneur. Having started and set up his own studio in 2007, he's since worked with hundreds of clients and businesses, helping them to overcome obstacles and move their ideas forward. With a design communications background and years of marketing experience, he enjoys encouraging others to see things from a new perspective. An MBA graduate from USW, alongside Kevin's work, he is actively involved in writing, shaping and delivering numerous regional, industry and government-led entrepreneurship support programs and plays an active role in nurturing the next generation of entrepreneurial talent.
Operations Director and Coach at Emerging World
I am a generalist, combining my different skills and insights in my life and work as a creative, facilitator and expedition leader. I'm driven by a creative passion for enabling human potential. In March 2020 I began a photography project combining images and words to explore human experience, the everyday things, the zeitgeist of this most unusual time in my life history. As we all became more inward in our thinking and movements during time in lockdown, I began considering my own journey from teenager who was too scared to go on school trips to a global expedition leader, focusing on what had enabled me to eventually step out and embrace world experience in a big way.
Mariana Soares da Costa
Graphic Designer
Mariana Costa is a Graphic Designer with a deep passion for food. She graduated from the Federal University of Rio Grande do Sul, in Brazil, having completed a sandwich year at the University of South Wales. It was during her studies that she discovered the field of Food Design. Since then, she is interested in how to redesign our relationship with food to turn it into a healthier one, - healthier for the body, the soul and the environment.
trainer and transformational coach
Driven by her own trauma Miriam Siddiqi is a speaker, trainer, and transformational coach (former USW student) who helps people go from surviving to thriving in a life they dream of. In a world where nothing is certain after suffering from loss Miriam's purpose is in helping people find hope in tomorrow. A talk to share.
Assistant Director for Mission Advancement and Partner Church Lead Helping Children Worldwide
Mohamed Nabieu ("Nabs") is a care leaver, and he was one of the first children that were recruited by the Child Rescue Centre (CRC) after the Sierra Leone civil war. Under his leadership as the Programs Director, the CRC successfully and safely transitioned from Orphanage care to Family-based care. Now, he is the Assistant Director for Mission Advancement and Partner Church Lead at Helping Children Worldwide, which supports over 600 most vulnerable children and families. Nabs is a thought leader, a motivational speaker, a life coach, and a child advocate. With his range of experience and background in Organizational Psychology, Leadership Development, Positive Psychology, and Child Welfare, he finds immense pleasure in serving vulnerable populations, building people up and empowering the next generation of leaders. Nabs is a graduate of USW with a master's degree in business/Organizational Psychology.
Mrs Sarah Parker-Price Mr Scott Hann
teachers at The Federation of Blenheim Road Community and Coed Eva Primary Schools, an ITE Lead Partner School of USW
Sarah and Scott are teachers at The Federation of Blenheim Road Community and Coed Eva Primary Schools, an ITE Lead Partner School of USW. Sarah graduated from USW in 2014 with a First Class in BA (Hons) English and Creative Writing. Scott graduated from USW in 2019 with a First Class in BA (Hons) Primary Studies (with QTS). During his time at USW, Scott was a Student Mentor, Student Ambassador and was heavily involved in Digital Leader programmes, delivering projects to a range of schools in south Wales. Scott now teaches a Year 5 class and is the Digital Champion for his school. In 2019, Scott started a school podcast and the podcast buzz quickly spread through the corridors, continuing to grow from strength to strength.
MS. PRINCESS OKECHUKWU
lawyer licensing candidate in Ontario, Canada
I am an Alumni of University of South Wales, I obtained my Law (LLB) in 2012. Also, I obtained my LLM in Dispute Resolution from Kingston University, London. I am currently a lawyer licensing candidate in Ontario, Canada. When I am not buried in law books, I am a community engagement enthusiast. I believe that changing the world starts with making impact in my community.
Paul Andrew Keirle
Teacher
I am an teacher employed by the Prison Service and working in one of their establishments in Wales. I have been delivering a course I wrote covering music production and instrumental skills for a few years. I completed my Cert Ed qualification through USW.