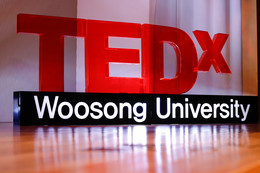 TEDxWoosongUniversity is an independently organized event designed to provide a platform where thought leaders and thinkers in the Woosong community and beyond can make a difference and share their ideas. We all have unique and distinct perceptions of certain realities and issues in our local community and the world.
With the spread of a pandemic, businesses, companies, communities, and individuals have had to alter their 'normal' as they tread new terrains. Diverse speakers will share thought-provoking ideas, concepts, and misconceptions Under the theme "Uncharted Territory." This event will stir up conversations about the current unknown realities and how they can be explored for a better community.
This event will be streaming on our TEDxWoosongUniversity Facebook page from 1:30 PM KST.
Speakers
Speakers may not be confirmed. Check event website for more information.
ACE Dance Group (YeonJin Kim)
Lead Choreographer
ACE Dance Group is made up of YeoJin Kim (Lead Choreographer), Soye Kim, Shieun Kim, Yebin Yoon, and Jihye Hwang students of Woosong College. YeoJin Kim, the lead choreographer, has performed in various dance competitions, including 2020 KT&G Sangsang university Jiphyunjeon (Dance battle section), 2020 10th Waacker's Night, 2020 Korea Dance competition, and 2019 Woosong Dance Battle.
Eric McDaniel
Entrepreneur
Eric McDaniel is from a small suburb near Kansas City, Missouri. He was raised in a typical but hardworking, blue-collar family. Learning from his father's hard work and his mother's compassion, he tried to achieve his goals and dreams by exuding those values that he learned. Though his life has been faced with many obstacles, he used that as fuel to become a promising athlete as well as exploring various business ventures. His interests include entrepreneurship, entertainment and education.
Fofana Algassimou
Project Manager + International Business Development Consultant + Entrepreneur
Born and raised in Guinea Republic, Gassim's multilingual ability makes him at ease in multicultural environments. He is fluent in Korean, English, French, Mandinka, Fulani, and Susu. He received his Master's degree in Global MBA from Dongguk University's Graduate School of Business in Seoul, South Korea. Since completing his studies he has been working in the Energy industry as project manager and international development consultant for renewable energy projects in South East Asia, Middle East, and Africa. Gassim is also on the personal mission of delivering cutting-edge technology solutions to Africa's education and business ecosystems. Combining technological, business, and people talents and skills, he dedicates his time to empowering and shaping the next generation of African leaders.
Hanane Lasmi
Researcher
Hanane, meaning tenderness in Arabic, grew up during the civil war that tore her homeland Algeria to the ground by radical groups. Not letting that dark period deter her from pursuing higher education. Hanane not only obtained an engineering degree in electronics, she has also committed herself to provide opportunities for others and increasing Algerian female participation in STEM. She worked as an electronic engineer for the Ministry of Telecommunications for five years and was awarded a master's scholarship from KOICA. She served as a researcher coordinating technology transfers between Korea and Algeria during her master's degree. Hanane has recently received her Ph.D. in business technology management from KAIST. Her research interests include social media, consumer behavior, and the application of merging technologies such as artificial intelligence, data mining, and natural language processing in marketing.
Muborak Samieva
Student
Muborak is a junior student at SolBridge International School of Business and currently taking up a bachelor's degree in Finance. She is recognized as a member of the Beta Gamma Sigma (BGS) scholastic honor society to acknowledge her academic achievements. Muborak aspires to pursue a career as a financial data analyst to help people build sustainable wealth and gain financial security. She has done several internships in data analytics and project management working for companies such as QYMATIX and CFS. Her passions include learning new languages, reading self-development books, and solo traveling. Currently, she is on an empowering journey of self-acceptance and learning to feel comfortable in her own skin.
Nollaig C.V. Walsh
Assistant Professor
Irish-Guyanese-Canadian-Korean, Nollaig Chandra Vedan Walsh, is a multi-talented, multicultural, multi-lingual, multi-national. He is a violinist trained in the classical western tradition and holds a Bachelor of Music in violin performance. His formal musical education began at age three, continued in an arts high school and in his undergraduate studies in Canada and conservatories in Korea. He has toured Canada with the National Youth Orchestra, played in festival orchestras in Texas, Quebec and British Columbia, and played in orchestras in Seoul. Nollaig is an English language educator who holds a Master's in TESOL. He has more than two decades of work experience in the Republic of Korea. He has lectured at the university level for 17 years. His decade-long association with the Educational Broadcasting System has spawned many television programmes which were broadcast nationwide via satellite and are now available online.
Rezia Usman
Educator + Communication Enthusiast
Rezia Usman is a life-long learner and educator for life from Indonesia. As she developed a curiosity in seeing the world through the lens of education, she also picks up interests in the dynamic of interactions between cultures. For that, she's always striving to be a global citizen through teaching and any activities with students of different cultural backgrounds. With her multicultural experience combined with having lived in the US and South Korea, she is the most enthusiastic in education in multicultural settings. Her professional experience and enthusiasm revolve around Communication and Debate, and she is also a public speaking aficionado. Rezia is a two-time TEDx event curator in South Korea and currently part of the International Relations team at Woosong University.
Valentin JANIAUT
Engineer
Where do you find how things work? At first, Valentin learned engineering in France and then in Korea at the Korea Advanced Institute of Technology (KAIST). After a Master in Computer Science, he thought that he understood at least how computers worked. Yet, his 10-year career at LG electronics made him understand that his journey to penetrate the cause of things was far from over. His second Master's degree at the London School of Economics made him explore the inner workings of even more powerful engines than electricity and transistors: culture, individual perceptions, and business dynamics. His research currently focuses on global team management and time management behavior.