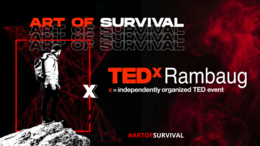 THE ART OF SURVIVAL
Carl Sagan, an American scientist and author, said: "Extinction is the rule; survival is the exception." We live in a world where the fittest dominate and the rest tolerate.
Survival is perceived as a defensive term, but we should consider it as proactiveness against offence. Although the original meaning of the term, survive is to 'outlive,' it connotes plentiful or abundance, and not merely coping with difficulty or struggling to make ends meet.
Dealing with problems regardless of their magnitude or intensity is in itself a sign of growth. Moreover, the fittest are those who refuse to be victims, but have the mental toughness to pull themselves through adversities. Hence, we need to keep up with the dynamics of the constantly evolving society by acquiring new skills and upgrading ourselves to enhance our potential to survive!
Speakers
Speakers may not be confirmed. Check event website for more information.
Arunava Bhattacharya
Fitness coach
Arunava Bhattacharyya is an all in one mega package. A passionate biker and a fitness professional. He has earned his respect and stature and he is often addressed as a.k.a The Brahmin Bull. Arunava holds a degree in B.Pharm (Pharmacy) and is a certified personal trainer (ACE 2009 batch). After he was awarded a sponsorship from Optimum Nutrition in 2014, he did several certifications in Sports Nutrition including a level 1 certification from Precision Nutrition. He has gone on to transform the lives of many individuals including Bangalore's own Puneet Rajkumar and his wife, actor Karthik Jayram, actress Angana Roy and many other Celebrities and Entrepreneurs. Currently he is coaching South India's Biggest Superstars of the century Nagarjuna for back to back Movie Projects. He is also Sponsored By World's Largest Nutrition Brand My Protein and India's most Elite Wellness brand .