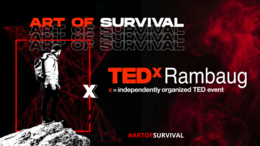 THE ART OF SURVIVAL
Carl Sagan, an American scientist and author, said: "Extinction is the rule; survival is the exception." We live in a world where the fittest dominate and the rest tolerate.
Survival is perceived as a defensive term, but we should consider it as proactiveness against offence. Although the original meaning of the term, survive is to 'outlive,' it connotes plentiful or abundance, and not merely coping with difficulty or struggling to make ends meet.
Dealing with problems regardless of their magnitude or intensity is in itself a sign of growth. Moreover, the fittest are those who refuse to be victims, but have the mental toughness to pull themselves through adversities. Hence, we need to keep up with the dynamics of the constantly evolving society by acquiring new skills and upgrading ourselves to enhance our potential to survive!
Speakers
Speakers may not be confirmed. Check event website for more information.
Arunava Bhattacharyya
• Sports Nutritionist, Celebrity Coach, a fitness professional, nutritionist, a certified personal trainer (ACE 2009), a passionate biker as well!
Ashish Patil
A young boy who started his journey by participating in multiple dance shows, to a choreographer who is teaching participants from various shows as well as other top people from the entertainment industry. Ashish had served in the dance industry for more than 18 years and is still working on many other big projects from the industry. . In his young days, Ashish participated and won several dance shows like Eka Peksha Ek, Boogie Woogie, Krazzy Kiya Re, and many other television dance shows which many kids of his age had binge-watched on weekends. . While embracing his talent into work, Ashish choreographed 3 Marathi movies. He also trained and choreographed many renowned Bollywood celebs like Madhuri Dixit, Shamita Shetty, Bharati Singh, and many more. . Dance forms like Bollywood, Classical, Semiclassical, Folk, and Contemporary are the interest fields of Ashish. And he has choreographed many big television shows like Tara from Satara, India's Best Dancer, Super Dancer, DID, and several television shows on Zee TV and Colors TV.
Avirat Shete
Teacher, Motivational Storyteller, Wildlife Photographer, Author, Poet, Happy soul, Vlogger.
Bhavesh Sharma
My funny faces sound good, put your headphones on before u scroll down, Indian Beatbox Champion 2016, DoonBeatbox Shout-out video.
Debasshish Ghosh
"Someone said that an Indian won't be able to ride across the world - obviously because of all the passport constraints that come along " Biker, Entrepreneur, Traveller
Dharmveer Singh
ArmyMan , Runner , Mountaineer , Rider , Entrepreneur , FearFactorParticipant , JNU , NMIMS , NIM.
Dr. M.Z. Patanwala
Professor, Co-Founder and Director of AutoInstitute, Member of Skill Development in CII and ITES, National Record Holder.
Dr. Samir Parikh
Phychiatrist, Director at Fortis National Mental Health Program.
Dr. Shrikant Eknath Shinde
MBBS, MS Ortho
A livewire medico (MBBS; MS Ortho) passionate about creating positive changes in the Constituency to impact the common man.
Harsh Doshi
Celebrity Manager /PR Manager, Anchor, Life coach /Parenting Coach.
Mahir Pandhi
Modelling, Acting, Drama, Theatre, Dubbing, He has done it all.
Mehek Purohit
Designer, Creative Head & Founder of Chakli Art.
Nanda Kishore
Film Director & Screen Writer, Kannada Filmmaker
Olly Esse
Italian DJ/Producer, Sponsored Athlete, Fitness Influencer.
Ronodeep Dasgupta
ON A MISSION TO SPREAD ANAND! Youtuber, Online Streamer
Rupali Bhosle
Indian Television Actress, Dancer, Former Big Boss Marathi 2 Contestant.
Shiv Thakare
WINNER OF BIGBOSS MARATHI 2, MTV ROADIES SEMI-FINALIST, WINNER OF MTV ANTISOCIAL.
Shweta Mehta
Actor and Athlete, ROADIES WINNER.