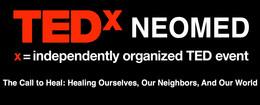 The theme for the TEDxNEOMED event is "The Call to Heal: Healing Ourselves, Our Neighbors, And Our World." While healing is traditionally associated with the medical profession, it can also refer to amending aspects of our own lives, the lives of those around us, and our societal institutions. NEOMED is a medical university that aims to foster tomorrow's leading doctors, pharmacists, and researchers. While our focus is on typically on medical healing, our university prides itself on teaching its students to think critically and with a humanitarian lens. In the city of Rootstown, with a population of 7,000 people, the people of NEOMED stand as an intellectual lighthouse, ready to illuminate the TED stage with innovative ideas and inspirational messages.
Speakers
Speakers may not be confirmed. Check event website for more information.
Alessandro Brunetti
Alessandro Brunetti grew up in the small city of Mansfield, Ohio. He was educated at St. Peter's Catholic High School. He later traveled to Columbus, Ohio to seek a degree in chemistry and psychology from The Ohio State University. There he established his fundamental knowledge of the physical and social sciences. Seeking to combine his interests in science and service, he sought a degree in medicine. Alessandro accepted a seat at Northeast Ohio Medical University in 2019, and is on track to complete his degree in 2023. Over the years Alessandro has developed a deep passion for film, literature, and music. Some of Alessandro's greatest heroes are Spike Lee, George C. Scott, Ludovico Ariosto, Rafael Bob-Waksberg, Hidetaka Miyazaki, Sean Bonette, and his mother Mary Anne DiAlesandro. Alessandro firmly believes that vulnerability is the heart of compassion. Accepting one's flaws, shortcomings, and failures is the first step in connecting, growing, and healing with others. He intends to keep these principles within himself as he transitions from a student into a practicing physician.
Ankur Kalra
Dr. Kalra is an interventional cardiologist and medical director of clinical research for regional cardiovascular medicine at the Cleveland Clinic, section head of cardiovascular research at Cleveland Clinic Akron General, a university professor at the Cleveland Clinic Lerner College of Medicine (Associate Professor) and NEOMED (Adjunct Associate Professor), and founder of the non-profit startup, makeadent.org. He is director of Barry J. Maron Hypertrophic Cardiomyopathy Center in New Delhi, India. He is also the host of the cardiology podcast show, Parallax. He has presented late-breaking science at national and international scientific cardiovascular meetings, and has published over 200 scientific manuscripts in various peer-reviewed journals. Educated at Indira Gandhi Medical College (Shimla, India), he completed medical and cardiology training at the All India Institute of Medical Sciences (New Delhi, India), Cooper University Hospital (Camden, NJ), and Hennepin County Medical Center and Minneapolis Heart Institute (Minneapolis, MN). He served as a clinical and research fellow in interventional cardiology at Beth Israel Deaconess Medical Center, and a clinical fellow in medicine at Harvard Medical School (Boston, MA). He then completed a year of advanced interventional and structural cardiology fellowship at Houston Methodist DeBakey Heart and Vascular Center, Houston Methodist Hospital (Houston, TX). Dr. Kalra is board-certified in Internal Medicine, Cardiovascular Disease and Interventional Cardiology from the American Board of Internal Medicine, and a Diplomate in Adult Comprehensive Echocardiography from the National Board of Echocardiography. He is also certified in patient safety, healthcare quality, health informatics and leadership from Harvard Medical School's 1-year Safety, Quality, Informatics and Leadership certification program. He is currently pursuing a Master of Science program in Health Economics, Outcomes and Management in Cardiovascular Sciences at the London School of Economics & Political Science in London, United Kingdom. He is also the author of the poetry book, "Ibadah" that was released on Amazon and Barnes & Noble, and launched in collaboration with Cleveland Clinic Arts and Medicine Institute on Valentine's Day, 2020.
Kevin Dieter
Kevin Dieter M.D. FAAHPM HMDC is a 1985 graduate of Northeastern Ohio Medical University (NEOMED), and is currently a Clinical Associate Professor of Family Medicine at NEOMED as well as serving as an Associate Medical Director of the Hospice of the Western Reserve in Cleveland, Ohio. He is board certified in both Family Medicine and Hospice and Palliative Medicine, and became a Fellow of the Hospice and Palliative Medicine Academy in 2009. He is active nationally in the Academy of Hospice and Palliative Medicine, recently serving as Chair of the Spirituality and Humanities Special Interest Group. In addition, he is the 2019 recipient of the AAHPM Josephine B. Magno Distinguished Hospice Physician award. Kevin remains active in medical education in diverse venues, including NEOMED, where he helped to develop the nationally recognized Palliative Care curriculum, which has a strong component of a "Hospice Patient as Teacher" experience during the Family Medicine clerkship. He is the recipient of several teaching honors, including the 2012 Tow Humanism in Medicine Award, 2017 H. Peter Burg Faculty Award for Excellence in Palliative Care, Summa Health System Community Preceptor of the Year, and Kevin was recently inducted into the NEOMED Master Teachers Guild. Kevin has provided hospice and palliative care at several health care systems, and currently is focused on bedside care of the dying and their families as a physician at the 40 bed David Simpson Hospice House in Cleveland. Compassionate care of the dying also led him to his involvement in the Sacred Art of Living program where he is currently a mentor and facilitator, having completed the Anamcara Apprenticeship. In 2017, he received the Anamacara Award in Palliative Care. His ongoing hope is to incorporate that wisdom into medical education throughout the medical and nursing education system, and he is spearheading local and regional efforts to engage the community in dialogues around death and dying.
Lance Reidenbach
Lance Reidenbach is a current third year student in the college of medicine at NEOMED. As part of the CSU-NEOMED Urban Primary Care Pathway, Lance is passionate about working to bridge health disparities and combat systemic issues from an upstream approach.
Mackenzie Wilson
Mackenzie Wilson is a third year medical student at the Northeast Ohio Medical University. Like many young professionals, Mackenzie Wilson has grown up during immense technological and social shifts. These changes in education, business, and social expectations allow for unprecedented innovation and advancement, but harbor a seldom-acknowledged dark side. In medicine, every generation faces unique challenges, many of which are external. The largest and most dangerous challenge for this generation of physicians, however, has been created and perpetuated internally. This is a problem we are all reproducing every day, meaning that it is a problem that we, both as individuals and as a community, have the power to change.
Varun Aitharaju
Varun Aitharaju is a third-year medical student at Northeast Ohio Medical University (NEOMED). Conflicted between choosing medicine and technology/engineering prior to his graduate education, Varun aspired to learn about the integration of both fields when he entered medical school. For this reason, Varun developed an interest in innovation, medical technologies, and the utilization of social media in healthcare education. He, along with several other medical students, has been working with Dr. Todd Ponsky and Dr. Rodrigo Gerardo at Akron Children's Hospital to assess how best to capture viewer interest and educate through technology and social media. The team also continues to create podcasts, Tik Toks, and other exciting media to enlighten viewers and battle misinformation. Additionally, Varun loves learning about finance and policy, dancing, and listening to music.