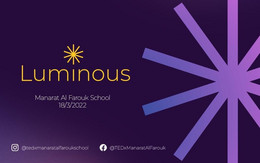 We may think our lives are dull and uneventful. We sometimes look to others' lives and wonder why ours isn't as exciting and interesting.
It is as if we are living in the darkness behind the glowing lights we see. However, we must bring our own light to the darkness. You yourself may not be luminous, but you are the only conductor of light.
But what exactly is darkness?
Darkness is a place of solitude, mindfulness, and uncertainty. But even in the midst of the darkness, light can come through; if only we open the door for it.
This is a call to open your door. Let that light through. Let it brighten your life and your mind with talks that help you find revelations or discoveries you never knew - ones that make your life glow, make your life LUMINOUS.
Isn't it time to SCATTER YOUR DARKNESS?
Catch us at TEDxManaratAlFaroukSchool on 18. 3. 2022 with our 4th event, where minds shine brighter than ever!
Don't let this chance slip away where great minds meet for a greater cause; that is spreading LUMINOSITY.
Speakers
Speakers may not be confirmed. Check event website for more information.
Ahmed Shahin
Career Coach
Ahmed Shahin - أحمد شاهين is a Learning & Development Manager with more than 12 years of experience in this field. Trained more than 50.000 employees & leaders in too many different industries. Founded " Compass " one of the biggest training schools in the Middle East. Qualified more than 400 trainers & learning professionals. Also delivered lectures and public talks for more than 100.000 students. Co-Founded "Qualiphi Summit", one of the top career summits, also he was one of TEDx Co-Founders in Egypt. Through two inspiring stories, Mr. Ahmad Shahin will demonstrate the importance of mindfulness and living the moment.
Alaa Usama
Engineering Major
Alaa is part of a team known as the ASU racing team. Through dedication and sustainability, the ASU Racing Team, with an idea that started originally as a graduation project, is now on its way to creating the FIRST EGYPTIAN CAR!!
Aysha Shreif
highschool freshman
However, for every one of us, there is always that one second when time seems to stop, that is the everlasting second. In her marvelous talk, Aisha, a 16 years old girl, will retell the life-altering story that she wrote in her book about her mother's illness and her distressing visit to the ICU, and how that led to Aisha's "everlasting second".
Ehab El-Hamzawy
Modern Calligrapher
Ehab ELhamzawy will share with us his unique experience with the Arabic Calligraphy and how it can be more than a communication tool but it is a key to the continuation of nations. Hamzawy is the founder of "Hibrayer", the famous Arabic Calligraphy challenge.
Gamal Atya
Mountain Tour Guide
After enlisting in the Egyptian army straight out of high school, Gamal atya left the army at 40 years old returning to his original roots to pursue a life in the mountains as a national tour guide quickly becoming one of the best in his field known for his extensive knowledge of all things mountains and desert terrain
Juayria Sokkar
Psychology Major
Juayria Sokkar a psychology major and an Igcse graduate.
Khaled El Degwy
Architect + Trainer
Our speaker Khaled Eldegwy is Practex's Egypt Managing Partner. He's internationally certified as Master Trainer by many of the world-wide top ranked organizations in the field of Training and People Development. On the other hand, Degwy contributed as a board member in many community service organizations like "Zedny-Egypt" and "SIAC -KSA".
Mahmoud El Gamal
Life Coach
Mahmoud El-Gamal with more than 18 years of experience in coaching, consulting, training, and operations management in Egypt and GCC. Mahmoud is an Associate Certified Coach (ACC) from the International Coach Federation (ICF) and the co-founder of ZEDNY. In his talk, he will take you through a long-life journey about fast learning and how we can deal with the quality and quantity at the same time with minimum effort.
Mohamed Fadl
Retired Footballer + Television Commentator
Mohamed is a retired Egyptian football player, who played in numerous football teams including Al Ahly and Al Ismaily. Fadl is a board member in The Presentation Company, sports analyst on ON TV channels and he was the manager of Africa Cup of Nations 2019. Mohamed Fadl will take us through his success story.
Moustafa Abousamra
entrepreneur
Moustafa is an entrepreneur who co-owns a famous restaurant chain called Caizo and wishes to elaborate on his journey
Omar Abdelsalam
Engineer
Omar Abdel-Salam is an engineer who, through continuous effort and dedication, reached out to deaf people through the most innovative and imaginable way: by inventing smart glasses that can translate everyday conversations into sign language!! In a talk that we are honored to host, Omar will talk to us about his invention and his progress in it so far.
Rawan Tarek
Igcse senior
Rawan a senior in a wheelchair has come to elaborate on her life challenges and advise us on how to better help those with physical disabilities