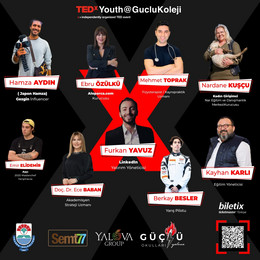 In the spirit of ideas worth spreading, TEDx is a program of local, self-organized events that bring people together to share a TED-like experience. At a TEDx event, TEDTalks video and live speakers combine to spark deep discussion and connection in a small group. These local, self-organized events are branded TEDx, where x = independently organized TED event. The TED Conference provides general guidance for the TEDx program, but individual TEDx events are self-organized (subject to certain rules and regulations).
Speakers
Speakers may not be confirmed. Check event website for more information.
Ece Baban
Akademisyen /Strateji Uzmanı
Doç. Dr. Ece Baban 1998 yılında Cağaloğlu Anadolu Lisesi'nden mezun olmuştur. 2002 yılında lisans eğitimini Marmara Üniversitesi İletişim Fakültesi Halkla İlişkiler Bölümü'nde derece ile bitiren Baban, aynı yıl Marmara Üniversitesi İletişim Fakültesi Halkla İlişkiler Bölümü'nde Araştırma Görevlisi olarak akademik kariyerine başlamıştır. Yüksek lisans ve doktora eğitimini Marmara Üniversitesi Sosyal Bilimler Enstitüsü'nde tamamlayan Baban, aldığı DAAD Üstün Başarı Bursu ile Almanya'da siyasal iletişim üzerine çalışmalar gerçekleştirmiştir. 2017 yılında Marmara Üniversitesi Orta Doğu Siyasi Tarihi ve Uluslararası İlişkiler Bölümü'nde ikinci doktorasına başlayan Baban; aynı yıl sınavlarından başarı ile geçerek Doçentlik unvanını almıştır. Berlin Freie Üniversitesi ve Köln Üniversitesi'nden kabul alan Baban; aynı zamanda Poznan Ekonomi Üniversitesi'nde Marka ve Pazarlama dersi vermiştir.
Furkan Yavuz
Yatırım yöneticisi
1994 Istanbul/Fatih dogumlu Furkan Yavuz, çocukluğu ve ilk okul hayatını Bursa ve İzmirde geçirdikten sonra Üniversite eğitimi temeli için 2012 yılında Cambridge'e yerleşiyor. Dil eğitimini tamamladıktan sonra Londra ve Essex'de Erasmus programları dahilinde İstanbul Koç Üniversitesi İşletme fakültesinden 2017'de mezun olduktan sonra, Trinity College Dublin'de pazarlama yüksek lisansını tamamladı. 2019 Yılında ailesi ile birlikte Bayburt'ta kurduğu sosyal sorumluluk projesi olarak başlayan Kenan Yavuz Etnografya Müzesi'nin marka temsilciliğine eşzamanlı olarak proje danışmanı olarak Dublin'de Accenture firmasına katıldı. Avrupa Müze Forumu tarafından 2021 Avrupa'da Yılın Müzesi ödülünü aldıktan sonra, müzenin uluslararası ilişkilerini de yöneten Furkan Yavuz, LinkedIn firmasına Türkiye/Balkanlar ve Afrika Satış Danışmanı olarak katıldı. LinkedIn'deki kariyerine Ocak 2021 ayından beri İngiltere/İrlanda Yatırım Yöneticisi olarak devam edmektedir.