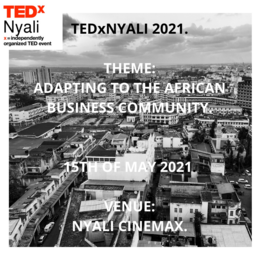 Accepting that times are changing is the first step to succeeding in the business world. We bring you speakers from different fields that have been in the game for a while to share their stories. This is a chance for the Nyali community to share ideas worth talking about.
Come, listen, laugh and learn.
Location: Nyali Cinemax
Date: 15th of May 2021
From 9:30am to 12 noon
Speakers
Speakers may not be confirmed. Check event website for more information.
Certified Life, Career, Executive Coach, Motivational Speaker and International Best-selling Author.
Led with 20 years of experience in the education and training sector of thousands of students ranging from age 12 into adulthood AND her HEART. She specializes in supporting women in high profile, high demand positions who are unfulfilled and frustrated with feeling stuck to find focus and clarity so they can live a more divinely purposeful professional life. As a Certified Life Coach, she helps her clients to exercise their power within. On her YouTube show-Vuyanzi Coaches, she empowers the viewers through their observance into private coaching sessions. As an Inspirational and Motivational Speaker, she uses her words to heal and empower. She is the host of her podcast, where she amplifies her voice to teach and inspire and brings on guests who do the same. She is an international bestseller, she has penned pieces to motivate the hearts and minds of readers. Vuyanzi recently fulfilled her own dream by moving from the United States to the place of her birth, Kenya.
Award Winning Businessman-Founder/ Owner/MD, PrideInn Hotels & Resorts
Hasnain identified a gap in the 3/4 Star Hotel Chain in Kenya due to his wide travelling. He had a concept of "five-star services at 3-star value".This bore his first hotel in 2009, after 2 years, due to limited resources, 2011 saw the opening of the first 28 room hotel in Nairobi. In 9 years, he's 8 hotels catering to 2 different market segments to include PrideInn Comfort Brand the Premium Brand. He Prides to have a "Global Feel With Kenyan Soul" in every PrideInn Hotel. He's established various profitable companies; PrideInn Hotels & Resorts, PrideDRIVE,PrideFUELS,Cake City Kenya, Westlands Banquet Centre (Nairobi), Paradise Convention Centre (Mombasa), Muthaiga Business Centre, Buffets of PrideInn, Glory Safaris & Glory Expeditions in Tanzania. Awarded the Hospitality Honorarium Grand 2018, Cover Page of East African Business Times September 2018, Featured in Forbes 2015 as 30 Most Promising Entrepreneurs in Africa, World's Greatest Boss Award 2012and SIR Walter Pucky Prize 2006.
Jemimah Kutata
Champion of Inclusion and Rights a persons with disabilities and Resource mobilizer at The Association for the Physically Disabled of Kenya, APDK Coast
Jemimah comes from a very humble background from a marginalized community of Maasai people. She is an award-winning disability rights advocate and transformative leader and has shown great leadership in the area of diversity and Inclusion. Awards: 1. Ms. President Mombasa County 2019 2.Christoffelblinden Mission Outstanding Service Award for advancing rights of persons with disabilities. 3.Mobility International USA – Award for dedication leadership in the human rights movement for girls and women with disabilities and for outstanding contribution to a powerful international network change. 4The Third Annual East Africa Philanthropist and Volunteering Awards July 2004 Community Service Award for outstanding service in the community.
Patrick Mwashighadi Maighacho
Kaya Art & Music( TEDxNYALI Event Palette Cleanser)
Patrick Mwashighadi aka Partraw is a storyteller, music is his language, and soul is his style.
Keynote Speaker, Coach, Mentor, and Trainer
"In my confusion and struggle to find my true identity, I met a Mentor who guided me on how to find clarity in my purpose, passion, profession, vocation, and mission. This kind of clarity led me into developing a seven-module personal development program – The Personal Mastery Program and ultimately, co-founding Sav Skills Limited to offer Training, Coaching and Mentorship." Everyone desires to be a great leader, but not everyone chooses to be a leader. Otumbo believes in leadership at every level of life. This includes family, relationships, organizational growth, and development. In his view, leadership is a choice and has to be an intentional and deliberate journey for those who pursue it. Towards leadership growth, Otumbo develops tailored training programs to meet individual and organizational objectives.