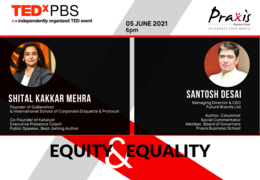 The theme for our TED event was Equity and equality.
Equality means each individual or group of people is given the same resources or opportunities. Equity recognizes that each person has different circumstances and allocates the exact resources and opportunities needed to reach an equal outcome. While equality focuses on input, the concept of equity lays importance on the outcome.
Speakers
Speakers may not be confirmed. Check event website for more information.
Santosh. Desai
MD & CEO, Futurebrands, Author
Santosh Desai is a columnist, media critic and best-selling author. He is also the Managing Director and CEO of Future Brands Ltd, a brand and consumer consultancy company that creates and manages a portfolio of brands, and offers consulting services in the brand and consumer space. Prior to joining Future Brands, Desai was the President of McCann-Erickson, one of India's premier advertising agencies. A post-graduate from IIM Ahmedabad, he spent 21 years in advertising, and has been strategically involved in building key brands for a range of local and multinational clients.
Shital Kakkar Mehra
Leadership Development, Executive Coaching, and Public Speaking
Shital Kakkar Mehra is India's leading Executive Presence Coach for CEOs. With over 20 years' of experience, Shital has personally trained over 45,000 professionals across Asia, including numerous CEO's from leading multi-national and progressive domestic companies. Her reputation as a cutting-edge expert comes from her depth of knowledge and the unique way she blends the Indian corporate ethos, with global best-in-class practices.Shital has conducted workshops for a diverse set of organizations across Asia and has been as a guest speaker by leading management institutes and associations