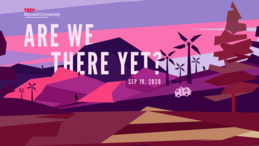 A global pandemic or not, we at TEDxMonashUniversity are unstoppable as we are hosting our first ever virtual event!
Inspired by the United Nations Sustainable Development Goals to be achieved by 2030, we aim to expand the discussion on sustainability and innovation. The event will reflect on the work that has been contributed by industries up until now towards climate action and aim to see what more needs to be achieved.
Hence, our speakers will be asking the question, "Are We There Yet?".
Speakers
Speakers may not be confirmed. Check event website for more information.
Entrepreneur, Author & Creator
Kickstarting his career in technology at the age of 18 by selling a circuit design to a popular magazine, Anand Tamboli is no stranger to tech innovation. He is a self-taught computer engineer, entrepreneur, award-winning author, global speaker, and sought-after thought leader who helps people transform into sustainable brands. After a successful run as Associate Vice President at HSBC, he took on the entrepreneurial challenge by founding Knewron Technologies - a design house building innovative products from an idea (on a paper napkin) to reality (in the market). Having worked with several Fortune 500 companies, Anand understands the impact technologies will have in the coming years on human life and firmly believes that "Our future is whatever we make it, so let's create a better one!"
Contemporary Artist, Researcher, Independent Curator & Social Activist
Bianca with her art helps audiences experience and realise the issue of climate change and mass consumerism. Utilising heterogeneous research along with archives of cyber-sourced material, video, digital media and live art, she inspires reflection on contemporary dilemmas. Her projects invite genuine interaction and as a way of escaping social expectations and consumerist shaping, she also often facilitates a reconnection with nature and humanity through ritual and visualisation. Apart from having local and international audiences witness her projects, she is also the founder of a newly launched initiative, APIQ (Art Projects with Integrity Queensland), a group for imaginative change makers. Bianca's projects endeavour to reverberate beyond the immediate scope of her projects and realise actual social transformation.
Carbon & Renewables Account Manager
Jorge Acevedo, an environmental biotechnology engineer and scientist with multidimensional knowledge in sustainable cities, planetary boundaries, and climate change, helped his home country Mexico by assisting in developing a federal program in sustainable construction. In Australia, he has led the Sustainable Design standard by EarthCheck for the responsible construction of hotels worldwide and is currently working as a Carbon and Renewables Manager at South Pole by helping companies and governments go carbon neutral. With over 15 years of work experience in the private, public and academic sectors, his passion is to recover a safe climate where humanity can play, work and develop in the compatibility with the biosphere. In his free time, Jorge loves to inspire the younger generation on how to fit business and innovation into sustainable models.